We love our pets. We share our food, sofas, maybe even our beds. It's a tight bond. But professional K-9 partners are on a different level. Before starting the K-9 Rescue Series, I talked directly with experts. In each series book, including my latest, PHYSICAL FORCES, I highlight aspects of this special connection.
The Top Five Traits of Successful K-9 teams
Character. Good K-9 teams share these qualities: stamina, confidence, the ability to think independently, self-discipline, and a strong work ethic. Law enforcement and military K-9s must have a strong "drive." An FBI explosives K-9 handler told me a story last year that best demonstrates "drive."

The final day of testing, I was a little worried. My German shepherd had been a handful during training and we'd almost flunked out. We were directed to enter a gym and locate a scent item. He located it easily, tucked into the top of a cargo climbing net twelve feet above our heads. Without prompting, my dog climbed the net and retrieved it! I later learned the other K9s had 'signed' by sitting beneath it, or pawing the net a few times and barking.*

Needless to say, his dog won the drive award.

Trust. The most dangerous situation for a handler is mere playtime for the K-9, unless something goes wrong. It's the handler's job to assess every situation so as to not knowingly put the dog in jeopardy. My dog will do anything I ask of her. She trusts me to keep her safe. I do everything I can not to violate that trust.*
Personality match. Some dogs are easy. Some are a challenge. Once the dog is trained, it's the handler's job to learn his animal.

My first patrol dog was easy to read. When in odor, he pranced like a Tennessee walking horse. I knew to recall him or hook him up before he started destroying property. The next dog was more subdued. I learned to look for an ear twitch or for the hair to rise on his back.*

Affection. K-9s work for reward.

My new dog didn't like the rewards I'd used with other dogs. I tried everything. Tennis balls, squeak toys, chew toys. Nothing interested him for long. Finally, I came across this jingle ball from Wal-Mart. He went bozo over that thing. So I drove around the area, to every store, and bought all the balls they had. I was worried about what would happen if I ran out of balls, or they stopped making them.*

In the Zone.

Everybody has that moment while working a dog, when you and your partner sync up. For the dog it's him or her reading and reacting to the handler's language and emotions. For the handler it's knowing in advance what that dog is going to do in a certain situation before they do it.*
My series K-9 family Zander, Bogart, Hugo, Izzy, Sam, Lily, Oleg, Noah, and Jackeroo wish you a wonderful summer of reading!
*I paraphrased from my notes.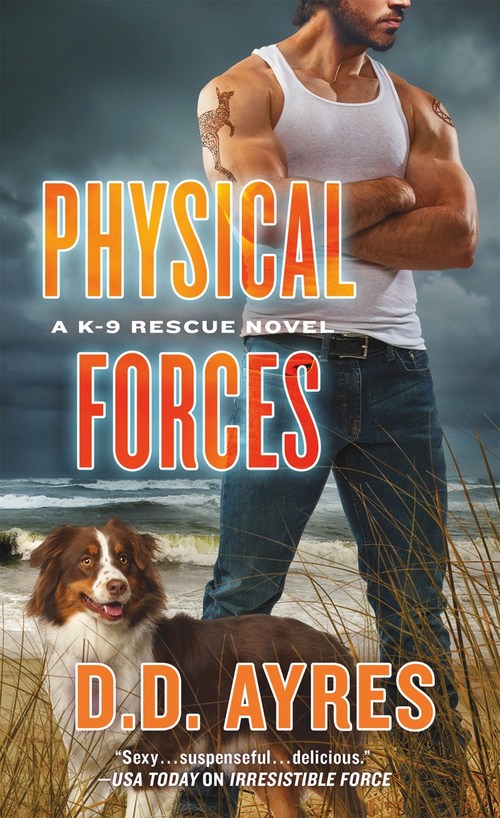 LOVE TO THE RESCUE
Macayla Burkett is no ordinary private eye. She's a pet detective, dedicated to tracking down missing dogs and cats. When two famous racing greyhounds disappear and turn up dead, Macayla finds herself in the midst of a much more serious case. And when the thieves target her and threaten her life, she realizes she's in grave danger―until a ridiculously handsome stranger enters the picture …
Oliver Kelly may look like a male stripper, but his muscles aren't just for show. The gorgeous Australian is co-owner of a K-9 Search and Rescue service dedicated to saving those in danger. When he and his K-9 partner, an Australian shepherd named Jackeroo, rescue the fiery detective from trouble, the sparks begin to fly. And when they join forces to stop a widespread case of animal theft, it unleashes a torrent of passion that's impossible to tame…
Don't miss Physical Forces, a K-9 Rescue novel from D. D. Ayres!
Romance Suspense | Mystery Woman Sleuth [St. Martin's Press, On Sale: May 30, 2017, Paperback / e-Book, ISBN: 9781250086990 / eISBN: 9781250087072]

An Aussie, a pet detective and danger equals love.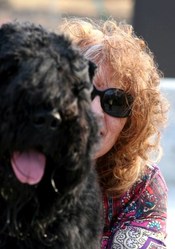 A veteran author of romance and women's fiction, D.D. Ayres is new to Romantic Suspense. She believes the lure of romance is always the human connection. Put that connection in physical jeopardy, and and we learn a bit moreabout who we really are.
With her K-9 Rescue series, D.D. hopes you will enjoy her sexy, suspenseful portrayals of K-9 teams at their best.
D.D. lives in Fort Worth,Texas with her husband and a soft-coated Wheaten terrier named Zoe.