Welcome to Fresh Fiction! We've been featuring the books you've worked on for so long, and we are so excited to learn more about the editors behind the books, as well as How to Write a Romance! Can you introduce yourselves, tell us how long you've worked at Avon, and your all-time favorite romance novel?
Erika Tsang (ET): I'm Erika Tsang, editorial director of Avon Books. I just celebrated my 17th year here. My all-time favorite romance novel is… a very difficult question to answer. Jude Deveraux's A KNIGHT IN SHINING ARMOR because I discuss that ending quite a bit. Then there's Johanna Lindsey's WARRIOR'S WOMAN, Julie Garwood's THE LION'S LADY, Jill Barnet's IMAGINE (there's a genie!)…my list goes on and on.
Nicole Fischer (NF): My name is Nicole and I started at Avon Books about 6.5 years ago. My favorite romance is… ok, that's an impossible question for a romance editor! I don't have 1 favorite of all time, I have top picks in each subgenre. But if I had to name one, the first title that pops into my head right this moment is IT HAPPENED ONE AUTUMN by Lisa Kleypas because I love sassy, feisty heroines who bring stern, grumpy men to their knees.
Elle Keck (EK): My name is Elle and I've been at Avon for five years. My favorite romance (right now) would be WAKING UP WITH THE DUKE by Lorraine Heath because the plot is absolutely bonkers, but Lorraine is such a skilled writer that you're crying by the end of it.
Romance is one of the most popular genres in literature. What do you think resonates with readers of romance so much?
ET: I truly believe it's the HEA (happily ever after). Reading a story that makes you happy and believe in love and the goodness of people, that's my happy place.
NF: Love is universal – whether it's between romantic partners or family or friends – and romance puts love at the center of the story. It makes readers feel, it gives them hope, and they are safe to experience these emotions because they know these characters get to live happily-ever-after by the last page. And that's really powerful!
EK: Romance is age-old storytelling. It's sitting around by the fire trading tales and asking your grandparents how they met. Romance is about people finding themselves and finding the person they want to spend the rest of their life with. I think it's impossible for that not to resonate with most people.
While romance is very popular and sells well, that doesn't mean that there aren't (very) vocal naysayers of this genre. What do you have to say to people who often look down on or make fun of romance? Do you have a go-to recommendation for someone when they say they'd never read a romance? 
ET: Well, to put it nicely, if you're looking down on a genre where love wins every time, then that says more about you than anything else. Most of the time, naysayers are the people who have never read a *good* romance, so depending on the subgenre someone may be interested in, my recommendations vary. If they're more of a mystery reader, I'd rec Linda Howard or Sandra Brown for romantic suspense; if they're more into history, I'd rec Beverly Jenkins or Mary Balogh for historical romance, etc.
NF: I see this a lot – both in the publishing world when other writers drag romance, and in my personal life, when I explain my job to friends/family/strangers. There's a lot of "oh, sex books!" or winks/sneers. To them, I say… "don't knock it until you try it." I love to explain how vast and exciting and impressive the romance genre is and I'll defend it to my grave! But I don't have a go-to title I recommend to change someone's mind. Reading/taste is very subjective and if I'm suggesting romance in the hopes of converting a non-reader into a new fan, I always ask about their favorite tv shows, movies, or hobbies first. Once I know what they like, I can usually name a few titles with similar themes or characters, or the right tone.
EK: I used to be a very vocal defender of romance, citing example after example disproving the naysayers' opinions. Now, I just sort of feel bad for them. They're missing out on something that brings me, and so many others, a huge amount of joy. If they don't want a great story in their life, that's their loss, not mine! I don't have one go-to because I think it depends on the individual's reading preferences and habits but some of my standbys include Sally Throne, Lisa Kleypas, Nora Roberts, Bev Jenkins, Cat Sebastian, Lorraine Heath, Kristen Callihan, and Tessa Dare.
I've been reading romance since I was very young – too young really, stealing them from my mom's bookshelves growing up!  Have you always been romance fans, or was it something you came to during your publishing career?
ET: I was just telling someone a story where, when I was in the 7th grade, I was hiding Harlequins under my desk and reading them in class. My health teacher caught me. He wrote in my yearbook, "May you read healthier books." Obviously, I didn't pay him any attention.
NF: Romance is a life-long passion for me. I started reading YA romance pretty young and then discovered Danielle Steel, Jude Deveraux, and Sandra Brown on my mom's bookshelf. I got into publishing with the goal of working in romance because it's what I loved to read. Now here I am, at Avon!
EK: I've been a little r romance fan since I could breathe, I think. I always adored love stories whether it was in a fairy tale, a Disney movie, or a Dear America novel. I started reading capital R Romance when I was about 14 or 15 and never stopped. So glad my mom had that Jayne Ann Krentz novel on her nightstand!
The concept of How to Write a Romance is very interesting. How did the idea of a journal come about? What are your favorite writing prompts/exercises/advice from it? 
ET: Actually, senior editor Emma Brodie came to us with the idea of the journal.
NF: The idea actually came from our colleague, Emma Brodie, who works on a lot of IP projects and gift books. She came up with the concept and asked for our help with the content. One evening we started brainstorming big picture writing tips, reoccurring issues we mention in edit letters, and common mistakes we see in manuscripts. I loved coming up with the scenarios. We got kind of wild, throwing out really ridiculous situations involving all kinds of character types and subgenres. Even if a prompt doesn't apply to a writer's specific idea or WIP, they are good exercises to flex your creative muscles!
 EK: Our brilliant colleague Emma Brodie thought of the idea! She runs the Morrow Gift imprint which publishes lots of illustrated books and journals. She ran the idea by us and we all thought it was such a great idea. In the office, we're always saying how we wish authors did such and such or knew this, that, and the other. With this journal, we tried to create prompts that address the issues we see most in the submissions we get.
Emma Brodie: I knew immediately that the team at Avon would be amazing partners on a writing journal; they really are the best in the business. The editors' expertise makes for extremely compelling prompts and an overall learning experience/ window into the romance word that any fan or aspiring author would love – a perfect gift, which is what we love at Morrow Gift!
When an author comes to you struggling with a part of the book they're working on, what's your advice to get them through that hurdle? 
ET: Go see a movie, or go for a walk, or play with your kids/pets. I find that the best ideas come to you when you're not thinking about it.
NF: There really isn't one bit of advice that I give to all authors, other than "I know you can do this!" It varies depending on the issue at hand and the author. Occasionally they just need to talk through what they're trying to put on paper, maybe hear me say "YES, that sounds great!" Other times we brainstorm, tossing ideas back and forth until something feels right.
EK: Well, it obviously depends on the story and the issue. Generally, I think figuring out why they're stuck can be the best way to start. Authors can feel things have to be a certain way because that's how they originally envisioned it. But often, when they take a step back (that's where I come in) they realize they can do whatever they want (within reason). Mainly, I think my job is to be that friend who can see the problem in your life that you can't, not because they're all-knowing, but because they have distance. I try to impart some of that perspective to my authors so we can fix the issue.
Rapid Fire Random Questions
Dragons or unicorns: 
ET: Depends on the day.
NF: Unicorns
EK: Unicorns
Five people you'd invite to your book club (dead, alive, fictional, etc.!): 
ET: I don't like book clubs… (For me, reading is a solitary activity. When you sit down to analyze this and/or that, it's English class all over again!)
NF: Hmm this is hard. Can I invite the cast of Magic Mike XXL? Just whoever shows up? I feel like they'd all appreciate a romance novel book club.  
EK: Elton John, Anne of Green Gables, Oprah, Julie d'Aubigny/La Maupin (she set a nunnery on fire to run off with her lesbian lover and later stabbed a man who also became her lover!), and Paddington Bear.
Some of your auto-buy authors: 
ET: Nora Roberts
NF: Most Avon authors were auto-buys at one point, but I get all those books for free now so I don't know if they count! I primarily listen to audiobooks on the library app if I'm not reading for work and I download whatever sounds good. Currently listening to Nalini Singh and just finished a long binge of Kresley Cole. I love rom coms so I put a hold on anything by Christina Lauren, Helen Hoang, Casey McQuiston, Jasmine Guillory, Helena Hunting, etc. There are so many new people writing in that space at the moment… they're not on my auto-request list yet but maybe soon!  
EK: Naomi Novik, Elizabeth Hoyt, Taylor Jenkins Reid
Favorite flower:
ET: Roses
NF: Tulips
EK: Calla Lillies
Earliest celebrity crush: 
ET: Harrison Ford
NF: Paul Walker (sob, RIP)
EK: Prince Charming from Brandy's Cinderella
Random interesting fact you like to tell people:  
ET: abstain
NF: I can throw an ax one handed and hit the target
EK: I still have a baby tooth!
Hobbies you have (aside from reading and writing):
ET: Crochet – I taught myself watching a Russian lady on YouTube. No idea what she was saying but the camera work was excellent and I was able to follow along.
NF: Does drinking wine count as a hobby??? I wish I had time for hobbies! I'm so boring, I don't do anything. I guess maybe cooking and swimming, sometimes hiking or other outdoorsy things if I can get out of the city.
EK: I'm learning how to quilt.
Dream vacation: 
ET: Alaska to see the glaciers before they melt
NF: The Maldives!
EK: I'd love to go on a luxurious tour of the world, like in an Agatha Christie novel (sans murders).
Sweet or salty snacks: 
ET: Both!
NF: Salty. But salty and sweet together is the best, because chocolate covered pretzels exist.
EK: Sweet
You have a totally free afternoon – no deadlines, no obligations, no Twitter notifications!  What do you do?:
ET: Sleep…
NF: Stare into space? Just kidding. Probably catch up on my favorite Bravo shows or sit out on a patio/by the water with friends and have some wine (it's 5pm somewhere)! 
EK: Sleep, watch tv, read, eat, repeat.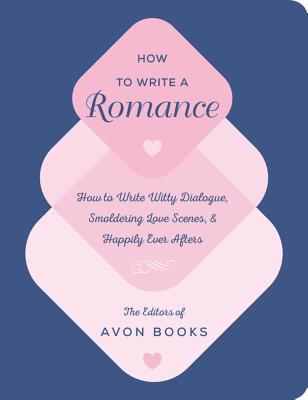 Or, How to Write Witty Dialogue, Smoldering Love Scenes, and Happily Ever Afters
A unique, beautifully designed journal filled with helpful tips and invaluable advice vital for every aspiring romance novelist—and every romance fan!
For romance writers and readers alike, How to Write a Romance is a sleek, inventive journal that will inspire you to create love stories that stir the heart, tease the imagination, and touch the soul. Inside this handy diary, you'll find an introduction and tip sheet compiled by the editors of Avon Books, the premiere romance publisher.
Sharing their wisdom and expertise, the Avon Romance editors guide you through the basic construction of a romance novel and highlight the most common pitfalls to avoid. The pages that follow include 180 prompts touching on every aspect of romance writing: dialogue, character development, scene description, situational entries, and more. Exercise your imagination and skill with such challenges as:
Describe your heroine without her having to look in the mirror.
Make a list of 5-10 of your hero's characteristics—be sure to include both good and bad qualities to help clarify how he will react in different situations.
Write a scene between two female characters discussing something unrelated to the hero.
Write a meet cute in a library.
In addition, renowned bestselling Avon authors such as Eloisa James, Beverly Jenkins, Lisa Kleypas, Julia Quinn, Sarah MacLean, Jennifer Ryan, Lori Wilde, and more, share their own insights and offer words of encouragement, sprinkled throughout the journal in hand-lettered text.
A beautiful keepsake and practical tool that embodies the essence of romance fiction, How to Write a Romance will enflame your passionate and creative spirit!
Romance | Non-Fiction Craft | Non-Fiction [Morrow Gift, On Sale: July 9, 2019, Hardcover, ISBN: 9780062899279 / ]