Hello Fresh Fiction! Thank you for inviting me to celebrate my newest release, REAL EARLS BREAK THE RULE. It's the second book in my Infamous Somertons series about the three daughters of an infamous art forger.
I'm often asked where I get the ideas for my historical romances. I love writing smart, savvy heroines who are an equal match for my strong, sexy heroes. I've written a heroine who has been an anonymous investor in the London Stock Exchange, a daughter of a barrister who is more knowledgeable about the law than most of the barristers at the Inns of Court, a lady spy, and a successful shopkeeper.
REAL EARLS BREAK THE RULE is Amelia's story. She is the only Somerton sister who inherited her father's ability to forge priceless works of art. Of course, this talent has gotten her in serious trouble in the past. But this time, she's truly put to the test when the handsome rogue, Brandon St. Clair—the Earl of Vale—asks her to paint his portrait in secret during a house party in the country.
I researched female artists when I plotted the novel. Amelia was partly inspired by a French female portrait painter, Élisabeth Vigée Le Brun, who received a royal patronage by Queen Marie Antoinette. The Queen played an important role in Le Brun's admission into France's prestigious Académie Royale de Peinture et de Sculpture. Not surprisingly, prejudice against professional female painters existed in France and England. It was perfectly acceptable for young women from the aristocracy to learn to paint or play the pianoforte, but as soon as they sought to do so professionally, they were shunned. The Académie limited female membership to four, and England's Royal Academy had only two founding members.
REAL EARLS BREAK THE RULE, Amelia also seeks to overcome society's prejudices. For years she's painted under false male names in order to sell her work at their Peacock Print Shop, but her dream is to paint the laboring poor of London under her own name. So when the handsome Earl of Vale scandalously offers her the one thing she's always wanted, temptation is hard to resist.
Here's a blurb about the book:

Brandon St. Clair, the Earl of Vale, has never been one to follow the rules. Even though he must marry a wealthy heiress so that he can be rid of the pile of debt he inherited with his title, he can't stop thinking of another. Amelia Somerton is the daughter of a forger and is not a suitable wife. But that doesn't stop Brandon from making Amelia a different offer, the kind that breaks every rule of etiquette…
Sin runs in Amelia's family. And even though she now rubs elbows with the aristocracy, she knows the truth—she has the ability to forge priceless works of art. She'll never be seen as an acceptable wife, not that she wants to marry, anyway. So when the earl scandalously offers her the one thing she's always dreamed of, she can't help but take it. But what begins as a simple arrangement, soon escalates into much more, and as the heat between them sizzles, each encounter becomes a lesson in seduction…
So what type of historical heroine do you like best? Bluestocking? Commoner? Professional woman? Please share. One commentor will receive a free ebook of the first book in the Infamous Somerton series, An Artful Seduction.
Also, sign up for my newsletter to learn about upcoming releases and to enter free monthly contests to win my books and books from other great authors at www.tinagabrielle.com
Thank you and good luck!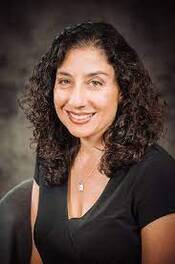 Tina Gabrielle, an Amazon Best-Selling author, is a former NJ Deputy Attorney General and mechanical engineer who pens novels about intelligent and ambitious heroines at a time when brains were not appreciated in a woman.
Tina's popular Regency Barrister Series, which launched with In The Barrister's Chambers, is the story about the daughter of a Master of the Bench, who has a voracious hunger for knowledge and the law at a time when women were not permitted to become barristers. The series is well researched, and Tina drew upon many of her experiences as a female in the law profession. Publisher's Weekly gave it a wonderful review: "Former attorney Gabrielle launches a Regency series with legal backbone…the tale is bolstered by tantalizing love scenes, enthusiastically detailed portrayals of England's Regency-era legal system, and witty comradely repartee." The book was also a Barnes & Noble Top Pick.
Tina is a literacy advocate, and she has given free workshops to the Girl Scouts, public libraries, and writers' organizations.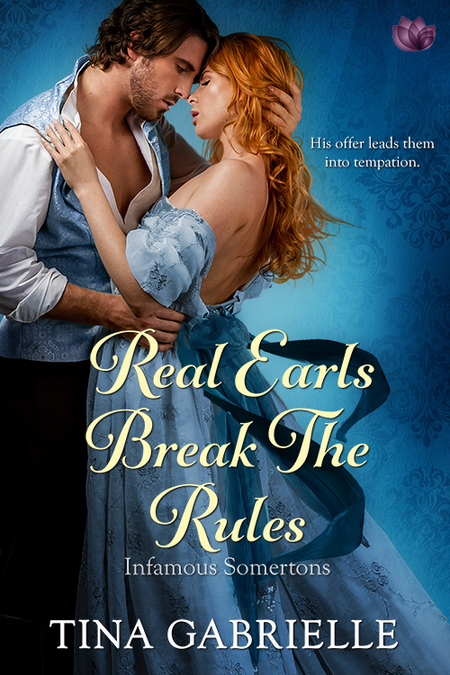 His offer leads them into temptation…
1816 England
Brandon St. Clair, the Earl of Vale, has never been one to follow the rules. Even though he must marry a wealthy heiress so that he can be rid of the pile of debt he inherited with his title, he can't stop thinking of another. Amelia Somerton is the daughter of an infamous art forger and is not a suitable wife. But that doesn't stop Brandon from making Amelia a different offer, the kind that breaks every rule of etiquette…
Sin runs in Amelia's family. And even though she now rubs elbows with the aristocracy, she knows the truth—she has the ability to forge priceless works of art. She'll never be seen as an acceptable wife, not that she wants to marry, anyway. So when the earl scandalously offers her the one thing she's always dreamed of, she can't help but take it. But what begins as a simple arrangement, soon escalates into much more, and as the heat between them sizzles, each encounter becomes a lesson in seduction…
Romance Historical [Entangled, On Sale: November 21, 2016, e-Book, ISBN: 9781633758100 / eISBN: 9781633758100]