Tosca Lee, author of THE PROGENY, sits down with Fresh Fiction reviewer Debbie Wiley to talk about her new thriller.
Debbie Wiley: Hi, Tosca! Thank you for joining us today at Fresh Fiction! I absolutely love the concept of THE PROGENY as it combines the modern day with the historical in one phenomenal conspiracy-laden thriller. What sparked your interest in Elisabeth Bathory and inspired the writing of THE PROGENY?
Tosca Lee: Hi, Debbie! Thank you—and thank you for having me on Fresh Fiction! I've been wanting to write a thriller like this for a while. It was actually a fan who wrote to me and said, "What about a book on Elizabeth Bathory?" Though this book isn't about Elizabeth Bathory herself per se, the legend of the "Blood Countess" does provide the mythological underpinning of the story about her modern-day descendants.
DW: THE PROGENY is obviously very well researched, from the historical aspects to the very settings themselves. What was one of your favorite moments in researching THE PROGENY?
TL: My favorite part was going to Hungary, Slovakia, Croatia and Italy—and taking my mom with me. I get a lot of my wanderlust from her (I swear, five minutes after I asked her to go she was already packing her bag). So we tromped all over from the ruins of the castle where Bathory spent her final years (literally walled up in a room), to the church her family built on their ancestral lands an hour from the Ukranian border, to ruin pubs in Budapest and the beautiful coast of Opatija, Croatia. We love traveling together, and it was another adventure to add to our book of memories. But the other thing is that my mother is a lifelong genealogist and while I was researching and writing this book, I learned that I'm distantly related to Bathory—something I had not known before. Crazy!
DW: What was the most fascinating or unusual thing you learned while researching Elisabeth Bathory?
TL: She's been portrayed throughout history and by Hollywood as this female Dracula who bathed in the blood of virgins and killed 600-some victims… but what many don't know is that she was quite singular for her time. She wasn't only literate but spoke several languages, went to church, supported the arts and local ministries, was known to be a caring mother, and was also extremely wealthy. So wealthy, in fact, that the crown owed her an exorbitant amount of money. When her husband, who was a national war hero, died, she began to call in many of those debts. Add all that to the fact that she was a Protestant living under a Catholic, Habsburg king… and I think there's a good conspiracy theory there.
DW: You've written books both as the sole author and as a collaborating author (such as with Ted Dekker). Does the writing process differ, and if so then how?
TL: It does for sure. Co-writing can take a great deal of time—at least at the beginning while you're learning your process as a team—to talk through premise, theme, plot. To write and rewrite in order to combine your voices. It's a great process, especially when you can get two authors together who bring complementary strengths to the table. Solo writing can be faster, and while it doesn't require compromise with a partner, you are out there on your own, having to do it all. So they both have their perks and challenges.
DW: I love the references to FIREFLY and ROSWELL in THE PROGENY! What are some of your favorite tv shows?
TL: LOL. I love and miss both of those shows! These days I watch THE WALKING DEAD/FEAR THE WALKING DEAD, GAME OF THRONES, OUTLANDER, THE BLACKLIST, THE PATH, THE VAMPIRE DIARIES, PRETTY LITTLE LIARS, REIGN, THE VOICE, THE 100… honestly, I watch too much TV.
DW: And to follow up with the prior question, I caught the reference to a Steven James novel (he's on my TBR pile). Who are some of your favorite authors, particularly those who have inspired your own writing?
TL: So the Steven James reference is an inside joke because he has a character reading a Tosca Lee book in one of his novels. 😀 We're friends and he is literally a master storyteller (he has a master's degree in storytelling!). I'm privileged to call a lot of brilliant authors friends—I'm always afraid to name names without fear of getting killed for forgetting someone (especially because you know every thriller or mystery author has a perfect murder inside him or her). Steven James, Ronie Kendig, Nicole Baart, Ariel Lawhon, J.T. Ellison are some off the top of my mind who inspire me by just doing what they do. They write a book, take a breath, and by day's end they've plunged into a new one. New friends like Mary Weber, Maria V. Snyder, Scott Sigler—I'm just inspired by their examples.
These are authors with longevity, putting out great story after great story, or newer authors pushing the boundaries of the changing industry.
DW: The ending cliffhanger scene has me anxious for the next book! Can you give us any hints about that scene or tease us a bit with what you have on your plate for the future?
TL: The next book is done and in edits right now—and comes out in February! I can tell you that Emily/Audra is back, badder than ever. Questions will be answered, lives will be lost, and Audra goes up against impossible odds—with a few more twists along the way. 🙂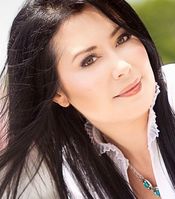 Tosca Lee is a New York Times best-selling novelist whose works include the critically acclaimed Demon: A Memoir, Havah: The Story of Eve, and The Books of Mortals series (Forbidden, Mortal, Sovereign) with best-selling author Ted Dekker. Iscariot, Tosca's highly-anticipated novel about the infamous betrayer of Christ will release February 2013. She is best known for her exploration of maligned characters, lyrical prose and meticulous research. Tosca received her B.A. in English and International Relations from Smith College and has also studied at Oxford University. A former first runner-up to Mrs. United States and lifelong world adventure-traveler, Tosca makes her home in the Midwest.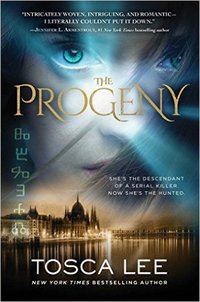 New York Times bestselling author Tosca Lee brings a modern twist to an ancient mystery surrounding the most notorious female serial killer of all time. A fast-paced thriller for fans of Lee's Books of Mortals series with Ted Dekker, Dan Brown's The Da Vinci Code, and BBC America's hit series Orphan Black.
Emily Porter is the descendant of a serial killer. Now, she's become the hunted.
She's on a quest that will take her to the secret underground of Europe and the inner circles of three ancient orders—one determined to kill her, one devoted to keeping her alive, and one she must ultimately save.
Filled with adrenaline, romance, and reversals, The Progeny is the present-day saga of a 400-year-old war between the uncanny descendants of "Blood Countess" Elizabeth Bathory, the most prolific female serial killer of all time, and a secret society dedicated to erasing every one of her descendants. A story about the search for self amidst centuries-old intrigues and Europe's underground scene…and one woman's mission to survive.