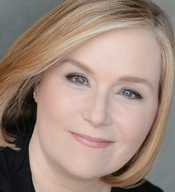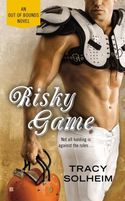 Hey there Fresh Fiction readers! It's release day for RISKY GAME, my fourth title in the Out of Bounds series and my fourth release in the past 364 days! It's been a whirlwind, but I'm really excited for readers to finally get Brody's story. I know I'm not supposed to admit it, but Brody is my favorite child among all the players on the fictitious Baltimore Blaze football team. But if I'm telling the truth here, the book I was supposed to release today was never going to be Brody's story. As a matter of fact, my favorite child was actually *cough* an accident.
You see, I never saw Brody on the horizon when I was plotting out the books I was contracted for. He just appeared on page thirty three of FOOLISH GAMES, wearing his trademark neon sneakers and lounging on Will Connelly's sofa. Loose-limbed and carefree, the blue-eyed jock breezes through life with his charming smile and athletic grace. I was immediately smitten. But there's more to Brody than just his cover boy good looks and all-pro ball handling skills. He's vulnerable on many fronts and he's trying his best to hide it from the world.
But as most superstars discover, their life is not always their own. Brody's being dogged by a blogger who could possibly bring down his career. He's used to women selling him out to the tabloids for their fifteen minutes of fame and some cash, but the health condition he's keeping secret could change the course of his life. That has Brody in a panic because he isn't really sure what he wants to be when he's forced to give up the game and "grow up".
I had a lot of fun writing RISKY GAME. He's a sort like a modern day Peter Pan. The woman I put in Brody's path—Shannon Everett—is smart, sassy and not blinded by his shine. Finally, a woman who "gets" him. Readers will also get to reconnect with Shane and Carly from GAME ON and Will and Julianne from FOOLISH GAMES, as well as many of the Blaze secondary characters. Because Brody's story takes place during the season, they'll be some on the field action, too.
So tell me, are you a fan of sports romances? If you are, do you like them to include scenes from the playing field? Obviously, I'm a big fan of the genre. Here are a few of my favorites:
Leave a comment with the title of your favorite sports romance books and we'll select one reader to win a signed copy of RISKY GAME.
Brody is at the top of his game… until Shannon changes the rules.
Baltimore Blaze tight end Brody Janik is a natural-born football star. At twenty-seven, his record-breaking athletic performance and his cover-boy good looks have turned him into a household name. But Brody's hiding a major secret behind his charming public persona: a health condition that may cut his career short.
PhD candidate Shannon "Shay" Everett works multiple jobs to put herself through school—including an unpaid internship with the Blaze training department. Strapped for cash, Shay answers the call of an NFL gossip blogger to uncover personal details about the Blaze players. Sneaking into the locker room one night, she gets entangled in Brody's secret…and swept up by his charm.
Brody isn't sure what to make of the gawky girl with the whiskey eyes, especially when he discovers she was snooping. His first instinct is to turn her in as a snitch, but she could destroy him by sharing his secret. Instead, he decides to keep her close…perhaps closer than either of them originally intended.
#1

May 2013

#2

December 2013

#2.5

April 2014

#3

May 2014
To comment on Tracy Solhemim's blog please click here.