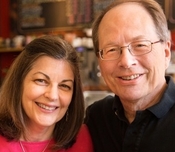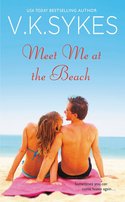 There's one thing about VK Sykes that consistently surprises people: we're a husband and wife writing team. While Vanessa writes bestselling historical romance as Vanessa Kelly, Randy's attention is focused on the contemporary romances and occasional romantic suspense that come out under the VK Sykes pen name. He also manages most of the book-related finances and paperwork, while Vanessa handles the promo end of things.
So far, so good, right? Because finances, promo, and paperwork can all be done as separate tasks, but writing a book…that's a different story. People often want to know how we can pull off a writing partnership, much less one between spouses. Because unlike most working relationships, you can't really walk away from your spouse when you have a disagreement—at least not for long! It has to be resolved or life in our household won't exactly be kittens and unicorns.
The first thing you need to know is that we do try to separate out the various stages of the process so that we're not doing the same thing at once or tripping over each other. Randy usually comes up with the germ of the idea for each of our contemporary romances, especially since Vanessa is usually stuck somewhere in the Regency Era with dukes, carriage races, and feisty spinsters. Once Randy has that core idea, we start partnering up. We brainstorm the plot and work through as many of the big complications as we can before committing any words to the page.
Once we've figured out the details, Randy then goes to work. He does any necessary research and writes on extensive outline. Boy, does he write an extensive outline! Like, 25 pages single-spaced, if you can believe it. Then he hands that over to Vanessa for "approval." Not that she ever really disapproves, but she usually ends up making suggestions—especially when it comes to the heroine. Randy is great at plot and dialogue, but he doesn't always get the female emotion quite right (big surprise!). But that's the beauty of a partnership. We can compensate for each other's weak points.
Once we're happy with the outline, Randy goes off and writes the first draft. That usually takes about two or three months, during which time Vanessa is off writing one of her historical romances. Once the draft is finished, it's over to Vanessa for full-scale revisions. Then we pass the revised manuscript back and forth for polishing until we're happy with it. Then, voila! We have a book ready to send off to our editor.
So, you might say, that sounds pretty easy. But are there any tricky spots? Well, yes! Randy hates writing sex scenes. In the beginning of our partnership, he would take a stab at them. Sadly, they were pretty rocky, so Vanessa finally told him to just stop it. Now when he hands the manuscript to Vanessa, there are always several blank chapters with the notation: insert hot sex scene here.
The other tricky spot comes when we disagree about a plot point or a certain aspect of characterization. How do we deal with that? Randy always says that he defers to Vanessa, but that's a slight exaggeration. If it's about an emotional turning point or the sexual aspects of the relationship, then he does tend to defer to Vanessa. If it's about plot, Vanessa tends to defer to Randy—although Randy is more than happy to admit that Vanessa knows more about romance tropes and themes then he does. And, fortunately, we rarely argue about the actual writing. Do we argue about other things in our life? Sure—after all, we do spend almost every minute of the day together, so there's bound to be the occasional disagreement.
But we're both happy to say that the writing brings us closer together. It's fun, challenging, and it probably saves us from getting totally bored with semi-retirement. And it's always good for a laugh when we tell people what we do. You can't imagine the looks we get or the questions—especially the one about if we rehearse the sex scenes for the book. But when it comes to real life, we can assure you that the bedroom door will remain firmly closed!
Did you ever have a working partnership? How did that play out? One commenter will win a $20 Amazon gift card
To comment on V.K. Sykes's blog please click here.