Wow – the final book in your long-running and beloved Playful Brides series is finally here with NO OTHER DUKE BUT YOU! What has this series meant to you over the years?
Oh, it's meant so much. As I say in the dedication, the series began as the stories of three friends, but the love that readers showed for them and the books enabled me to write eight more books and two novellas! I've been so close to the characters for so long, it's definitely difficult to let them go.     
 Delilah is a perfect historical romance heroine – headstrong, self-assured, a little quirky, and completely oblivious that the perfect man is literally right in front of her. Tell us more about her character development over the course of this series and this book in particular.
Delilah was introduced in book four of the series, the Irresistible Rogue. That book was inspired by The Philadelphia Story, in which the heroine's quirky, self-assured little sister, Dinah, steals a lot of scenes. Delilah was based on Dinah and it was an absolute joy to write her. I think I knew by the end of writing that book that she would be the heroine of the final novel in the series. Over the course of the rest of the books, I ensured that Delilah appeared and stayed true to her quirky self, hopefully right up until the last page of No Other Duke But You. 
Thomas is a handsome duke, has a painful past, and has known he's in love with Delilah for some time. Did you always plan on these two characters to end up together? And, quite frankly, what took them so long??!! 😉
Ha! I love this question. Yes, I always knew. After writing The Irresistible Rogue, I knew that I would introduce Delilah's future hero in the next book. But I'd already introduced a young Thomas in book five, The Untamed Earl, before I realized HE was the one. I was writing and writing and finally realized . . . it's Alex's brother Thomas! It was a surprise to me, too. Then, in the next book, The Legendary Lord, I ensured that Delilah and Thomas met and became fast friends. 
Shakespeare's A Midsummer Night's Dream adds some dramatic flair to this book – both in inspiration with the love potion, as well as the cast characters putting on the play for charity. What's your favorite Shakespeare play?
It's so hard to pick a favorite but Midsummer Night's Dream and Much Ado About Nothing (which book three, The Unlikely Lady, is inspired by) are definitely two of my favorites. The quirkier and more outlandish, the better, I say. It's such wonderful material to work with.  
In NO OTHER DUKE BUT YOU, there's a meddlesome mother, a mysterious love potion, and a friends-to-lovers storyline – romance tropes abound! Do you have a favorite romance trope to read?
Friends-to-lovers are tough to write, actually, because, as you asked above . . . what takes them so long? But I hope I've done Delilah and Thomas justice in No Other Duke But You. I love to write almost all of the tropes, but my favorite one to READ is definitely reunited lovers. Mr. Hunt, I Presume, book 10.5 in the series is a reunited lovers story that I just had to add for good measure. Another one of the Playful Brides stories that features reunited lovers is A Duke Like No Other, which book number nine in the series. 
While I know many readers will be sad to see that this is the end of the Playful Brides series, I also know we all want to know what's next for you?
Thanks so much for asking! I'm excited to announce I'm already hard at work on my next Regency series. It'll be shorter than Playful Brides, but hopefully just as quirky and fun! I'm also finishing edits to a contemporary romantic comedy called Hiring Mr. Darcy, which will be out later this year.
Rapid Fire Random Questions
Favorite candy: Tie between: Kit Kats, Butterfingers, and Heath bars
Favorite way to be kind to yourself: Spa day!
Best compliment you recently gave to someone: I'm constantly telling my dog that I admire his joyfulness. His name is Huckleberry, but we call him the Professor of Joy. 
Favorite flower: Lilacs
Random interesting fact you like to tell people: I once got into a fight on the phone with Gallagher (the comedian who smashes fruit). 
Best vacation you've ever taken: Venice (Completely surreal, like being inside a book.)
Earliest celebrity crush: So embarrassing but . . . Donnie Osmond 
Cake or pie: Cake!
Last book you read that you really LOVED: Band of Brothers. I'd read it before but I just read it again. That story is so magnificent and the last line. The last line! It brings me to tears every single time. 
You have a totally free afternoon – no deadlines, no obligations, no Twitter notifications!  What do you do?: Nap with my dogs. The story in my family has always been that we're at least one-quarter Spanish. I've always joked that that's where I get my love of a good siesta. But I just did 23 and Me and found out I have barely any Spanish at all. I'm completely at a loss as to what to tell people now. 
***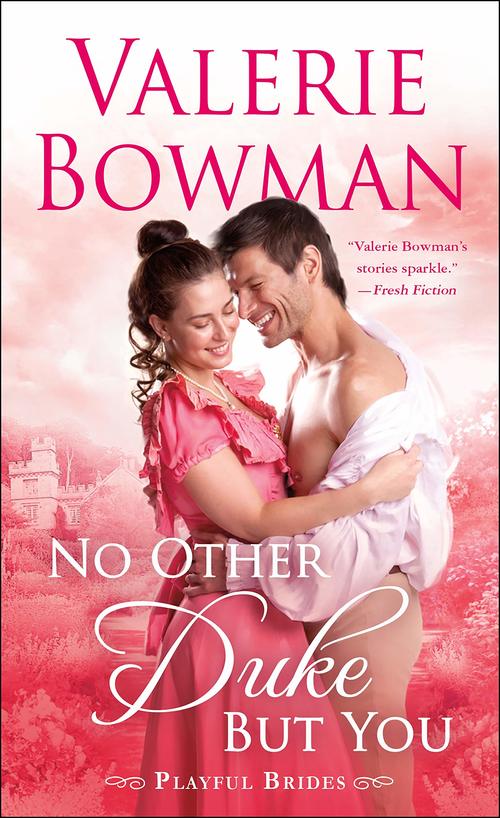 A lady with a love potion. A Duke who takes it by
mistake. Romance and mischief ensues when plans go awry in
No Other Duke But You by Valerie Bowman.
SINGLE LADY SEEKS DUKE
Lady Delilah Montebank has her marital sights set on the
Duke of Branville. There's just one problem: he barely knows
she exists. But no matter, she's got a plan to win him over
with her charm, her wit—and perhaps the love potion she has
in her possession wouldn't hurt her cause…
Lord Thomas Hobbs, Duke of Huntley, thinks his best friend
Delilah's quest to become a duchess is ridiculous. He's
always said he'd rather give up all the brandy in London
than commit to one person for life. Besides, he knows that
Delilah's love potion can't possibly win over
Branville…since she accidentally gave it to him instead. But
perhaps this is the excuse he needs to show her he's always
loved her…
Delilah can't believe she gave the potion to the wrong duke.
Then again, Delilah could do a lot worse than win the hand
of her handsome best friend. Could it be that the right duke
has been before her eyes all along?
Romance Historical [St. Martin's Paperbacks, On Sale: April 30, 2019, Mass Market Paperback / e-Book, ISBN: 9781250121677 / eISBN: 9781250121684]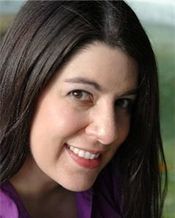 Racy Regency Romps
Valerie Bowman is an award-winning author who writes Regency-set historical romance novels with a focus on sharp dialogue, engaging story lines, and heroines who take matters into their own hands!
Valerie's first Regency series from St. Martin's Press has garnered acclaim including a nomination for Best First Historical from RT Book Reviews, a BookList starred review, and a Publishers Weekly starred review. Her work has been called "Too delightful to miss" by New York Times bestselling author, Lisa Kleypas and "Everything a romance should be" by New York Times bestselling author, Sarah MacLean.
Valerie grew up in Illinois with six sisters (she's number seven) and a huge supply of historical romance novels. After a cold and snowy stint earning a degree in English with a minor in history at Smith College, she moved to Florida the first chance she got. Valerie now lives in Jacksonville with her family including her rascally rescue dog, Roo. When she's not writing, she keeps busy reading, traveling, or vacillating between watching crazy reality TV and PBS. Valerie loves to hear from readers. Find her on the web at Facebook, Twitter, and her website.