Gosh, it's hard to choose just five books. I love reading romantic suspense, but I'm voracious when it comes to romantic thrillers. Give me an edge-of-your-seat plot, pulse-pounding action with a love story thrown into the mix any day. There's nothing wrong with a straight romance either, but the right romantic thriller is like a cheese plate paired with a glass of big, bold red wine—irresistible. I will devour it.
Out of Control by Suzanne Brockmann
The Troubleshooters series is addictive. Brockmann always manages to give the reader an entertaining roller-coaster ride while tugging on heartstrings.
When Savannah van Hopf decides to pay the ransom for her kidnapped uncle, she turns to Navy SEAL Ken "Wildcard" Karmody, a man she's had a crush on for years. He's nicknamed Wildcard for his ability to come up with unconventional solutions and his reputation for saying the unexpected. The two set off for Jakarta, but the simple ransom exchange goes horribly wrong. Ken and Savannah race through the jungle of a hostile country, struggle to evade terrorists as well as friendly fire from other American operatives sent by Savannah's grandmother. In the process, they learn to trust each other and to see beyond their preconceived notions of who the other person is. There are multiple threads with lots of characters in this story, but Brockmann weave's them all together with brilliance into an exciting and exhilarating romantic adventure.
Lost and Found by Lexi Blake
The Masters and Mercenaries series is one of my favorites. I've read each book and I'm a HUGE fan of Lexi Blake's work. She knows how to hook a reader, reel you in, and keep you turning the pages. You can jump right into this one. It can be read as a stand-alone, but I think it's more enjoyable to read these in order. Owen Shaw is a complicated character, who has made mistakes and paid a steep price for it. Rebecca Walsh is a brilliant doctor specializing in the field of neurology, but did she help wipe the memories of the lost boys or is she the key to recovering the lives they've forgotten? Both Owen and Becca must face their pasts in order to have a future together. The chemistry is scorching hot and the intrigue is tense with lots of twists. This has everything you could want: thrilling suspense, great chemistry, a fulfilling romance, and plenty of action.
Burning Bright by Nick Petrie
This is not technically a romantic thriller. Sometimes I need a high-octane fueled read that has gritty action and juicy suspense with a sprinkling of romance. This is the second book in the Peter Ash series. Peter is a battle-scarred, Jack Reacher type of war veteran, who drifts from place to place and helps people out. In the redwoods of northern California, he comes across June Cassidy. She's a smart, brave, investigative journalist on the run after escaping men who kidnapped her. Together they must unravel a gripping plot involving a shadowy organization in order to stay alive. This complex story has the best intrigue, action, and adventure, with a side order of a slow-burning romance.
Taking Fire by Cindy Gerard
In each One-Eyed Jacks story, Gerard gives readers a well-crafted plot, a romance you can root for, relatable characters, and believable action. It's hard to choose one, but I listed Taking Fire because the interpersonal dynamics are so beautifully messy. Talia Levine is a no-nonsense Mossad agent with a job to do—getting information from Bobby Taggart. Yes, they slip between the sheets in the first chapter. Yes, they both develop feelings. And yes, she still betrays him, does her job like a consummate professional, and gets the hell out of there. Five years and one secret baby later, they come face to face at a U.S. Embassy in Oman. Is there a heated discussion where fingers are pointed? Nope. Is there flirting with ulterior motives for payback? Nope. Gerard gets the action started in a totally unexpected way that I loved! The story takes off like a rocket and doesn't slow down. The two are forced to work together and face their issues, but there isn't a neat cop-out ending. Instead, the reader is left with a satisfying promise of a HEA to come one day for the characters.
Glory in Death by J.D. Robb
Eve Dallas is a tough-as-nails detective in a futuristic New York City. In the second installment of the series, she learns to follow her instincts and her heart, even if it makes her uncomfortably vulnerable. While her boyfriend, yet again, has ties to the murder victim. I fell hard for the dangerous and seductive Roarke in the first book, Naked in Death, but in this one, he's amazing. Their magnetic attraction is off the charts, but in this story, their connection is given real substance. What I absolutely adore about the In Death series is that it follows the same couple for forty books. That's right, 40! I love watching the evolution of their relationship, the give and take between Roarke and Eve, as they find a way to shed their defenses and balance it all. They are both wounded characters who are passionate about their jobs and each other. Robb never fails to give the reader teeth-grinding tension and love scenes hot enough to melt the pages. Reading this series is an obsession.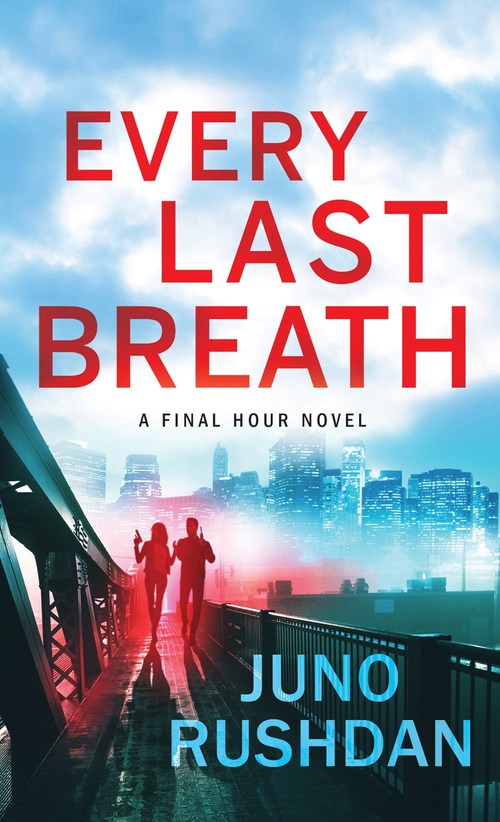 The stakes have never been higher in this race-against-time romantic thriller from debut author, Juno Rushdan
Maddox Kinkade is an expert at managing the impossible. Tasked with neutralizing a lethal bioweapon, she's got the situation under control…until she collides with the former love of her life, back from the dead.
Recruiting Cole could help save millions, but he wants nothing to with Maddox or the attraction that still burns between them. As the threat of pandemic looms, the former lovers find themselves working side-by-side to stop a world-class assassin with a secret big enough to torch both of their worlds. This assignment could cost them their lives, but taking a second chance on love is the greatest risk.
Romance Suspense [Sourcebooks Casablanca, On Sale: April 30, 2019, Mass Market Paperback / e-Book, ISBN: 9781492686088 / eISBN: 9781492661559]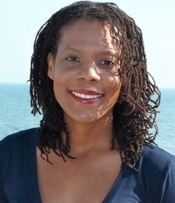 Juno Rushdan draws from real-life inspiration as a former U.S. Air Force Intelligence Officer to craft sizzling romantic thrillers. However, you won't find any classified leaks here. Her stories are pure fiction about kick-ass heroes and strong heroines fighting for their lives as well as their happily-ever-after.
Although Juno is a native New Yorker, wanderlust has taken her across the globe. Fortunately, she is blessed with a husband who shares her passion for travel, movies, and fantastic food. She's visited more than twenty different countries and has lived in England and Germany. Her favorite destination for relaxation is the Amalfi Coast, Italy for its stunning seascape, cliffside lemon groves, terraced vineyards, amazing pasta, and to-die-for vino.
When she's not writing, Juno loves spending time with her family. Exercise is not her favorite thing to do, but she squeezes some in since chocolate and red wine aren't calorie-free.
She currently resides in Virginia with her supportive hubby, two dynamic children, and spoiled rescue dogs.