I read a tweet this week that went something like this:
"Meghan and Harry have met, fallen in love, married, and are now having a baby in under three years, and I haven't put up the fallen towel rack in my bathroom."
Life is hard and comparing our self to others is a difficult exercise, often ending in futility. In The Butterfly Bride, I was able to explore the quest of trying to be perfect in the most unlikely vessels, Frederica Burghley.
Frederica is the illegitimate daughter of the Duke of Simone. In the Regency, this was a scandalous pedigree but depending on how the duke acknowledges his daughter, she would not necessarily be rejected.
But Frederica's situation is worst. She is the love child of the duke and his courtesan, a black woman he setup as his exclusive mistress. Alas, 1820 was not 2018. In that year of our Lord, you can imagine the rejections, Frederica faces as she struggles for acceptance. Classism, racism, sexism, and ignorance are slights she endures. She does so not with grievances but from the perspective of being one of the lucky ones. For now, she's escaped following in her mother's footsteps of becoming a kept woman.
Frederica works very hard to never bring shame to her Father. She's a master pianist and is constantly observing others to find how to please them—baking for them, outthink them to anticipate their needs. She believes that if she is perfect then she will earn love and respect.
But this never-ending quest is exhausting.
This puts her on a path of always questioning if people like her for her or for what she does for them. It sets up her frustration when she falls short, for one will always fall short living to be perfect:
An off note on the pianoforte.
A plum pudding that doesn't turn out.
Decorations that tumble from a mantle.
Or accidentally falling into bed with your dearest friend.
Lucky for her, Jasper Fitzwilliam, Lord Hartwell is determined to set her at ease:
It probably wasn't the time to tell her that he had the duke's permission to seduce her, or that he'd give Jasper thirty-thousand pounds to corrupt her in that manner for as long as they both should live. "You sound almost more worried about my reputation than your own. I wouldn't suffer one moment if the world thought that a gorgeous woman such as you liked me, a boorish, devil-haired widower. And why do you work so hard to be perfect for others?"
"You think me perfect?" She dimpled for a moment, and his pulse raced. He'd put it in his pocket—that, and the small compliments that transformed her lips into a smile of radiant joy. What else could he do to that pouty work of art?
"Lord Hartwell, I'll take the compliment, but too many expect me to stumble and embarrass the duke. I have to be perfect. Any less and the gossips start. Do you know how hard it is to be polite and have some man think that I like him and want to be pursued?"
"Is that what you are doing with me—being polite? You're not won over by my manners and masculine beauty?"
Oh, thank goodness—she didn't laugh but showed him a wider smile.
Frederica Burghley has to learn to love all of her, flaws and all. I think it's a lesson we all have to learn, or we will continue to obsess over comparing ourselves to others.
And Frederica does get it.
"Do you think the stories of the duke's love for my mother will remain without evidence? Some relatives want Simone's stain erased."
"Miss Burghley, I'm sorry."
"No need, my lord. That won't be my story. Surely, I was put in this world to do something, to be something more. There should be glory in my story. Something befitting the favor I've been afforded. Something that will make even your handsome face smile."
"You are a glorious creature, Butterfly."
So, celebrate you today and your un-put-up towel racks. You are a glorious creature, too.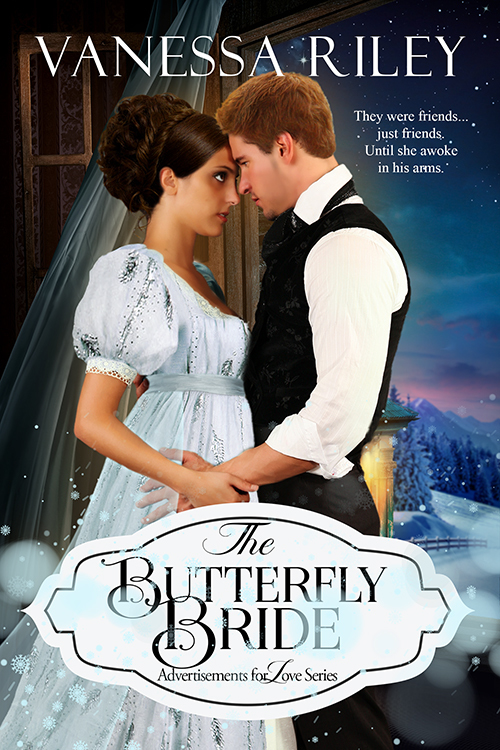 Frederica Burghley wants to be married by Yuletide. Or else her father will set her up with one of his friends. The bonbon-loving
illegitimate daughter of the duke wants to choose her own husband.
Advertising in the newspaper seems like the way to go. But a sinister
response, with threats against her life, leads her to enlist the help of
her very handsome, dear friend Jasper Fitzwilliam, Lord Hartwell.
A father and widower, Jasper is not only tasked with keeping
Frederica safe but also with helping his vibrant friend choose a
suitable husband. The more he tries to keep the ever-surprising woman alive and find her a good match, the more Jasper realizes he cares for her. The two friends risk their lives for each other, so they should be able to risk their feelings for a chance at a deep and true love together. But he's not looking for marriage and she's not looking for convenience.
Romance Historical [Entangled, On Sale: October 22, 2018, e-Book, ISBN: 9781640636385 / ]
Vanessa Riley writes Regency and Historical Romances of dazzling multi-culture communities with powerful persons of color. Vanessa writes for historical romance readers who admire and acquire books that showcase women who find joy in sweeping kisses and strong sisterhoods. Even in the darkness, she promises to give you laughs and to show you how light always prevails and how love always, always wins.
Vanessa juggles mothering a teen, cooking for her military-man husband, and speaking at women's and STEM events. She's known for her sweeping romances and humorous delivery of poignant truths. You can catch her writing from the comfort of her southern porch with a cup of Earl Grey tea.