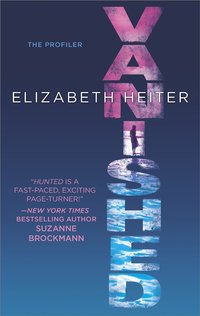 Eighteen years ago, FBI profiler Evelyn Baine's best friend disappeared.  Now, the Nursery Rhyme Killer is back – and if Evelyn doesn't catch him, she may be the next to disappear.
When the heroine of my Profiler series, Evelyn Baine, was twelve years old, her best friend disappeared, the final victim of the Nursery Rhyme Killer.  A note was left behind, the only clue to why Evelyn's friend Cassie was taken – and the note said Evelyn was also an intended victim.  For almost two decades, Evelyn has carried her survivor's guilt, never knowing if Cassie had been killed or was still living under the mercy of the Nursery Rhyme Killer. All her life, Evelyn has wanted to seek closure for Cassie.  It's the reason she joined the FBI, the reason she became a profiler for the elite Behavioral Analysis Unit.
Now, the Nursery Rhyme Killer has returned after eighteen years of silence, and nothing will keep Evelyn from returning to her hometown in Rose Bay, South Carolina.  It's a tightly knit community, yet many of the locals have old prejudices that simmer into violence when more local girls are abducted.   Evelyn already has strikes against her, because the townspeople – and the police force – remember her as the best friend of a victim.  Now, the deeper she searches, the more she realizes that almost everyone in Rose Bay has something to hide.  The closer she gets to the truth, the more she tries to determine if the Nursery Rhyme Killer is really back or if Rose Bay has a talented copycat, the more danger she could be putting herself in.
This time, if Evelyn doesn't succeed, she may be the one to vanish without a trace…
VANISHED is the second book in my Profiler series (following HUNTED, where Evelyn learns just how deadly it can be to get inside the head of a serial killer), but it can be read alone.  Keep reading for an excerpt, and to learn how to get a free, signed bookplate.
EXCERPT:
"I'm looking for Evelyn Baine." The voice was vaguely familiar and every word vibrated with tension. "The Evelyn Baine from Rose Bay. This is Julie Byers. Cassie's mom."
Whatever she said next was drowned out under a sudden ringing in Evelyn's ears, under a bittersweet flood of memories. Cassie, the little girl next door who'd come over the day Evelyn had moved in with her grandparents and announced they were going to be best friends. The girl who hadn't given a damn that Evelyn was the only person in town—including Evelyn's grandparents—who wasn't white, at least not entirely white. And eighteen years ago, in Rose Bay, that had mattered.
Cassie had been Evelyn's first real friend, a symbol of everything that was supposed to change in her life when she came to stay with her grandparents.
For two years, she and Cassie had been inseparable. And then one night, Cassie had disappeared from her bed. In her place, her abductor had left his calling card, a macabre nursery rhyme.
Cassie had never come home. Julie Byers calling now, eighteen years later, could only mean one thing. They'd found her.
Pressure tightened around her heart. Evelyn had worked enough child abduction cases in her year at BAU to know the statistics. After eighteen years, Cassie wasn't going to be found alive. But she didn't want to snuff out the flicker of hope that just wouldn't die.
….
"Mrs. Byers? It's Evelyn Baine." Her voice sounded strange, too high-pitched and winded, as if she'd just run the Marine training course over at Quantico.
"Evelyn." Julie's voice betrayed that she'd been crying.
Dread intensified, and slivers of ice raced along Evelyn's spine.
"I'm so glad I found you." Julie's voice evened out. "I heard you joined the FBI."
She had? Evelyn had left Rose Bay at seventeen, after her grandma had gotten sick and her mom had suddenly shown up again. She'd never gone back and she hadn't talked to anyone from Rose Bay in more than a decade.
"Yes," Evelyn managed. Get on with it, she wanted to say. Just tell me Cassie's dead.
A sob welled up in her throat and Evelyn clamped her jaw tight, holding it back.
"You probably figured after all this time I'd only be calling… Well, it's about Cassie."
Evelyn's fingers started to tingle and she realized she'd squeezed Greg's hand so tight both of their knuckles had gone bloodless. But she couldn't seem to loosen her grip.
"You found her?"
"No. But the person who took Cassie is back."
Watch the Trailer and Read a Longer Excerpt
REVIEWS:
R.L. Stine, NYT bestselling author and creator of the Goosebumps series, said, "Want to read a top-rate thriller? VANISHED had me turning page after page. Wow. When you talk about our most-promising new thriller writers, put Elizabeth Heiter on the list!"
Tess Gerritsen, NYT bestselling author of the Rizzoli and Isles series, said of the first book in the Profiler series, "…Evelyn Baine is a sharp and gutsy heroine you'll want to follow for many books to come."
Fresh Fiction said, "VANISHED is a fast paced thriller that keeps the reader on the edge of the seat, anxiously turning the pages as we hope to uncover who is committing such horrible crimes…VANISHED is easily recommended for readers who like their thrillers dark, twisted, and full of tension!"
FREE BOOKPLATES for first 100 people & #VANISHED Out in the Wild Giveaway:
If you are one of the first 100 readers to buy VANISHED & contact me, I'll send you a free, limited edition bookplate.  Just send your receipt, address, and if you'd like the bookplate personalized, to liz@elizabethheiter.com and I'll mail it out to you.
During the entire release week (Dec. 30 – Jan. 6), snap a picture of VANISHED wherever you purchase it, then share it on my Facebook page or on Twitter (tag me at @ElizabethHeiter) with the ‪#‎VANISHED hashtag, and you're automatically entered to win the prize pack: a limited edition HUNTED poster, Quiet I'm Reading water bottle, bookplate, pens, and $40 Starbucks giftcard. (Get a bonus entry if you make it a "selfie" with you in the shot!)
Connect with Elizabeth: Website | Facebook | @ElizabethHeiter | Pinterest | Goodreads