As the happy servant to a couple of rescue dogs, I have a deep, warm place in my heart for the people and organizations that care for neglected animals. Nothing upset me more than hearing about an animal being abused. What I fantasize about doing to abusers would get me locked up, but it might be worth it.
Where I live has what's called a Saving Train. Earlier this year they held an open house, and I took my granddaughters to it with me so the three of us could learn more about this service. (I also thought the girls might volunteer to work with the animals during summer break, which one of them did.) The director explained that the Saving Train's purpose is to take hand-picked dogs and cats from overcrowded pounds (I hate that word) elsewhere and bring them to our area where they're adopted. The rescuers travel long distances to retrieve animals needing second and sometimes first chances. It goes without saying that by the end of the open house, I wanted to bring at least one animal home with me, but I'm at my limit walking two dogs.
Months later, as I worked on my Feral Justice romantic suspense series, I continued to think about this shoe-strings operation and the wonderful work they do. My sons are grown, and we agree that we don't need more stuff. Still, I wanted to give them something for Christmas that would make it clear how much I love them. About that time I received an email from the Saving Train gently asking for donations. It costs $75 per dog or cat to rescue it and bring it to the local facility. Needless to say, I made donations in my sons' names.
Like I said, animal abuse infuriates me. There's absolutely no excuse. I knew writing a romance series that revolves around that subject meant taking a chance. Fiction, especially romance, gives readers a chance to escape from the real world, but what, I kept asking myself, if I delivered on happy endings? What if the good guys win and the bad guys get what they deserve? I had to give it a try.
Two of the three books in the Feral Justice series have been published with the third in the pipeline. PUNISH introduces a trio of big, gray dogs whose mission in life is to deliver primitive justice. At first animal control officer Nate and teacher Rachelle don't understand why the dogs do as they do, but as their love for each other grows, they realize the answer lies in where Rachelle's step-father found the grays. They were on a Hopi reservation, and the Hopi believe in peace and harmony. The just-published FANGS moves things to the Oregon coast where Fish and Wildlife officer Jeff and Christmas tree farmer Mia deal with their growing feelings for each other as the grays go after poachers.
Now to see how readers respond to what I felt I had to write.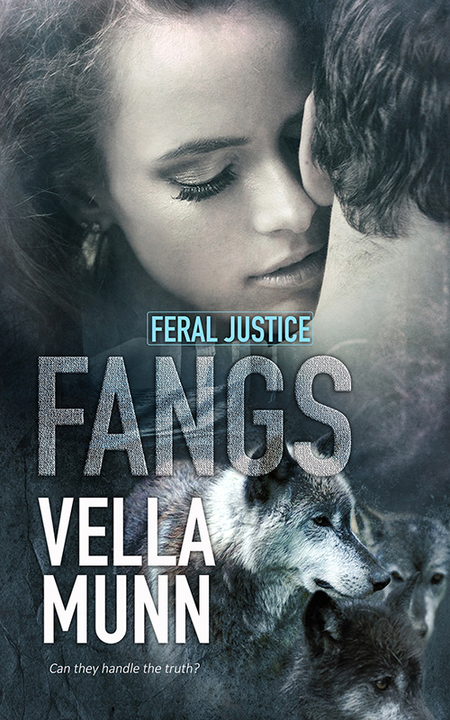 As death and danger stalk the southern Oregon coast, Mia Sandas and Jeff Julian must trust each other. Can they handle the truth?
When a poacher leaves a wounded elk cow to suffer on the southern Oregon coast, Mia Sandas has no choice but to end its misery. Before she's forced to do the same to the cow's orphaned calf, a massive gray dog appears and snaps its neck.
Unknown to Mia, this is only the beginning of a test of her courage and comprehension. As she turns to Fish and Wildlife Officer Jeff Julian, the gray and his four-legged companions stalk local animal abusers.
Jeff and Mia are drawn together as they seek understanding of what is taking place in the forested mountains. They know the canines are committed to primitive justice but why? Who are the targets and what will be the outcome?
Can Jeff and Mia stop more bloodshed—and do they want to?
Romance Paranormal [Totally Bound Publishing, On Sale: January 3, 2017, e-Book, ISBN: 9781786511102 / eISBN: 9781786511102]