Taking you away to Vegas and Hotel Rodeo with Victoria Vane in TWO TO WRANGLE. You know we like to tease our readers, so here's a bit to set the stage so to speak!
"Ty, this is Evan Hirschfeld Davis. Evan is …er…a good friend of mine." Monica finished awkwardly as if unsure how to classify the relationship. He was no longer her boss and they weren't engaged anymore. Ty's gaze dropped to her left hand to be certain. Nope. No ring. "Evan, this is Ty Morgan," she continued the introduction, visibly flustered. "He's the new CEO of Brandt Morgan Entertainment."

"Ty," Evan nodded and stood to clasp his hand.

Ty still held the height advantage but not by as much as he'd thought. Evan's gaze was steady and his hand shake firm and confident. It said no bullshit. Ty could at least respect that in the man.

"Did I interrupt something?" Ty asked, adding silently, like you making a move on my woman?

"Not at all." Evan replied just as evenly with a 'fuck off' smirk. "It seems I'm the gatecrasher here. Monica said she had a business meeting this evening."

"Is that what she called it?" Ty asked. "I s'pose you could call it business. I hope yours can wait, because mine can't."

"I'm sorry, Evan," Monica interjected with a tight smile. "Maybe later?"

Ty gave him a look that clearly said, over my dead fucking body… or maybe yours.

"Just say the word, Mon." Evan replied smoothly.

"Do you have some kind of wrap or shawl you could wear with that dress?" Ty asked, wanting a moment to set things straight for the intruding asshole. "You might get cold later in such a little bitty dress."

"Give me a minute and I'll look for something," Monica replied.

"Sure thing, Sugar."

Evan scowled at the pet name.

Both men watched her departing ass. Hot damn that dress was about to give him a heart attack. "You'd best stop looking at her like that. And I better never see your hands on her again either," Ty murmured with a smile.

"She's way out of your league, cowboy."

"Is she now?" Ty remarked, stretching his smile.

"Are you actually implying she dumped me for you?" Evan asked with a snort.

"Apparently she knows a good thing when she see's it. You didn't." Ty shrugged. "Guess that means I win. You lose."

"Who says the game's over?" Evan replied. "I never lose, cowboy. I've got more money and more influence than you could ever imagine. I always get what I want."

"Is that right, Evan?" Monica stood in the doorway, wrap around her shoulders and bag in hand. "Did I just interrupt some kind of pissing contest? If so, I can end it now." She looked from one man to the other, and then added with a smile, "For the record, Evan, Ty's is bigger."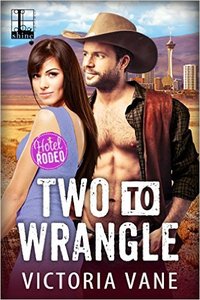 A Country Boy
Maybe having a hot and heavy affair with the boss's daughter wasn't the smartest move. But country boy Ty Morgan didn't regret a moment with city girl Monica Brandt until she left Las Vegas to return to her life in New York. When devastating news sends her running back, Ty can't help but open his arms. His heart, however, is another matter.
And A City Girl
Now that Ty has what he's always wanted—controlling interest in Hotel Rodeo—Monica is certain their time together is at an end. Then Ty asks her to come on board as a partner. Maybe it's just her money he needs, but the chance to stick close to the sexy wrangler sure could make work a whole lot more interesting.
Get Ready To Tango
Their partnership doesn't come without a heap of problems. The two can't agree on anything—except their iron-hot attraction. As the hotel's Grand Opening approaches, the truth is all too clear: Ty and Monica must find a way to mix business with pleasure if they have any shot at dancing off into the sunset together…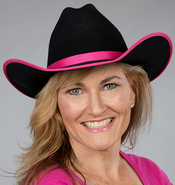 Victoria Vane is a #1 bestselling award-winning author of smart and sexy romance. Her works range from comedic romps to emotionally compelling erotic romance and have received over twenty awards and nominations including: a 2015 Red Carpet Finalist for Best Contemporary romance (Slow Hand), 2014 RONE Winner for Best Historical Post Medieval Romance (Treacherous Temptations), and Library Journal Best Ebook Romance of 2012 (The Devil DeVere series). Victoria also writes romantic historical fiction as Emery Lee. She currently resides in Palm Coast, Florida with her husband, two sons, a little black dog, and an Arabian horse.