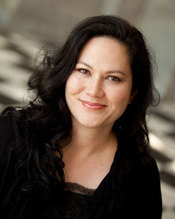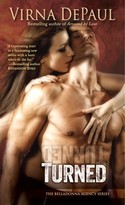 Thank you for having me here today! I am excited to tell Fresh Fiction about my upcoming paranormal release TURNED. TURNED is the first book in my new series The Belladonna Agency. The Belladonna Agency is a black ops intelligence agency that hunts paranormal criminals. My vampire hero Ty is out to enlist my heroine Ana's help in taking down some bad guys. I hope you enjoy the teaser below and enter to win an ARC of TURNED.
Welcome to a mesmerizing world where vampires hide among humans. This centuries-old species has its own rules, code of conduct, and taboos. Only the FBI knows that vampires exist—and although the Bureau agrees to keep their secret, it also plots to give humans the upper hand.
Turning mortals into vampires is forbidden.
But there are creatures who refuse to play by the rules.
Ever since he was turned, FBI special agent Ty Duncan has had one mission: bring rogue vampires to justice. As a recruiter for Belladonna, a shadow agency formed to keep vampires in check, Ty must tap Ana Martin, a troubled ex-gang member and one of the few mortals who can infiltrate places that his kind and the law cannot. From their first encounter, Ty fights a hunger to make Ana his own.
When Ty claims to have information about Ana's missing sister, Ana has no choice but to trust this captivating stranger who awakens her deepest desires. But as she and Ty climb the heights of pleasure and passion, an enemy is conspiring to destroy them both.
Can Ana help Ty find his humanity in a love that could heal them both, or will their passion lead them into a darkness impossible to escape?
Buy Links: Amazon, Amazon Kindle, Amazon Audio, Barnes & Noble, Book Depository, iTunes
for The Belladonna Agency Series
"If you're looking for a hot, sexy, emotional read, Virna DePaul delivers!"
—-J. Kenner, New York Times and
USA Today bestselling author of Release Me
"Virna DePaul creates yummy alpha heroes, relatable heroines, and supercharged emotional plots. Run, don't walk, to snatch up one of her stories."

—-New York Times bestselling author Tina Folsom
"A captivating start to a fascinating new series with a hero who's to die for!"

—-Nationally bestselling author Rhyannon Byrd
"Turned is intense, intricate, and insomnia–inducing (plan to stay up way too late!). Virna DePaul puts the awesome in the awesomesauce of paranormal romance."

—-Joyce Lamb, curator,
USA Today's Happy Ever After
"The chemistry between the two was great and made for some very sexy scenes."

—-Fresh Fiction.
Ana was tired. Truth be told, she'd been tired for a long time. Unfortunately, Ana hadn't gotten a full night's sleep since .?.?.

Well, since she could remember.

Every night was a struggle not to drag her bedding into her closet and sleep on the floor, praying that would give her the extra few seconds she'd need to escape if someone started to shoot up the house or tried to break inside. The same was true now. Granted, thanks to Ty Duncan's visit earlier that night, she was more distracted than usual.

He made her mind spin. He made her feel. She was jumpy as a cat.

She threw back the covers and got out of bed, snapping on the light on her way to a recent acquisition: a thrift–shop vanity with a mirror the size of the moon. She sat on its matching chair and yanked open a little drawer to find a hairbrush.

With long, slow strokes, Ana drew the brush through her dark brown hair, something that usually soothed her.

Not tonight. She set it down, looking at herself in the mirror. Her brown eyes were troubled. She rubbed at the dark circles under them, then sat back, pulling up the frayed strap of her tank top.

Ana Martin, secret agent. Hah. Big fat fucking hah. What did Ty see in her?

How badly she wanted to trust him and reach out for all that he'd offered. His help. A sense of purpose. A team to belong to, on the side of the good guys this time. That would be interesting. It was even more interesting that Ty thought she was perfect for it. He didn't seem to doubt that she could be what he and Belladonna needed her to be.

Maybe he was right, she thought wistfully. Maybe she could teach Belladonna's female agents something and prove to Ty that she was worth trusting. But he seemed to know far too much about her dirty past.

It hadn't stopped him from kissing her, though. It hadn't stopped him from looking at her like he wanted her. Needed her. Like maybe, given enough time, he could even come to love her.

You really think a man like that could love someone like you?

It was possible. Ty had kissed her like he meant it and didn't seem to care about her scar, but that didn't mean the guy wanted anything from her but sex. Story of her life.

Ana pushed back the chair and flung herself into the tangled bed. She knew she'd toss and turn for hours.

She reached for the alarm clock, running her hand down the cord to pull the plug from the outlet. The last thing she needed was to watch the digital numbers change until the sun came up. She'd stare at the ceiling.

She slept and dreamed instead.
About Virna
Virna DePaul is a USAToday and New York Times bestselling author of steamy, suspenseful fiction. Whether its vampires, a Para-Ops team, hot cops or swoon-worthy identical twin brothers, her stories center around complex individuals willing to overcome incredible odds for love. Bedding The Wrong Brother is a #1 Bestselling Contemporary Romance, and is followed by Bedding The Bad Boy. Her PNR series with Random House launches on April 1, 2014 with Turned. She loves to hear from readers at www.virnadepaul.com
Website | Newsletter | Facebook | Twitter | You Tube
Virna is giving one lucky Fresh Fiction reader a Print ARC of TURNED upon release! (US & Canada Only)
To comment on Virna DePaul's blog please click here.