Coming up with character names for a story falls just shy of coming up with a book title on my fun meter. Love it!
Sometimes the names are deliberate. For instance, Lisa in my grim reaper series is named after my sister, and the main characters in my new release, Properly Groomed, are real-life people I know. Sometimes I'm looking for something unique, sometimes common, but always easy to read and understand. Don't get me wrong, I adore Lord of the Rings, but seriously Mr. Tolkien, Gimli, son of Glóin, nephew of Óin, and the first cousin once removed (of Balin, Lord of Moria, and his brother Dwalin. I spent more time trying to figure out how to pronounce the names than reading the actual story. But to be fair, that's fantasy, which has its own rules, and today I'm talking about romance.
So where is the best place to find name inspiration for romance characters? Why Tinder, the casual dating site, of course. On the Tinder website there's no worry of getting caught up in lengthy bios or detailed likes and hobbies, just a lot of pictures and names. If you're attracted to the person swipe right, if not—swipe left. Simple, uncomplicated, and great for name research.
At the end of 2016, Tinder released the top ten male and female names that were swiped right. Let's count them down, shall we?
Sara (without an h) & Andrew
Anna & Adam
Katie & Ben
Samantha & Justin
Emily & Brandon
Rachel & Josh (Call me old school, I'm still partial to Rachel and Ross.)
Julia & Nick
Lauren & Matthew
Emma & Ryan
And the #1 names for 2016—drumroll please……………
Hannah & Lucas
Just reading this list makes me want to run to my office and pound out ten new adult, college-based romance novels featuring each of these couples. Simple, relatable names. After all, who doesn't know a Hannah or Josh?
So if you're searching for a good character name, or having a baby, or thinking about hitting the world of online dating, you now have numerous name choices compliments of me and Tinder. Happy reading!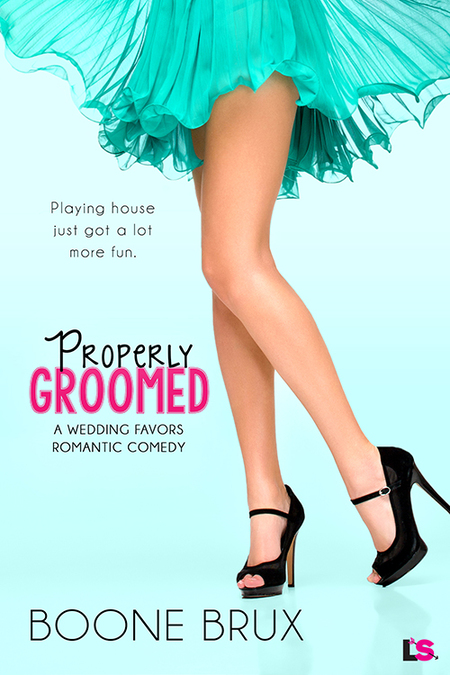 Playing house just got real…
When Joya Bennett wakes up after her brother's wedding, half-naked and lying next to her lifelong crush, she's mortified. OMG, did she try to jump his bones? Worse, did she succeed? Intending to lay low and housesit for her brother until the embarrassment fades, she sneaks away before he wakes up.
What she didn't plan on is having company.
Lincoln Fisher doesn't do relationships, but if he did, his friend's little sister would be the one to tie him down. Good thing Joya had one too many drinks during the reception or he'd have crossed a line. Her brother would kill him if he found out all the places Linc wanted to kiss the sexy, auburn-haired beauty.
And now they're stuck in the same house. For two weeks.
She's off-limits. And he needs to keep it that way, even if the heat building between them is hot enough to blow off the roof…
Each book in the Wedding Favors series is a stand-alone, full-length story that can be enjoyed out of order.

Book #1 Bridesmaid Blues
Book #2 Random Acts of Marriage
Book #3 Properly Groomed
Romance Contemporary [Entangled Lovestruck, On Sale: January 2, 2017, e-Book, ISBN: 9781633758582 / eISBN: 9781633758582]
Amazon Best Selling Author Boone Brux's stories range from high fantasy to humorous paranormal.
Having lived all over the world, and finally settling in the icy region of Alaska, she's always looking for the next adventure. It's not unusual to find Boone traversing the remotest parts of the Alaskan bush, gathering information for her stories. No person or escapade is off limits when it comes to weaving real life experiences into her books or blogs.
Join Boone's V.I.P. Club and be first to hear about new releases, events, free read, contests and giveaways, and so much more. Sign up for her newsletter and stay informed.