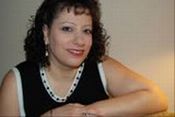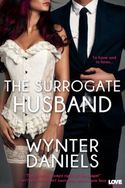 It's one of the cardinal rules of parenthood—don't play favorites with your kids. I think I did a pretty good of obeying that one when I was raising my family. My husband I used to tease our son and daughter when they were cranky or acting spoiled. One would ask the question, "Why did he/she get to do XYZ?" or "How come he/she got this or that gift when I only got this?" Our answer was always the same: "Because we love him/her more." Yeah, no one said it was easy growing up with two parents who loved to mess with their kids. But they both knew that they were loved, and when they stopped to really ponder upon whatever the situation was, I'm sure they had no doubt that we never played favorites.
But when it comes to my characters, well, I can't say the same. I have to admit, a couple of my heroes and heroines rise to the top. Lucy and Dex from THE SURROGATE HUSBAND are definitely way up on that list. Lucy was speaking to me before I'd even plotted out the story!
I envisioned her naturally black hair dyed hot pink, half a dozen gold studs piercing each ear. Her skirts were lacy and feminine but short enough to catch every set of male eyes in the vicinity. She wears so many bangles on each wrist that she jingles when she moves, but she's no airhead. As the owner of Lucy's Lingerie, she's quite the savvy businesswoman.
And her new accountant, Dex, is her polar opposite. He's a straight-laced, buttoned-up former marine, who's got yummy written all over him.
As different as these two are, they have one important thing in common. Both are fiercely loyal to their family and would go to great length to protect them. That fact sets the dynamics of the story in motion.
About THE SURROGATE HUSBAND
Wild child lingerie store owner Lucy Hamilton is a happily confirmed bachelorette. Then her mother tells a tiny lie that Lucy has eloped. Now Lucy needs to find a "husband" for the weekend, and fast. Fortunately, her ridiculously hot, ridiculously straitlaced new accountant is willing to be her stand-in spouse. And the chemistry between Dex and Lucy is more than convincing―it's sizzling. But for Lucy, falling for her fake new husband is the most dangerous thing she can do…