"You've got to come down here," my granddaughter, Savannah, said over the phone. "We have the perfect dog for you."
"Who's we?" I asked.
"Celeste, Emily, and I. It's a rescue dog. Hurry."
Well, they are my teenage grandchildren, so I decided to accommodate them, all the while feeling that I wasn't sure I wanted another dog.
The last one I had was a 50-pound black chow with a purple tongue who decided to bite a lab and took me for runs when I was only trying to walk him. He wasn't the cuddly type! The only thing he apparently feared was going up and down stairs. When there was a tornado alert and we retired to the basement, he stayed upstairs, braving the storm. He wouldn't do the stairs even when it was sunshiny, nor when offered a treat.
So, after he "retired," I'd made it clear my next dog would be calm, love me, and let me be the boss.
Reminding myself that these were the grandchildren who "made" me get a cat at a time I was more a "dog" person, I nevertheless met them outside the store where there were cages filled with pleading, rescued dogs.
Nope! None appealed to me except for the fact I wished they all could find good homes, but not mine. Then…the girls saw me, ran to me with wide smiling eyes and mouths and steered me to a back cage.
The cage was opened and there was the most beautiful ball of long blond and white fur. It's big brown eyes pleaded with me to be kind, and of course I was as I led "my" Pomeranian along the sidewalk for a while, although that wasn't necessary. I knew he was mine.
I did ask if they'd take $50 less than the asking price, although I would have bought him for $50 more, even if I had to sell my car to do it. The rescue group "happens" to have their business right outside Tractor Supply so naturally the five of us (me, three granddaughters, and my pom) went inside to purchase all the necessities such a regal Pomeranian requires. I was thinking… maybe I will have to sell my car.
But…what can you do when it's love at first sight!!
We debated the name for such a regal male member of our family who turned out to be whiter and lighter blond after a bath. The rescuers said his name was Bandit, but that didn't seem to fit. At least not until one day when I left half a sandwich on the coffee table while I went out to get the mail. Then, I understood why someone had named him Bandit.
During our naming however, I chose "Rigel," which was the name of a black Newfoundland who survived the sunken Titanic. He swam for three hours, barking to alert the lifeboat occupants and the rescuing ship, Carpathia. An officer on the ship became that Rigel's master.
My Rigel was a survivor too, although of what, I don't know. But he also represented my 50th novel, HEARTS THAT SURVIVE-A Novel of the Titanic that seemed to be the survival of my writing career at a time when so many changes were taking place in publishing and I was without a book contract. Depression threatened me, until I saw the Bible verse, "Show me the wonders of your great love," and decided to ask and allow the Lord to show me if he wanted me to continue in the career he led me into. He did show me and that turned out to be my miracle book.
Sometimes when I'm signing that book (several times a year at the Titanic Museum in Pigeon Forge TN), someone who doesn't know or think about the Titanic having sunk in 1912, will ask if I'm a survivor (at least…I think that's the reason they ask and not because I look to be over 100 years old), I say, "Yes, I'm a survivor, but not of the Titanic."
That's what I think about my life, (likely most of us have trials that we've "survived"), and Rigel's. We have a good life together. He's calm, takes me for walks, and most of all, he loves me and I love him. And…I "say" I'm the boss, but…
Giveaway
What is your favorite tale of survival? It can be a book, your pet, a person, just tell us. One commenter will win a copy of HEART OF A COWBOY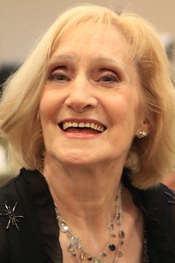 Yvonne Lehman author of more than 3,000,000 books in print, founded and directed the Blue Ridge Mountains Christian Writers Conference for 25 years. She joined Lighthouse Publishing of the Carolinas as Managing and Acquisitions Editor of Candlelight Romance and Guiding Light Women's Fiction. She has taught English and Creative Writing on the college level. Her 50th novel is Hearts that Survive – A Novel of the TITANIC (Abingdon), which she signs periodically at the Titanic Museum in Pigeon Forge TN. Her newest novella is Have Dress Will Marry, in the HEART OF A COWBOY collection releasing March 1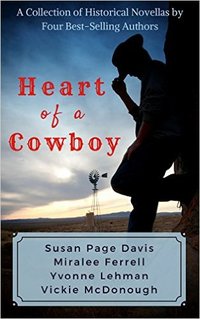 Four award-winning authors offer a unique historical romance in this collection.
HEARTS IN PURSUIT
By Susan Page Davis
Can Abby and Sam fight their way through the danger and violence and live long enough to find love?
Texas, 1880. Abby and Sam pursue a band of raiders to rescue their younger siblings. Abby's father is gravely injured, and she knows she can't return home without her little sister. Sam's father wants to thwart his powerful Mexican father-in-law and stop him from taking Pablo to live with him south of the border, but once he has Pablo back, will he continue the search for Abby's sister? Abby and Sam feel it is up to them to keep the recovery mission on track. Though romance seems to have no place on the trail of danger and violence, can this journey draws them closer?
HEARTS REUNITED
By Miralee Ferrell
Mercedes Taylor is determined to save her ranch after her father's death, but she won't let anyone help—especially not her old friend Jesse Townsend who deserted her so many years ago. The pain his family inflicted on hers goes too deep for her pride to forgive.
After riding the trail for five years, Jesse Townsend returns to his family property to find the girl he'd once loved all grown up—and more prickly than he's ever seen her. After his mare is seriously injured, he has no choice but to call on Mercedes—the local animal doctor—for help.
Add the attractive banker's daughter who Jesse seems smitten with, and trouble starts brewing. Can Mercedes and Jesse set aside the old family feud and find their way back to the love that had only started to blossom when Jesse left?
HAVE DRESS, WILL MARRY
By Yvonne Lehman
Julie Hayes must escape from Wildcat Mountain. Her mother died, leaving her with a step-father she doesn't trust.
James, who she thought would be her means of escape, is gone. Her only hope is to approach the cowboy, saddleback preacher Timothy Sullivan, when he makes his circuit into Wildcat Mountain. She asks, "Will you marry me?" He says, "Yes, of course," expecting to perform a ceremony for her and James.
Believing Julie is in danger, Timothy takes her to the Sullivan Ranch. Suspicions abound when she's accused of stealing a horse and jewels.
While Julie is trying to become the kind of woman a preacher would want to marry, Tim is trying to realize his ranching dreams, which don't include being a circuit riding preacher.
THE HAND-ME-DOWN HUSBAND
By Vickie McDonough
Ellen Stewart despises Lance Garrett. If not for him dashing into Isabelle's life and stealing her heart and filling her head with his dreams, her little sister would still be alive and safe at home. When she receives Lance's letter requesting help, Ellen rushes to Silver Springs, intent on taking charge of her young niece. A rugged ranch is no place for a motherless baby. But when she realizes the depth of Lance's despair, she can't leave him alone. Though everything within her wants to flee back to the big city, something makes her stay. Tessa needs her father, for one—and he needs her. Ellen knows what it's like to lose all she'd dreamed of. When local church members make a stink about Ellen living at Lance's ranch, they are forced to marry. Ellen didn't want a hand-me-down husband, but could their marriage be God's will for them both?