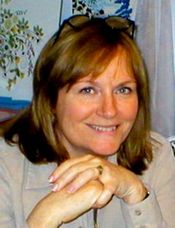 Every year, I stock up on holiday books, and I've always wanted to write one. Well, I finally have! CHRISTMAS IN SAVAGE BAY will be released (ebook only) on December 1st. The story is not only my first holiday book, it is also Book 1 in my Savage Bay Series. I've created a small fictitious village in Connecticut for my series called Savage Bay . . . where all the men need taming and the women are up to the task!
I love all the traditions of the holidays, so I made Kara Sinclair, star of CHRISTMAS IN SAVAGE BAY, a homebody who loves the holidays too. She loves every strand of tinsel and every cookie on the plate.
I paired Kara with Reed Savage who returns to Savage Bay to confront his past. He's Vagabond Guy. He lives out of a suitcase. I hope you'll pick up the book and see how Kara "tames" Reed!
But when Kara first meets Reed, she's not sure if her attraction is real or just the result of too much wassail! One thing she knows for sure, the kiss she shares with Reed under the mistletoe is just about perfect! I've put the kiss here. I've also included Kara's recipe for holiday wassail.
A First Kiss…
Reed gripped Kara around the waist, swinging her around to face him. He lifted his chin, and she looked up at the foyer chandelier.
Mistletoe.
She tried to back away, but as she did, he pulled her even closer, his sporran the only thing separating them.
Why was she resisting? She relaxed against him.
"Have I thanked you for saving my ass?" he said softly.
"Not yet." She could barely get the words out. Her breath was trapped somewhere in her chest.
He kissed her. His lips were warm, gentle, a whisper on hers. He eased back a moment and stared at her, his eyes shadowed.
Heat shimmered between them. She pulled his head down.
The second kiss was completely different. Hard. Demanding. A tangle of tongues.
Her insides quivered. It was not a mistletoe kiss. It was aggressive. Then it gentled and felt like an invitation. And a promise.
*********
For the non-Scottish out there, a sporran is a pouch worn around a man's waist at the front of his kilt. Sporrans come in all sizes and shapes. Here's one of my favorite Scotsmen wearing an ornate sporran–Grandfather Lawrence.
Scottish families figure heavily in my story. My sister and I have been working on our family tree which is part Scottish, part Irish. In researching Scottish families that came to the United States during various centuries, some names just jumped out at me. I couldn't pass up Savage. The minute I saw the name, I could picture the Savage men in their kilts. Reed's particular twig on the Savage family tree is from Dalmellington, Scotland. The other two Scottish families in the story are the Sinclairs and the MacLeods.
So…here's Kara Sinclair's Holiday Wassail. She keeps it warm in a crock pot, and the pot is always empty at the end of the night!
Kara Sinclair's Holiday Wassail
Ingredients:
6 cups apple juice or cider
1 cinnamon stick
1/4 teaspoon nutmeg
1/4 cup honey
3 Tablespoons lemon juice
1-18 ounce can of pineapple juice
Orange slices for garnish (can decorate them with cloves)
1/4 cup rum (Optional and adjust amount to personal taste.)
Directions:
Heat the apple juice or cider with the cinnamon stick until boiling. Reduce the heat, cover and simmer for five minutes. Uncover and stir in the remaining ingredients. Simmer for 5 more minutes. Transfer to a crock pot to keep warm and garnish with the orange slices.
Makes 16 1/2 cup servings
I'll happily give two lucky people who comment an ebook copy of CHRISTMAS IN SAVAGE BAY (winner's choice of digital format) which will be released on December 1st.
And mark your calendars for the rest of the series: UNBRIDLED – Book 2 – June 2014 and SWEPT AWAY – Book 3 – November 2014
To comment on Ann Lawrence's blog please click here.