The Harvey Girls, in full uniform, stood shoulder to shoulder, arms linked, at the entrance to the church. Emma was at the center of the lineup. Grace Hopkins was on her left and a woman Max didn't recognize was on her right, all three also in uniform. Sheriff Bolton stood before them, shouting out threats to arrest the whole lot of them. Off to one side sat the bride, her face blotched with either fury or misery or both. Father O'Meara stood between McCoy, the local lawyer, and Mr. Gilmore, trying without much success to get them to lower their voices. And instead of consoling his bride, whose day had clearly been ruined, RJ stood with his arms around his mother—and his eyes fixed on Emma. Max started making his way through the crowd.
"Wait, Max," Aidan called, stopping him. "Let them alone. This just might work."
"Mr. Campbell," Ford said, "please explain why employees of the Harvey Company are staging what appears to be a protest outside a church of all places."
"It was all their idea," Aidan said, gesturing toward the waitresses. "Emma's really—along with Grace and Lily, of course."
"Who's Lily?" Max asked.
Aidan pointed to the woman standing to Emma's right. "She's married to Cody Daniels over there. He was the former sheriff here before Bolton took over. Now he's the territorial representative."
Daniels was standing with Nick, and both men were smiling as they watched their wives. Max felt his temper rise. This wasn't some show. This was his wife, accused of a crime she did not commit and about to pay a price for that. He strode over to the two men. "What's so funny?" he asked, directing his question to Nick.
"Max! You're back, and none too soon," Nick said. He ignored Max's question and introduced him to Cody Daniels.
Cody shook his hand then turned his attention back to the women. "Magnificent, aren't they? It's a new world, my friends, one where our ladies will no longer be content to step aside and allow the men to fight their battles. I've seen hints of this in Washington and on my travels but never thought I would see it here in Juniper."
Max realized the smile he had taken for humor was in fact pride. "Still," he said, "Emma needs help, and I aim to be the one who gives it."
He took a step forward but was stopped when Daniels and Nick blocked his way. "Big mistake," Nick told him. "Look at your wife, Captain."
He realized Emma had been so caught up in the drama playing out on the church steps, she had yet to realize he was there. But he also saw her head raised in defiance. Her eyes were bright with the certainty that she was in the right. He felt a smile tug at his mouth.
Just then, Frank Tucker approached Emma and the other women. "Ladies, perhaps you could tell us what it might take to end this standoff and allow these young people to get on with their wedding."
The crowd stilled and leaned forward to catch every word.
Emma turned her head and fixed her gaze on RJ. "An admission of truth," she said.
"And an apology," Grace added.
Cody's wife, Lily, stepped forward. "Does anyone here who knows Emma Elliott think for one minute she would ever take something not hers? Does anyone here think for one moment she would be caught dead wearing that gaudy piece of paste jewelry?"
Mrs. Gilmore's head snapped up. "The stones in that brooch are real," she shouted. "Tell them, Seymour."
Suddenly, the bride stood and marched forward. "It was RJ," she said, standing toe-to-toe with the sheriff. "He told me to make some excuse to call Miss E back to the house as she was leaving. I did as he asked." She glared at her intended. "As I have always done, but no more."
RJ grabbed her roughly by the upper arm.
"Are you going to hit me again?" she said, tossing her head. "Because with all these people watching, it would be hard to say I fell."
RJ hesitated just long enough for Trula to wrest herself from his grip. She turned and walked to the lineup of Harvey Girls, standing before Emma. "He'll never apologize," she said, her voice shaking, "but I will. I am so very sorry."
Max saw Emma unlink her arm from Grace's and make room for Trula to join their ranks.
RJ's parents stepped forward. His father's face was bloated with anger. "Young lady, that is my grandchild you are carrying." He ignored the shocked gasp that came from several onlookers, but Mrs. Gilmore grasped his forearm tightly.
"Seymour, not here," she said.
"Not according to your son," Trula replied. "He says it's not his. Go on. Ask him."
***
Excerpted from Pathfinder by Anna Schmidt. © 2019 by Anna Schmidt. Used with permission of the publisher, Sourcebooks Casablanca, an imprint of Sourcebooks, Inc. All rights reserved.
—
COMMENT TO WIN! Tell us why you love cowboy romances in the comments and you'll be entered to win a copy of PATHFINDER. US & Canada only. Good Luck!
—
Cowboys & Harvey Girls #3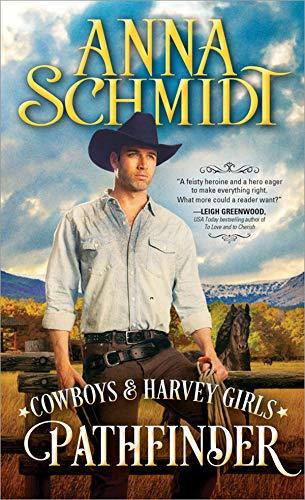 Return to a time
when the West was Wild…
Captain Max Winslow was once a pathfinder for the Army, blazing trails and keeping his brothers-in-arms safe. Now he's the star of a Wild West show, reminding curious audiences of days long gone. The world around him may be changing, but that doesn't mean he has to accept it—not when there are frontiers yet to be explored.
When Max first sets eyes on no-nonsense Harvey Girl Emma Elliot, he knows that anything between them would be impossible. She's a realist embracing what the future holds, while he's a dreamer, determined to preserve the West he once knew. And yet something about Emma's strength of will calls to him. It isn't long before Max must decide: is there room in his dream for love, or will his resolve to hang on to the past jeopardize their future?
Romance Historical | Romance Western [Sourcebooks, On Sale: January 1, 2020, Mass Market Paperback / e-Book, ISBN: 9781492667100 / ]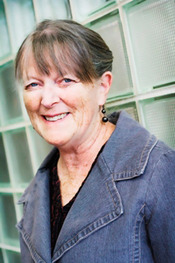 Anna Schmidt is a three-time finalist for the coveted RITA award presented annually by Romance Writers of America (RWA). Her novel A SISTER'S FORGIVENESS gave Anna her fourth finalist honor for the Reviewers' Choice Awards from Romantic Times magazine. She has won that award twice before. In 2013 she was given the Lifetime Achievement Award by her local Wisconsin chapter of RWA.