Welcome back to Fresh Fiction, Cindi! Please tell us a little bit about your latest novel, A COWBOY NEVER QUITS.
A Cowboy Never Quits is about the Dawsons, who run a rehab ranch for teens, and a single mom who had a daughter at sixteen. Jess and her daughter have always been close, but they've been drifting apart lately, and when Chloe lands in jail, Jess is desperate to keep her from going down her same path and get her the help she needs. Even if it involves working for slightly grumpy cowboy, Wade, and taking a cooking job she may or may not have exaggerate how qualified she is for.
This is the first book in the Turn Around Ranch series. What inspired this cowboy romance series?
I grew up on a cattle ranch, and I'm a big believer in the sort of therapy that comes from nature, animals, and people who genuinely care. I'm also a mother of teens, and as I've talked to other mothers of teens, we've talked about some of the issues our kids are facing, namely anxiety and depression. I liked the idea of a close mother-daughter relationship, and a mom who was scared of her daughter following the bumpy, complicated path she did when she was younger. The series is about healing and finding out how to cope with issues and, of course, love. Not just romantic love, but friendships and families.
Jessica is a single mother with a teenage daughter, and she desperately needs help. She goes to the Turn Around Ranch to hopefully find some help for her daughter, but never expects to find something–or someone–worthwhile for herself while she's there. What are your favorite things about Jessica? What are some of the more frustrating things about her?
I love how determined she is. She has to swallow her pride to ask for help, even when she's a bit exasperated by the handsome cowboy she ends up working with.
As far as frustration goes, I think she–like most mothers–beats herself up more than she should. She thinks she needs to do everything herself. But in the end, she does learn that asking for help isn't a weakness.
Wade has been burned by love in the past, so he has thrown himself into running the Ranch and making sure things go smoothly for these troubled teens… which means he runs a tight ship. He's also a bit of a grump (perhaps my favorite type of hero!). How does the arrival of Jessica and her daughter Chloe change Wade?
The guy really likes his control, but Jessica challenges most everything he says or does. Jess and Chloe joke a lot–they make up stories for the animals and are on the sarcastic side–and the humor helps crack Wade's grumpy exterior. And he starts really living life again and opening up.
What do you think is the ever-enduring appeal of a cowboy?
Old-fashioned manners, hard-working (a lot of working with his hands), and of course there's the rugged sexy thing.
Family plays a big role in this book, both found-family and biological. What went into creating these family units?
I wanted to have a mix of traditional and non-traditional families. While some of the people on the ranch aren't related by blood, everyone who works on the ranch becomes family. I love that three of the brothers came up through the ranch themselves, two through court-ordered stints. Mrs. Dawson talks about just knowing they belonged in the family, and I admire her and Mr. Dawson for fighting so hard to give teens a home, whether temporary or forever.
Winter is in full swing! Now that the holidays are over, what are your favorite things to do during this time of year?
Countdown to warm weather. LOL. I love to hike and be outside in the summer, but the colder months are for reading by the fireplace with a cup of hot cocoa.      
I love asking authors for book recommendations. What have you recently read that you loved?
Roni Loren's The Ones Who Got Away Series is amazing. If you're looking for something unique, Gina L Maxwell has a contemporary Peter Pan retelling. I'm loving that series as well.
What can readers expect from you next?
I have another cowboy coming out with Hallmark called Country Hearts and the second book of my Hitched in Dixie Series, Always a Bridesmaid. So lots of small towns with fun casts and lots of animals.
Rapid Fire Random Questions
Cats or dogs: Cats. I have two. A one-eyed kitty named Agent Fury and another named Valkyrie.
Book you recommend the most: Kate Meader books, Ilona Andrews's Kate Daniels Series
Favorite smell: Lilac bushes
Ketchup or mustard: Ketchup
You've been invited to a costume party – what do you dress up as?: Buffy the Vampire Slayer is often my go-to.
What fictional city/location would you visit?: Hogwarts for sure
Favorite childhood movie: The Little Mermaid
How do you practice self-care?: Baths with bath bombs, massages, movie nights with my famiy.
Breakfast or dinner?: YES!
You have a totally free afternoon – no deadlines, no obligations, no Twitter notifications!  What do you do?: Binge a TV show or read a book from my giant TBR pile.
—
COMMENT TO WIN! Tell us in the comments what you love about cowboy romance and you'll be entered to win a print copy of A COWBOY NEVER QUITS! US & Canada Only. GOOD LUCK!
—
Turn Around Ranch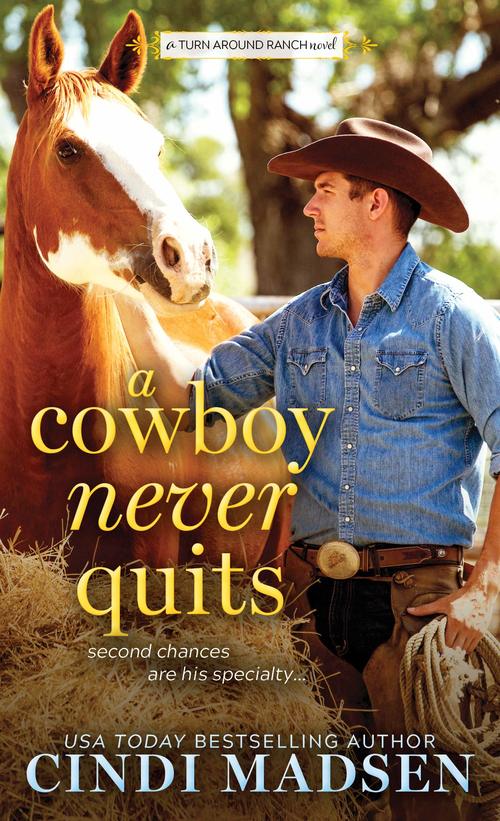 These hardworking cowboys give everyone a second chance…
When single mom Jessica Cook is at the end of her rope, she takes her 16-year-old daughter to Turn Around Ranch. The ranch has a great reputation for teen therapy, and Jessica prays there's room there for her and Chloe.
Wade Dawson's first priority is to keep the ranch afloat to help teens and their families. But he can't seem to keep his boundaries when it comes to Jessica—she's talked her way into a job on the ranch so she can stay near her daughter and her tenacity and courage are truly impressive. Not to mention she's a natural beauty and sparks fly whenever he's in her vicinity.
But as one crisis after another befalls the ranch, Wade is going to have to decide whether he can afford to let a woman get under his skin…
Romance Western | Romance Contemporary [Sourcebooks, On Sale: January 1, 2020, Mass Market Paperback / e-Book, ISBN: 9781492689171 / ]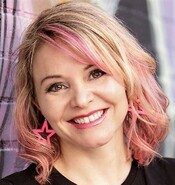 Cindi Madsen sits at her computer every chance she gets, plotting revising, and falling in love with her characters. Sometimes it makes her a crazy person. Without it, she'd be even crazier. She has way too many shoes, but can always find a reason to buy a new pretty pair, especially if they're sparkly, colorful, or super tall. She loves music, dancing, and wishes summer lasted all year long. She lives in Colorado (where summer is most definitely NOT all year long) with her husband and three children.