Welcome back to Fresh Fiction, Asa! Please tell us about your Viking Warriors series and its latest novel, LOKI ASCENDING.
I'm super happy to be here! Thank you for having me again!
The immortal Vikings and Valkyries in the Viking Warriors series have been sent back to contemporary Midgard–the human realm–by Odin and Freya in order to thwart Loki's evil schemes and defeat the wolverine-human hybrid monsters he has sent to Midgard. The Norse warriors are supposed to stay undetected by the human population but one-by-one, book-by-book, they meet a mortal and fall in love with them.
Loki Ascending is the third book in my Viking Warrior series–although each book can be read as a standalone–and fans of the series will recognize the hero, Scott, and the heroine, Irja, from earlier books. Irja is an immortal Valkyrie and the healer of the Norse men and women. She puts all her self-worth into how well she serves her fellow warriors. Although she's been attracted to Scott for some time, she doesn't think herself worthy of him since he is her queen's younger brother. Also, history has taught her that bad things happen to people she loves. Scott also has a chip on his shoulder and it is pretty big. He's been in love with Irja from afar since forever, but because he's been a patient of hers and because she is immortal, he doesn't think she'd ever be interested in her. It takes quite a few pages for these two to admit their feelings for each other, and when they finally do it's only because the Norse men and women are falling mysteriously ill and they have to work together to find a cure. Plus, Loki physically shows up on the page for the first time in the series and the only way to defeat him is for to Irja embrace the magic she hasn't used for centuries and allow Scott to bond with her so he can serve as the anchor of her power.
The Viking Warriors series is steeped in Viking lore and has so many fun supernatural elements! What went into creating this world?
I grew up in Sweden, where Norse mythology is featured heavily in our history, architecture, and archeological artifacts. I've always been fascinated by the Norse gods' and goddesses' adventures and read a bunch of books about them as a kid and teen. The Viking Warriors series is for the most part grounded in the official Norse pantheon, but I've made it less misogynistic and given the Valkyries more agency.      
I have always been fascinated by healers, in all the varieties they come in throughout literature. What are some of your favorite traits of the heroine, Irja, who also happens to be a healer? What do you think her abilities add to her character?
Healers fascinate me as well! Especially the tales about strong women who were labeled witches because people were afraid of their independence and skills. I think some of that shines through in who Irja is because she's always been a healer, but also went to medical school, and somewhere along the lines she stopped believing in her own skills and magic and now relies on science only–or at least so she thinks. She'll use herbs and other plants in her treatments that the ancient Norse texts prescribes, but she'll only do so if she can find strong medical data that they work. Irja's whole self-worth is tied in with being able to care for and protect her tribe. It's such a big part of who she is that she's willing to sacrifice having a relationship with Scott in order to not jeopardize her healer role.        
Scott Brisbane is a human who has been in love with Irja since the moment he saw her. But Irja, who has been hurt in the past, is reluctant to get involved with him. But that doesn't mean she's immune to his charms! What will readers love about Scott?
Scott was super fun to write because I've known him–and Irja–since the first book in the series. He was also a blast to write because I have a younger brother and a lot of the sibling rivalry, but also the affection and love, which Scott and his sister share come straight from my relationship with my brother. I also think readers will relate to him because Scott really struggles with finding his place in the Norse tribe and when he finally does, he realizes that being strong and courageous is not always about brute strength.       
As with previous books in this series, there is a character who is mortal and the other who is immortal trying to navigate falling in love. What does this added conflict add to Irja and Scott's journey to an HEA?
Both of these two characters are flawed and insecure and it's not until they learn to really trust themselves and their abilities that they can come together and truly love each other. The fact that Irja is immortal means Scott thinks she'll never be interested in him. And because Scott is the younger brother of the mortal Norse queen, Irja thinks he'll never be interested in him. Plus, they are both super stubborn so getting them to HEA was a hardship. They insist on doing everything on their own and never ask for help. It isn't until the end of the world is about to happen, literally, that they finally are brave enough to believe in themselves and each other.              
2020 is here! Do you have any New Year's Resolutions?
I am very good at planning things–i.e. make resolutions–but very bad at executing those plans–i.e. keeping resolutions. So, I've stopped making resolutions, but I do have a special word for 2020. The word is "resurrection" as in I'd like to resurrect my health and my joy, actually I'd like to resurrect everyone's joy. I feel like 2018 and 2019 were tough years for many of us, especially in Romancelandia. We need more joy in this coming decade.
What can readers expect from you next?
In February, I'm releasing a crime-fiction novella that's part of a multi-author series from Down & Out Books and curated by Frank Zafiro. This is a new genre for me, and I'm super excited to show the world A Grifter's Song: Upgrade. In late spring, I'll release A Flash of Fate, which is the second novel in my new Power of Lightning trilogy. The first book, A Flash of Fear, came out this May.     
Rapid Fire Random Questions
Dragons or unicorns: Dragons! Because they can fly and shoot fire!
Favorite flower: Cornflower or Bachelor Button. It's also my favorite shade of blue.
Hobbies you have (aside from reading and writing): SCUBA diving and hiking.
Dream vacation: Warm climate, on a beach, no insects, and clear tropical waters with amazing under-water visibility and without any kind of critters that can kill you. If anyone knows about a place like this, please let me know. J
Sweet or salty snacks: Both! Chocolate-covered caramel with sea-salt sprinkled on top. Yum! Or Moose Crunch, which is caramel, regular, and chocolate-covered popcorn all mixed together with chunks of chocolate. Yum! Yum! Yum!
—
COMMENT TO WIN! Leave a comment below about the supernatural power you'd most like to have and be entered to win a print copy of LOKI ASCENDING! US & Canada Only. Good Luck!!
—
Viking Warriors #3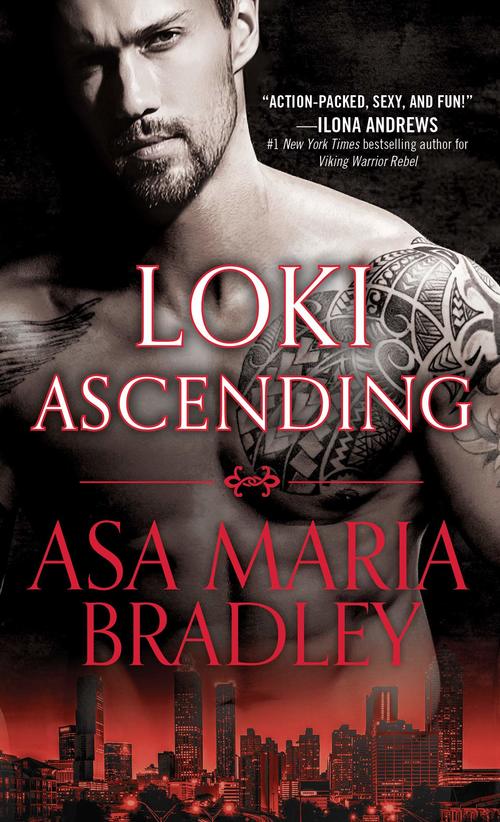 LOKI WANTS TO END THE WORLD Only they can stop him—but at what cost?
Although Scott Brisbane is human, he's developed an inner warrior—a berserker that wants to claim Irja Vainio as his own.
Irja is an immortal Viking healer, but she hasn't used her true powers for centuries. The last time she did, someone close to her ended up dead. So instead she relies on medicine and science to protect her tribe while denying her feelings for Scott.
But the Viking warriors are falling mysteriously ill, and without magic, Irja's knowledge of healing isn't enough. When the trickster god Loki offers her a cure, it comes with a steep price that could cost Irja everything. She needs Scott's help, the man whose loyalty to the Vikings is unmatched, whose love for Irja cannot be broken—and whose inner fury has yet to be unleashed.
Fantasy Urban [Sourcebooks, On Sale: January 1, 2020, Mass Market Paperback / e-Book, ISBN: 9781492618904 / ]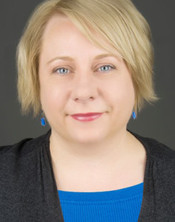 2016 double RITA finalist Asa Maria Bradley grew up in Sweden surrounded by archaeology and history steeped in Norse mythology, which inspired the immortal Vikings and Valkyries in her paranormal romances. She arrived in the U.S. as a high school exchange student and quickly became addicted to ranch dressing and cop shows. Asa currently resides on a lake deep in the pine forests of the Pacific Northwest with a British husband and a rescue dog of indeterminate breed. She graduated from the Inland Northwest Center for Writers program at Eastern Washington University with an MFA in creative writing and also holds an MS in Medical Physics from University of Colorado.