What genre do you write in?
I write a cozy mystery series with an amateur sleuth. I like the elements of this genre. There are interesting characters and a small town setting. There is no graphic violence so the reader doesn't need to worry about suddenly finding a scene that puts an unpleasant image in their mind. It's a "safe" read. You know your favorite person will be back in the next book.
Tell us about your books.
In the first one, MURDER AT REDWOOD COVE, Kelly Jackson, executive administrator for Resorts International, flies to Redwood Cove, California, after the manager of a bed and breakfast has a fatal fall off of a seaside cliff. It's a straightforward assignment until a group of crime-solving senior citizens, the Silver Sentinels, cry murder. Kelly and the Sentinels work together to find out the truth about what happened. In the second book, MURDER AT THE MANSION, a guest is found stabbed and one of the Sentinels, Gertie Plumber, is attacked. Kelly and the Silver Sentinels must solve the crimes before another life is lost
What makes your books different than others in this genre?
I have a crime-solving group of five senior citizens, the Silver Sentinels. The Professor, Hebert Winthrop on his birth certificate, drives a vintage gold Mercedes. In addition to the Professor, the group consists of Gertie Plumber with her cane, Mary Rutledge carrying the ever-present container of goodies, and the Doblinksy brothers, Ivan and Rudy. Their monochromatic hair color ranges from the Professor's white to Rudy's steel gray. They began their crime-solving career when pickpockets were preying on tourists. They helped catch the thieves and decided to continue their investigations in other areas that were creating problems in their community. They're a caring group of people someone can turn to in a time of need.
Dogs with special abilities are featured in the books. I read about a clinic training dogs to detect cancer. They were having a great deal of success. I began collecting articles about many of the unusual ways dogs add to our quality of life and decided to incorporate what I learned into my books. Fred, a cancer-sniffing basset hound, romps his way through MURDER AT REDWOOD COVE. Jack and Jill, two rescued beagles trained to sniff out bedbugs and termites, appear in MURDER AT THE MANSION. Princess, a feisty, bow-legged Chihuahua and retired hearing assistance dog wearing a jeweled collar, will debut in book three.
What are you currently working on?
The third book in the series is tentatively titled MURDER AT THE FORTUNE TELLER'S TABLE. Despina Manyotis, better known as "Auntie," predicts the future by reading patterns in Turkish coffee grounds. Murder occurs and one of the members of the Silver Sentinels is attacked. My protagonist works with them to solve the crimes.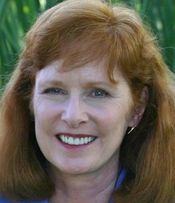 Janet Finsilver is the USA TODAY best-selling author of the Kelly Jackson mystery series. She worked in education for many years as a teacher, a program administrator, and a workshop presenter. Janet majored in English and earned a Master's Degree in Education. She loves animals and has two dogs—Kylie and Ellie. Janet has ridden western style since she was a child and was a member of the National Ski Patrol. One of the highlights of her life was touching whales in the San Ignacio Lagoon. Murder at Redwood Cove, her debut mystery, was released on October 13, 2015. Her second book, Murder at the Mansion, is scheduled to be available on June 7, 2016.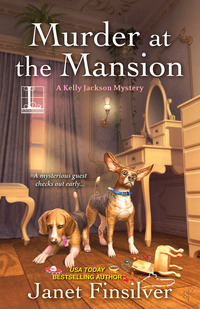 Kelly Jackson returns to California to manage Redwood Cove Bed and Breakfast. While the inn is being renovated, she is assigned the task of inventorying a historic collection of objects from the 1800s housed at nearby Redwood Heights and to assist at the mansion during the Whale Frolic Festival. She's also asked to learn what she can about the disappearance of some jewelry from visitors' rooms.
Shortly after she arrives, Kelly finds a guest stabbed in one of the rooms, the door and windows locked from the inside. Then Gertrude "Gertie" Plumber, a member of the Silver Sentinels, a crime-solving group of senior citizens, is attacked. The police question Gertie's son, Stevie, who is working at the mansion with his bed-bug and termite-sniffing team of beagles, Jack and Jill, about the jewelry thefts as well as the murder. Kelly and the Silver Sentinels must work together to solve the crimes before another life is lost and Stevie is put in prison.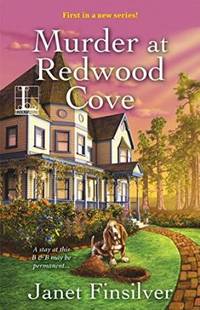 Bed, breakfast…and a body!
If it weren't for the fact that she's replacing a dead man, Kelly Jackson would love her new job managing the Redwood Cove Bed and Breakfast on the coast of Northern California. But Bob Phillips did plunge off the cliff to his death…and Kelly's starting to think it may not have been an accident. Bob's retired friends—The "Silver Sentinels"—are also on the case, especially when Kelly is attacked…and another body turns up. Kelly has her hands full with overseeing the B&B's annual Taste of Chocolate and Wine Festival, but she's also closing in on the killer…who's ready to send Kelly on her own permanent vacation…