Sharon Ashwood and the Dark Forgotten series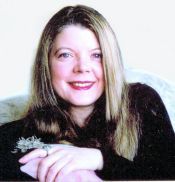 Imagine a world where the vampires, werewolves, and everything else that goes bump in the night comes out of the closet on a network TV talk show. With computers, security cameras, and Facebook to deal with, it's too hard these days to eat a village and skulk into the night.  So, the fanged and furry have signed on for credit cards and Netflix.
But, just when humans are getting used to the monster next door, a portal to a prison dimension called the Castle opens up in the downtown, and all the OTHER monsters—the ones too dangerous to roam free—threaten to escape.
Not all of them are guilty of a crime.  Now no one knows who is safe to set free, who is evil, and who has gone mad from thousands of years in darkness. But, if the wrong monsters invade the human world, a wholesale backlash against the "regular" supernaturals will wipe out any chance of survival, much less a comfy existence with delis catering to werewolves.
This is the world of the Dark Forgotten, of sentient houses that threaten to eat their visitors, of vampires whose venom gives an orgasmic high, of guardsmen whose souls have been ripped away by long-dead monsters, and of the lost who will not renounce their dreams of love.
Each book stands alone, but you'll recognize old friends wandering through the pages of later volumes. After all, happily ever after isn't an end, it's the beginning of new adventures. Come into the world of the Dark Forgotten, and enjoy!
RAVENOUS One kiss is all it takes to lose your soul…
Holly Carver is a small-time witch who busts ghosts for tuition money, but ends up wrangling a demon when a haunted house job goes bad. Her Undead business associate, Alessandro Caravelli, suspects the demon is somebody's not-so-secret weapon, and Holly's unpredictable magic holds the key to hell's doorway. Soon Holly is on everyone's "must have" list, and not in a good way.
Alessandro wants her for more than magic. A lover with six centuries of experience, the vampire is walking seduction, but he's also a predator. Every moment he spends guarding Holly, every second he spends falling under her witch's spell, he becomes more and more of a threat himself.
Winner: Desert Rose Golden Quill Contest, Paranormal/Time Travel
SCORCHED Welcome to the Castle. The price of admission is your soul.
Ex-detective Macmillan always had a taste for bad girls, but his last lover really took the cake—and his humanity. Now half-demon, Mac's lost his friends, his family and his job.
But Constance, a strangely innocent vampire trapped in the supernatural Castle prison, needs his help. Her son has been kidnapped, so suddenly Mac has a case to work—and Mac soon learns that cracking the case will cost him his last scrap of his humanity. But he'll be damned if he turns his back on a mother in need… and a demon forever if he won't.
Romantic Times Top Pick!
UNCHAINED Been there, slain that . . .
Faced with a custody battle, Ashe Carver, monster-killer, has hung up her stakes and taken a job at the public library, determined to show the courts and her ten-year-old daughter that she's as good a mother as she is a hunter.
Then, after centuries guarding a supernatural prison, Captain Reynard strides into her world like a hero from the library's Must Reads. Smokingly gorgeous, passionate and courageous to a fault, he has only weeks to live unless Ashe finds the thief who took his soul.
RITA® Award Finalist, Paranormal Romance
FROSTBOUND Every dog might have his day, but the hellhound guards the night . . .
As a snowstorm locks down the city, more than the roads are getting iced. Someone's beheaded the wrong girl, and vampire-on-the-lam Talia Rostova thinks it was meant to be her. Now she's the prime suspect in her own botched murder—and the prisoner of her smoking-hot neighbor.
Lore is a hellhound, bred to serve and protect, so he's not freeing Talia until he's sure that she's the prey and not the hunter. You'd think a beautiful woman in his bedroom would be a good thing, but trouble-prone Talia has run afoul of someone more sinister than your average lunatic killer. An ancient Undead is wreaking vengeance on the city—and on her—and Lore will have to go far beyond a stake to put him back in his grave . . .
Available June 7, 2011!
Read Reviews of these books.
Visit my website.