Hi, I'm so glad to be here with you on Fresh Fiction. I'm really excited to tell you a little about my new release GRAY MATTER: Deep Six Security Book 5, but first let me tell you a little about myself.
I write edge-of-your-seat romantic suspense stories with heat, heart and humor. If one of my books doesn't keep you up all night, I haven't done my job. I also write contemporary westerns, but they all include a mystery or suspense element too.
My imperfect heroes are on the alpha side, gruff, overprotective and set in their ways, so sometimes they come off a little rough. But never fear, as in real life, there is always a sassy heroine waiting in the wings to meet and redeem them. My job is to throw her into his path and turn the wheel over to them to let them tell me their story.
Because I like to keep my suspense plots relatable to the reader, some of the topics I tackle in my books are true-to-life, but not the pretty side. Together, though, my hero and heroine fight a good fight against evil, survive those perils, and find lasting love in the process. You can always count on a happily-ever-after when you reach the end of my books, but you'll have a wild ride getting there as you live out the story with my characters. In Gray Matter, Mickie and Gray put us in a ditch twice, but they took me on one of the wildest rides yet. They truly let me unleash my humorous side too, which I loved.
Michaela Girabaldi is an east coast Italian with plenty of attitude from a family with mob ties. She worked for her uncle for ten years as his office manager, but wasn't included in his business dealings. That proves detrimental when her uncle is whacked, mob money comes up missing and they are looking to her to answer for it.
Grayson Jennings is former FBI and now works as a forensic accountant for Deep Six Security. He is staid, likes his boring, but peaceful life and has sworn off women. After his last girlfriend almost put him in jail, he just didn't trust the fairer sex or his instincts.
But then Mickie is hired as the office manager for their new east coast office, and the mafia princess strolls into his life in red high heels, carrying enough dirty laundry to last them both a lifetime—in prison. Gray suspects the sexy-as-sin woman is guilty as hell, but he is strong-armed into trying to help her solve her problems.
I had to do a lot of really interesting research for this book. Money laundering, gang and mob presence in the US, and Italian recipes, but my favorite was homeopathic massage oil recipes to describe Mickie's Nonna's Magic Massage Oil. I'll be giving out the recipe I found in my newsletter after the book releases, as well as a bonus chapter to GRAY MATTER. Here's where you sign up: http://bit.ly/2vMzIte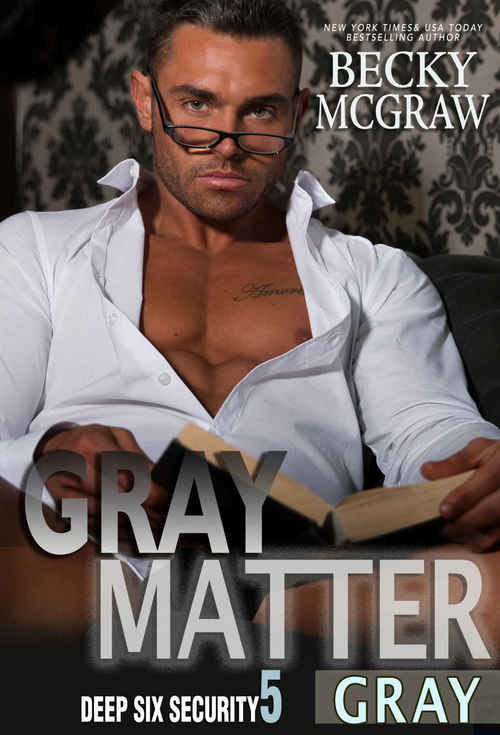 Can Gray help his new office manager clean her dirty laundry? Or will the mafia princess hang him out to dry?
Since leaving the FBI Grayson Jennings has found peace in his life with his job as a forensic accountant with Deep Six Security and he treasures it. It remains that way until Michaela Girabaldi is hired as the new office manager for their east coast office.
The smart-mouthed Jersey girl strolls into the office in red high heels with her bags packed with enough dirty laundry to last them both a lifetime. In Prison. Her dirtiest laundry is the 1.2 million dollars she insists she didn't steal from the mob and Gray is wrangled into helping her find it.
Well, this was not Gray's first rodeo with a beautiful criminal and he had the bruises to prove it. He was not going to blindly trust a woman ever again, especially one suspected of murder and many other nasty crimes. He would help her, but he wouldn't be getting into bed with the mafia princess or falling for her or her games.
Mickie says only her cousin knows where the loot is located, so Gray sets out to find her. To do that, he'll have to follow the money, but he is afraid at the end of that trail he'll find a lot more than he bargained for, because had a feeling the sexy-as-sin woman was guilty as hell.
But will he find the money before the mob finds Mickie? Or will she distract him with her Nonna's Magic Massage Oil and fritattas at the beach house where they're hiding out and
get them both killed?
Romance Suspense [On Sale: August 29, 2017, e-Book, ISBN: 2940154711422 / eISBN: 9781943188215]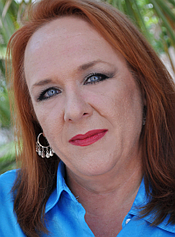 New York Times and USA Today Bestselling Author Becky McGraw writes happily-ever-afters with heat, heart and humor. A Jill of many trades, Becky knows just enough about a variety of subjects to make her contemporary cowboy and romantic suspense novels diverse and entertaining. She resides in Florida with her husband of thirty-plus years and is the mother of three and grandmother of one. Becky is a member of the RWA, Sisters in Crime and Novelists, Inc.