We all know that opposites attract—King Kong and his beautiful blonde. Poor little Cinderella and her wealthy Prince. Kermit and Miss Piggy. But in the realm of opposites falling in love, there's something special about the awkward girl and the cocky popular guy. Sixteen Candles and The Breakfast Club were my faves growing up.
So why do we love these stories so much? Maybe they make us believe that the world can be saved one set of hearts at time. In any case, the jock-and-nerdy-chick stories are at the top of my favorites list and here's why I loved them enough to create The OHELLNO Series!
#1. The jock has a body to worship
And let's face it, no woman can resist a set of perky abs since they make us think about all of the other parts of his body that might be hard and perfect, too. (Wink, wink.)
#2. On the inside, most of us feel like nerds—only some of us mask it better
Let's be honest, we have all felt awkward and left out at one point in our lives, which is why the nerdy girl is so relatable. As strong and brainy as she might be, there's always a part of her who wishes she could be better in some way (better looking, better at socializing with guys, or whatever). And as a woman, I think that feeling never goes away completely. The most beautiful woman in the world will still look at herself and find a flaw. The most successful woman will look ahead at which hill to conquer next. As for me, I feel like no matter how good things are, they can always be better. (Eh-hem, workaholic here.) Anyway, I think the nerd girl represents that part of us that doesn't quite fit right and nothing is more awesome than watching her overcome her obstacles to find happiness.
#3. When opposites fight, there is no better set up for comedy. But when they fall in love, it feels like magic
What's that old saying? The bigger the battle, the sweeter the victory. The same goes for love stories! The more impossible their situation, the more drawn I am to the story. (Or does that just make me sadistic because I enjoy watching my characters suffer? LOL)
#4. If a nerd can love a jock and a jock can love a nerd, then anything is possible
This plays into my earlier comment. I think watching two people—who don't stand a pickle's chance at getting along—find true love, gives us hope. In the world today, there are certain groups who don't want peace and I, for one, don't see how that will resolve. Except that love is the one inescapable emotion capable of bridging any gap—cultural, religious, or otherwise. Maybe we need to hook up all the crazy haters of the world with strong, loving, pacifists who can whip them into shape. Or better yet, send them all to love boot camp and make them watch chick flicks and read Romance novels until they're cured! (I wish it were that easy.)
#5. Jock-nerd romances remind us that at a fundamental level, we're all just people looking for the same thing: happiness. Nuff said.
Okay, everyone! That's my list, and I hope you'll experience every item on it when you read, OH, HENRY (Book #2, of the OHellNo Series).
May the geeky love be with you.
Mimi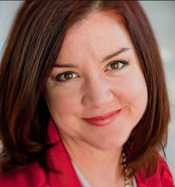 Mimi Jean Pamfiloff is a New York Times & USA Today bestselling author of Paranormal and Contemporary Romance. Both traditionally and independently published, Mimi has sold over 900,000 books since publishing her 1st title in 2012, and she plans to spontaneously combust once she hits the one-million mark. Although she obtained her international MBA and worked for over 15 years in the corporate world, she believes that it's never too late to come out of the romance-closet and follow your dreams.
When not screaming at her works in progress, Mimi spends time with her two pirates in training, her loco-for-the-chili-pepper hubby, and rat terriers, Mini & DJ Princess Snowflake, in Arizona.
She continues to hope that her books will inspire a leather pants comeback (for men) and that she might make you laugh when you need it most.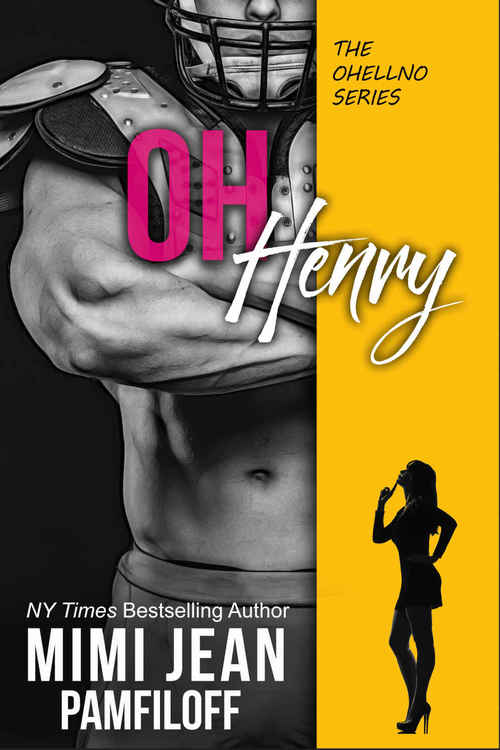 SHE'S GOT ME BY THE FOOTBALLS…
My name is Henry Walton, and though I've been called many things throughout my life–tree trunk, moose, walrus–I am now six foot five, solid muscle, and the hottest defensive end in the NFL college draft. This is the moment I've been waiting for: fame, women, and glory.
Just one problem: I'm suddenly in a bad slump. And it started the moment I got dumped by Elle, the nerdy goddess with thick glasses, a smokin' hot body, and a genius IQ.
So what gives? We only dated for a few weeks, and it's not like I've missed her. (Much.) Regardless, all the facts point to one conclusion. Elle is my lucky nerd-charm.
Call me superstitious, but I have to get her back before I lose everything. Even if she's the last girl I should want and she now hates my guts.
Romance Sports [On Sale: August 25, 2017, e-Book, eISBN: 9781943983216]