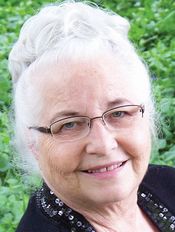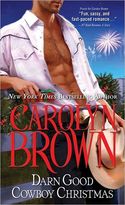 Merry Christmas to everyone at Fresh Fiction! Okay, so Halloween is barely over and Thanksgiving is the next holiday but at the Brown house in Davis, Oklahoma it's Christmas because my holiday cowboy book, DARN GOOD COWBOY CHRISTMAS is now on the bookshelves.
The Spikes & Spurs series is surrounded by one big extended family down in Ringgold, Texas that takes in friends as well as family. This Christmas they're all rooting for Raylen and Liz to get past all the speed bumps that life keeps throwing in their way and figure out what everyone else already knows. And that is that they belong together.
Liz was raised in a traveling carnival that left the panhandle of Texas every March and didn't return back until after Thanksgiving. She was home schooled by her mother and aunt in the carnival and traveling was her way of life. She had wings but she craved roots so every year she sat on Santa's lap and asked for one thing—a house with no wheels. Then when she got older, she added one more item to her short list. She wanted a sexy cowboy of her very own.
Her Uncle Haskell left her the house, twenty acres, a barn and a cat and dog. This Christmas she's hoping that Raylen O'Donnell, the sexy cowboy next door is the second item on her list.
But what do the rest of the cast of characters in the series want this Christmas, besides seeing Raylen and Liz finally get together, that is? I asked them before I came to Fresh Fiction today and I was more than a little surprised at what they whispered in my ear.
Ace Riley, Rye and Wil's blond haired cowboy friend, said he really would like a relationship with a woman like Jasmine. He's not about to ask her out because it would ruin their friendship if something went awry. But she is so much fun and he is so comfortable with her that he'd just love to find a woman exactly like her.
Jasmine confided that she loves the Chicken Fried café and she made a good friend when she hired Liz to help out in the café, but what she'd really like for Christmas is someone like Slade Luckadeau. He fell in love with Jane and his eyes have never wandered, not even one time. Someday she wants a cowboy who'll look at her like Slade does his wife.
Rye said that his Christmas present came early when and Austin had their baby daughter, Rachel, in June but next year he's going to ask for another baby because he and Austin have had so much fun with their daughter.
Liz read Gemma's Tarot cards more than once and she kept seeing a cowboy and a baby in her future. Gemma is more than ready for that Christmas wish to come true.
Colleen, Raylen's sister, was absolutely moonstruck when Blaze McEntire walked into the Chicken Fried café to see Liz. She whispered in Santa's ear and mine that all she wants under her Christmas tree is that sexy carnie wrapped up with a red bow around his neck, and nothing else.
Maddie, Raylen's momma, doesn't mind a bit that her son is falling for the girl next door but she's afraid that Liz might regret clipping her wings so she asked that Liz would put down deep roots in the Texas dirt and not break her son's heart. And that her daughter, Colleen, would stop thinking about trading her roots for Liz's wings every time she looks at that sexy carnie.
Oh, yes, the Christmas list at the O'Donnell household among family and friends has little to do with material things and lots to do with things of the heart. They love as passionately as they fight and that's pretty damn fierce, let me tell you.
Pretend that Thanksgiving has come to an end. The family has all gone home. The dishes are done and the leftover turkey long since gone. Santa is at the mall with his little elves and everyone is welcome to sit on his lap no matter how old or young. What are you going to whisper in his ear this year?
DARN GOOD COWBOY CHRISTMAS by Carolyn Brown—In Stores NOW!
He's One Hot Cowboy
Raylen O'Donnell is one smokin' hot cowboy. He could have any woman he wants, but he's never been able to forget a certain dark-haired girl who disappeared from his life. So when she suddenly returns to the ranch next door, Raylen's not fixing to let her get away again…
And She's Out for a Sizzlin' Christmas
Raised in a traveling carnival, Lizelle Hanson thought all she wanted was a house that didn't have wheels and a sexy cowboy for her very own. But settling down's going to take some getting used to, and cathing Raylen, the hotter-than-hell cowboy next door, might just take a little holiday magic…
About the Author
Carolyn Brown is a New York Times and USA Today bestselling author with more than forty books published, and credits her eclectic family for her humor and writing ideas. She writes bestselling single title cowboy and country music mass market romances. Born in Texas and raised in southern Oklahoma, Carolyn and her husband now make their home in the town of Davis, Oklahoma, where she is working on her next book, ONE HOT COWBOY WEDDING, which will be in stores in April 2012. For more information, please visit http://carolynlbrown.com/.
Tell us what you'd like to whisper in Santa's ear or what you really want for Christmas and two people who post below will win a copy of DARN GOOD COWBOY CHRISTMAS US / Canada only.
To comment on Carolyn Brown's blog please click here.