1–What's the name of your latest release? 
DEATH ON WINDMILL WAY. It is the first book of The Hamptons Murder Mystery Series.
2–What is it about? 
Antonia Bingham, a noted chef and the new owner of East Hampton's Windmill Inn, moved across the country to escape a harrowing past. Unfortunately, danger has followed her and she is terrified to learn that all of the previous owners of the Windmill Inn have died under mysterious circumstances. Antonia has no choice but to investigate the past crimes—or she may end up the next victim!
3–What word best describes your main character(s)? 
Resilient. Antonia Bingham had to leave her abusive ex-husband, dismantle her entire life and move 3000 miles away to start a new life as a restaurateur and an innkeeper. Despite the setbacks she remains upbeat, positive and a hard worker.
4–What makes your story relatable? 
I think the troubles as a small business owner that Antonia Bingham confronts are relatable. There is no break when you run a restaurant and an inn—even when there is a murderer around. I also think we see Antonia develop relationships and friendships where she relies on people and asks for help. She is not superwoman, she is just doing the best she can.
5–Who are the people your main characters turn to when they need help? 
Antonia is fortunate to meet Joseph Fowler, a frequent guest of her restaurant and also a historian and recent widower. He becomes a father figure, sounding board, voice of reason and a cheerleader.
6–What do you love about the setting of your book? 
I love the Hamptons, in particular East Hampton. We have spectacular beaches, farmland, woods, bays, oceans, ponds and lush greenery everywhere. It is a historic town with more windmills than any other and is both peaceful and beautiful.
7–Are you a plotter (follow an outline) or a pantster (write by the seat of your pants)?
I suppose I am more of a pantster. I have an idea but don't do an outline (I used to!) Often I don't know who the murderer will be until the end.
8–What is an ideal writing day for you? 
If I can write four hours and work out on the same day it is a banner day!
9–Do you listen to music while you write, need total silence, or do you have the TV on?
I would prefer silence when I write. It doesn't need to be total silence, but no music or TV.
10– How do you approach research? 
I research as I go. A lot of what I research is nature—references to birds and trees and bushes and flowers. I grew up in the pavement jungle called New York City so I am not as familiar with the names of things and nature in general. Also, if I decide a character has a profession that I know little about I will research that.
11–What is your publishing journey story? 
I started in magazines. I worked at Harper's Bazaar then went to work at Harper's Bazaar in Russia, and later became founding Editor-in-Chief of Marie Claire Magazine in Russia. When I decided to leave Moscow I wrote a screenplay with a friend named Jill Kargman about our jobs in magazines. It was called 'Intern' and premiered at Sundance. We sold several more screenplays but nothing else got made and when we asked why similar projects were getting made they said because they had been books. So we turned our screenplay 'The Right Address' into a book and it became a bestseller. Jill and I collaborated on five books together (me writing under the name Carrie Karasyov) before I branched out and published books on my own.
12–Do you have critique partners/writing groups you want to give a shout-out to? 
My sister Liz Carey is also a writer and an editor and she reads and edits everything I write. I could not do it without her.
13–What're the most frustrating things about being an author? 
I wish I had a more interactive job. When I worked in magazines I managed a team of 16 and now I only manage myself! I miss camaraderie as well as the engagement with others.
14–What's your favorite scent?
There was a flower shop in East Hampton in the 1980s and 1990s called Antonia's Flowers and Antonia made two fragrances—Antonia's Flowers and Floret. I love them both.
15–What movie will you watch no matter what if it's on TV?
The Bourne Identity. It is a joke in my family that I could watch it every night.
16–Do you like breakfast, lunch, or dinner best? 
I like dinner because I like pasta and that is the time to have it!
17–What's one thing you wish you knew more about? 
I wish I had more of a math brain and understood finance and the stock markets. I think I have the personality to have worked on Wall Street but not the ability or skills.
18–What's the silliest thing you've recently done?
I can't think of any silly things if you mean goofy, but if you mean foolish there are a lot! During the quarantine, I didn't realize the dog groomer was still open and I didn't get my dogs groomed and that was a disaster! They went from fluff balls to looking like wet rats, poor things. Never again!
19–What can readers expect from you next? 
I just finished 'It Takes Two to Mango,' which is the first book of my new cozy mystery Trouble in Paradise series for Sourcebooks. It takes place on the fictional Caribbean island of Paraiso and is about Plum Lockhart, a former Editor-in-Chief of a travel magazine who moves to the tropics to become a villa broker. Of course, murder ensues.
20–How can readers reach you?
My website is carriedoyleauthor.com and my email is doylecarrie@aol.com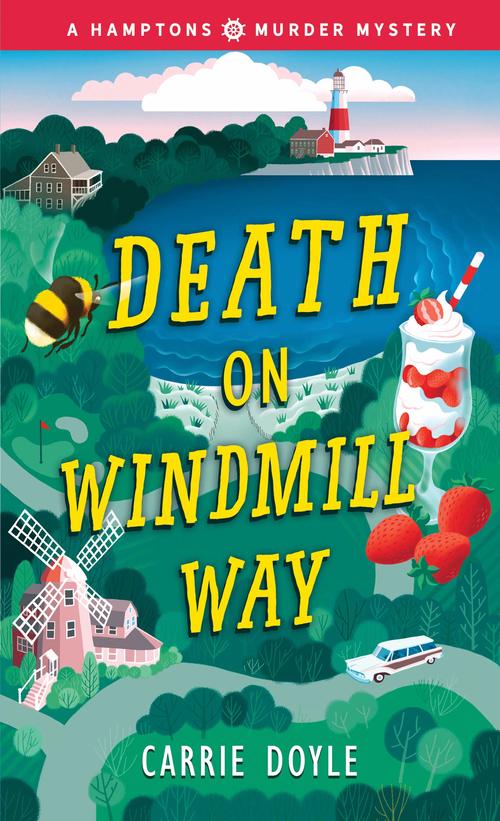 Antonia's looking for some peace and quiet… too bad she moved to the Hamptons!
The Hamptons are known for beautiful beaches, luxurious living, millionaire mansions, and now…murder! Antonia Bingham, a renowned chef and the new owner of East Hampton's Windmill Inn, escaped to the Hamptons to get away from a harrowing past. Yet she finds herself in more danger than ever when she learns about a curse that haunts the inn—all previous owners have died suspiciously.
When she's not cooking sumptuous meals for her guests Antonia digs into the investigation to uncover who's behind the curse. But the closer she gets to the truth, the closer she gets to being the next victim—will she solve the case in time to save herself?
Mystery Cozy [Poisoned Pen Press, On Sale: June 30, 2020, Mass Market Paperback / e-Book, ISBN: 9781728213859 / eISBN: 9781728213866]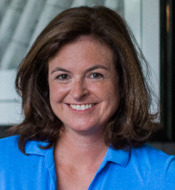 A fan of mystery and crime novels, a cooking enthusiast, a former employee of Ina Garten's Barefoot Contessa store, and a generally nosy person, Carrie Doyle combined all of her interests to create Antonia Bingham, the foodie innkeeper and reluctant detective who stars in the Hamptons Murder Mystery series. Carrie is the bestselling author of several novels (including five written as Carrie Karasyov, with Odd Mom Out's Jill Kargman), and five optioned screenplays (one of which was produced and screened at the Sundance festival.) She was the founding Editor-in-Chief of the Russian edition of Marie Claire Magazine, and has written for several magazines. She is currently a Contributing Editor at Hamptons Magazine.