I didn't really get to speak with Trade on the first night that I met him, because all the members of the MC were there, but tonight it's just him and his kids having dinner with us, giving a more personal and intimate setting.
His son, AJ, is such a bright kid, and with his dark hair tied up in a man bun just like his dad's, and his long lashes and cute dimpled smile, he is definitely going to be a heartbreaker.
"This is so yummy, Uncle Tommy," he says to Temper, beaming. Trade's kids are the only ones I've ever heard calling Temper by his real name, and it's a little weird to hear, but also super cute.
"Is it? I made it myself," Temper says to his nephew, grinning.
AJ eyes the chocolate cake. "No you didn't. I bet you bought it at the store. I've never seen you bake a day in your life."
"He made me a cake once," Alia adds, licking the chocolate from her fingers. "Well, at least he tried to make me a cake."
"Hey, that was an artistic creation," Temper says to his niece, pretending to be offended. "It came straight from a packet and I had to follow the extremely complicated instructions."
"You just had to add eggs and water and mix it all together," she says, looking at her dad. "The two of you have the same skills in the kitchen."
"What do you guys eat every night?" I ask her, trying to hide my smile and failing hard.
"Easy stuff, like meat and salad," she says, pouting her lips out, and resting her face on her hand. "Or Ariel will cook us something really nice and yummy, like a homemade lasagna or seafood pasta."
"That does sound yummy." I know Ariel is Izzy's sister, and her and Trade seem super cute together.
"Ariel is a really good cook," India adds. She's the oldest, and the quietest of the lot, but is such a gorgeous, well-mannered child. Trade has done so well raising these three. I don't know where their mother is, but no one has mentioned it, and I'm sure as hell not going to ask.
"So, I've heard a lot about you, Abbie," Trade says when he finds me in the kitchen alone. "But nothing directly from you."
"Well, I was in school, but I've put that on hold for now while I help my family with our business. I will definitely finish my degree, because that's something I've always wanted for myself," I say, rinsing my dish and placing it in the dishwasher. I turn to face him with a tea towel in my hands, wiping them.
"Do you like kids?" he asks, studying me, as if by looking into my eyes he can see if I'm a good person or not.
"I do. Do you?" I fire back.
His lip twitches. "Yes. Do you think you could handle the whole MC thing? I mean, I left the MC for my kids, because as you've found out, it's not always the safest environment."
"I didn't know that you weren't in the MC," I admit, putting the towel down and pulling out a chair at the table to sit. "I didn't realize that just walking away was a thing."
"It's not," he agrees, cringing as he also takes a seat. "It's something that follows you around forever, and once you're allied with the MC, you always are."
So does he just tell himself he's not a member just to make himself feel better about the situation? Or is he hoping that the MC drama won't always touch him? With his closest family member as the Knights president, I don't think he can ever walk away unscathed, because anything that happens to Temper, and therefore the club, will always affect him.
"And you didn't answer my question," he presses.
"I don't know," I reply in all honesty. "I've kind of being thrown into this situation, and I have no idea what's going to happen. I do like Temper. I like being around him. I like how he makes me feel, like I'm invincible, and I want nothing but for him to be happy."
"But?"
"But I do need to go home. I have responsibilities there, and I want to go back to college and I don't know how many more kidnappings I'm going to be able to handle."
Trade surprises me by laughing. "You guys will figure it all out. It always has a way."
"What always has a way?" I ask, resting my elbows on the table.
"Love."
Knights of Fury Book 3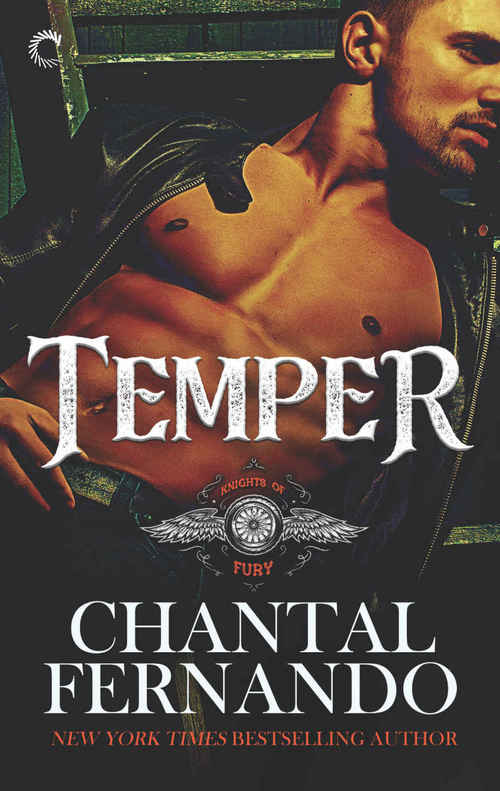 New York Times bestselling author Chantal Fernando returns to the Knights of Fury series with her most complicated hero yet. He may be the epitome of cool, but this MC president isn't called Temper for nothing. . .
Every year, the hot, tatted biker comes into Abbie's bar, orders whiskey and asks her out. Every year, Abbie turns him down. After all, dating a man that goes by Temper seems like a really bad idea, no matter how attracted she is to him.
But this year is different. Abbie's different. Older, wiser and tired of being stuck behind the bar in a sleepy town. This year, she's ready for whatever adventure the sexy but sweet biker has in store for her.
Or so she thinks. .  . until an elegant candlelit dinner ends with a dead body.
Now Abbie finds herself on the ride of her life, whisked away to the big city in Temper's protective custody. She should be scared, but–despite his nickname–it's clear the last thing Temper would ever do is hurt a hair on her head. And when danger catches up with them, Abbie soon realizes that holding tight to her man while straddling a Harley may be the safest place of all.
Romance Contemporary [Carina Press, On Sale: April 20, 2020, e-Book, ISBN: 9781488054037 / eISBN: 9781488054037]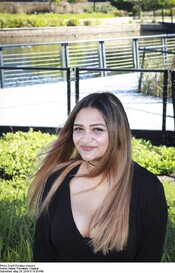 New Adult author
New York Times, Amazon & USA Today Bestselling Author Chantal Fernando lives in Western Australia.
Lover of all things romance, Chantal is the author of the best selling books Dragon's Lair, Maybe This Time and many more.
When not reading, writing or daydreaming she can be found enjoying life with her three sons and family.