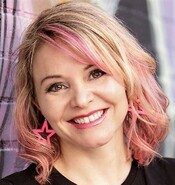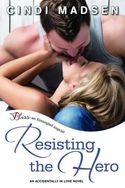 Might as well face it, I'm addicted to love. Stories, that is. Real life, too, actually. I like the butterflies and romantic chemistry whenever two people who are meant to be are near each other, and I like yelling at the characters in books or movies to "Kiss already!"
So, I decided to put my romance addiction to good use, and write stories filled with it. The idea behind my Accidentally in Love series was to have two people who don't exactly mean to be in love with each other, but find themselves falling anyway. In FALLING FOR HER FIANCÉ, it was best friends who faked an engagement, and were terrified their desire to be more would screw up their friendship. In ACT LIKE YOU LOVE ME, an actress gets a second chance on her first crush. In the final book in the series, RESISTING THE HERO, I've got Connor, a SWAT hero who falls for his best friend's sister, even though he knows it's a bad idea. And while Faith's sworn off hero types, she's having a hard time resisting the bad boy once she sees what a good man he is.
I like taking characters who have a lot of challenges to get over to be together, but also find that their lives our better with each other in it. It's also fun to make two people who didn't expect it to fall in love. Despite Faith and Connor's best intentions to steer clear of each other, preparing for the town's Fall Festival keeps pushing them together, and they start to become friends. The more time they spend together, the harder it is to deny the spark between them. There's also something about a man who's dedicated his life to trying to keep people safe.
Sparks, humor, and seeing characters find that one person that's hard to live without. It's what keeps me going back again and again to my favorite romantic movies and books, and why I love trying out new ones that promise a happily ever after. They always make me smile and sigh, and that's why I can't help but be addicted to love, and I wouldn't have it any other way.
The first book, FALLING FOR HER FIANCÉ is only $.99 why not start with it?
About FALLING FOR HER FIANCE
Resisting her brother's best friend is futile…
Faith Fitzpatrick isn't looking for a hero. Burned one too many times in the past, she's now sworn them off completely. And when her brother's best friend, Connor, convinces him to join the dangerous SWAT team, Faith has never been more anti-hero. What's wrong with having a safe job? There's nothing safe about Connor. Confident, sexy, and sporting a six-pack that should be illegal, he's everything she doesn't want.
When his best friend's sister moves to town, local cop Connor Maguire knows he's in trouble. Faith is feisty, funny, and talks trash like nobody's business. She's also his partner's sister—and so totally off limits. Working on the Fall Festival together, they agree to a truce and become friends. But the more time Connor spends with Faith, the more he's willing to risk the wrath of her brother. If he could only convince her to take a risk on him, too.
To comment on Cindi Madsen's blog please click here.