It's time to vote on the TWO dueling billionaires, which one do YOU prefer?
Matt Deluca
SAVOR by Monica Murphy
A billionaire hero is the ultimate fantasy. He's rich beyond anyone's wildest dreams, which means he can pretty much take the heroine wherever she wants and give her whatever she wants. They're driven, successful and they usually dress well. I imagine they smell pretty damn good too. He's a protector, he's smart and when a billionaire decides to pursue a woman, he usually does whatever it takes to make her his. That's sexy.
Three reasons Matt Deluca is the best billionaire
1. He's a billionaire (duh)
2. He used to be a professional baseball player (sexx-ay)
3. He owns a winery (all the wine you could ever want!)
A Billionaire Bachelors Club Novel
Bryn James can't take much more. Smart, sexy Matthew DeLuca is everything she wants in a man, but he's also her boss-the youngest, hottest vineyard owner in the Napa Valley-and he doesn't see her as anything more than his shy assistant. That's all about to change. Armed with a hot new look and an attitude to match, Bryn is determined to catch Matt's eye… professionalism be damned.
With his winery's grand reopening approaching, Matt is trying to stay focused, but Bryn is suddenly making it very difficult. He's always thought her prim demeanor effortlessly sexy, but Matt can't deny that her transformation is jaw-dropping …and going to make it very difficult to keep his hands to himself.
But when one thing leads to another and suddenly Matt is stripping Bryn bare, he'll be faced with the biggest risk of his career-and his heart. Can he convince her-and himself-that this might just be more than a no-strings office affair?
* * *
OR
Duke Austen
THE
BAD BOY BILLIONAIRE'S GIRL GONE WILD by Maya Rodale
Love a bad boy hero? Love a bad boy billionaire? Then Duke Austen—hero of The Bad Boy Billionaire's Wicked Arrangement and THE BAD BOY BILLIONAIRE'S GIRL GONE WILD—is the guy for you. He's tall, dark, and handsome. He's smart. He's trouble. And he knows just what to do with a grey silk tie (no, he's not wearing it)…Check out all the reasons he's got heroine Jane Sparks all hot, bothered and falling in love…
Three Reasons to Love Duke Austen
1. Duke Austen is trouble. They don't call him the Bad Boy Billionaire
for nothing. The rumors about him are wicked and outrageous, but Jane finds out
they're nothing compared to how he can tempt a girl to abandon the rules and
surrender to pleasure.
2. Duke Austen is tall, dark and handsome.
3. Duke Austen is smart. Really smart. This brilliant tech
entrepreneur is a genius coder who has built multiple tech companies.
THE BAD BOY BILLIONAIRE'S GIRL GONE WILD
BY Maya Rodale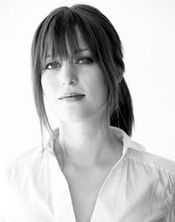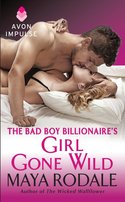 Being good hasn't exactly worked out well for Jane Sparks. Her ex-boyfriend dumped her for being too predictable and her fake fiancé, Duke Austen, is counting on her good-girl image to repair his bad boy reputation. But everything changes with the publication of the historical romance novel she wrote based on her fauxmance with the Bad Boy Billionaire. Suddenly, she's notorious, scandalous, and causing lots trouble.
Duke Austen has admired Jane's poise and perfectly demure behavior…qualities that seemed to have vanished once she helped him land a big investment deal. But now that his company is on the verge of a twenty billion dollar IPO, the stakes have never been higher-and Jane has never been more shocking, provocative and wickedly irresistible. She's not at all the woman he bargained for, yet she's the only one he wants.
Duke is determined to woo his girl gone wild. She's determined to keep him guessing. But Jane is discovering there's nothing so appealing as a billionaire who's mad, bad, and dangerously seductive…
Vote for your favorite billionaire for a chance to win a $25 Sephora gift card!
Visit the Rafflecopter contest
To comment on blog please click here.