There are some mornings I wake up and I have no idea who I am.
Doesn't that sound like the premise for a thriller or a sci-fi movie? Well, it's actually the story of my professional life, and it's not necessarily a confusing or terrible thing. I use more than one pen name, and to tell you the truth, I love having multiple identities.  🙂
I suppose I'm comfortable with this because, in regular life, I'm an eclectic reader. I also love all kinds of music, food, entertainment, you name it. So it follows that this would branch out into my writing. One side of me is a sucker for a good rom-com, another loves being frightened by horror stories, and yet another is a fantasy geek.
Allow me to introduce myselves then….
Identity number one: Crystal Green (author of romance, mostly for Harlequin Special Edition and Blaze)
Crystal's first book was published by Special Edition way back at the turn of the century. That's over 13 years ago now!  One of her first books took place in a small, fictional Kentucky town called Kane's Crossing and, from there, she was asked to write Montana Mavericks books, Fortunes of Texas stories, and many more cowboys, millionaires, and heartfelt yarns with happy endings…just like the book that's about to hit shelves in late January (plug, plug!). THE COWBOY'S PREGNANT BRIDE closes out a miniseries that takes place in the make-believe town of St. Valentine, Texas, where the men are rugged and the town holds a big mystery that's going to be solved in this finale!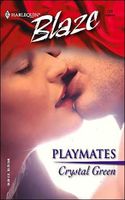 Not long after Crystal's first publication, she became addicted to Blazes, and that's when she wrote her first one (PLAYMATES). She's only able to write about one of these per year, but 2013 will hold two of these books for her—a "duet" of connected novels. Currently, the work-in-progress title of the miniseries is "Naughty Bridesmaids," so you can expect a lot of wicked, hot trouble to come.
Crystal was also lucky enough to write two books for the dearly departed Bombshell action-adventure line before it closed down, and this was when she got the itch to write vampires…
Identity number two: Chris Marie Green (author of urban fantasy for Penguin Ace)
Under this name, Chris wrote a six book/three novella/one short story urban fantasy series called Vampire Babylon. At this time, she has extended the series by writing self-published novellas for anthologies that also include Nancy Holder and Linda Thomas-Sundstrom.
Identity number three: Christine Cody (author of dark fantasy for Penguin Ace)
And here is yet another ID! Christine wanted to write something even darker than Vampire Babylon in a post-apocalyptic supernatural Western world, and the result was Bloodlands.
So why all these names? In a word marketing. Each name carries with it a different expectation, whether it's a sweet and happy ending, a bloodier-than-usual story, or post-apocalyptic nightmares. Truthfully, the hardest part of maintaining all the identities is promoting each of them separately, although I hope for as much crossover as possible. Also, sometimes publishers feel that, when an author writes a lot of books, each one might not get the attention it deserves….
But you'd be surprised at how many authors have more than one pen name. Jayne Ann Krentz. Dean Koontz (quite a few!). J.R. Ward. Even Nora Roberts.
Who are some of your favorite multi-name authors? Which of their books do you like the best?
Crystal Green is a RITA nominated romantic fiction author with a personality crisis…or not.  When she's not knee-deep in creating fantasy worlds, she spends her time devouring all the pop culture available to her and avoiding international incidents while traveling.
Blog | Twitter | Facebook | Newsletter signup
To comment on Crystal Green's blog please click here.