As I embark on this journey into becoming a published author, I had a stark realization – my former creative endeavor is about to become… a job. A job I am very grateful for and you better be sure I'm going to work super hard to make this job as an author a successful one.
But what am I going to do now… for fun?
Throughout the pandemic, people have suddenly found hobbies. Some people work out, others started making bread, and some people even learned new skills. Starting last fall, when my book was officially out on submission, I decided to find something new to occupy all the free time I had with a kid in virtual learning, working on what I hope will be book 2 in my series, figuring out how to safely celebrate the holidays in a meaningful way, and try to you know, breathe a bit.
Clearly, I need MORE to do, right?
CROSS-STITCHING/EMBROIDERY
Look, there's something very cathartic about stabbing something over and over and over again. The tips of my fingers aren't all that happy, but I'm enjoying this! I've done some simple patterns, stitched pithy sayings on sweaters and fabric bookmarks, and added a heart—an anatomical heart!—to a plain black sweater.
BAKING
I've always been a baker. From that first box of Funfetti cake mix when I was probably 10 years old to now being expected to bring a dessert wherever we go, I love to bake. Sometimes I go on little benders and try to perfect something, so I have a recipe memorized and at the ready, because you never know when you need a chocolate cake, or chocolate chip cookie, or fudgy brownie…
WATERCOLOR PAINTING
Earlier I mentioned my daughter is in virtual school, which means she's at home all day every day and I'm nearby eavesdropping on her class… I mean I'm within earshot in case she needs assistance… Reader, she does not. I'm just nosy. But one thing I do actually like to do with her is her weekly art class. And this led me to really trying to learn how to paint with watercolors. I've been working on this for a few months and am really pleased with how much fun it is and developing my own personal technique. I've started making cards out of some of my paintings, and I *think* this is my new, completely frivolous creative endeavor.
PODCASTING
Yes, yes, like everyone else you know, I started a podcast! Well, resurrected one. Gwen Reyes and I have restarted the Fresh Fiction Podcast and we are having so much fun. We're chatting about books (naturally), pop culture, what's bringing us comfort and joy, and best of all, interviewing authors. Look for us every other Wednesday-ish!
The Fresh Fiction podcast is available on all major podcasting platforms! For more info and show notes, head over to Podbean.
THE BOOZY BOOK BROADS
In addition to podcasting, I've also started hosting a monthly YouTube show with Melonie Johnson and Angelina M. Lopez. We're joined by a special author guest on the third Friday of each month on the Love's Sweet Arrow YouTube page. We share laughs, talk about our guest author's newest book, and honestly, whatever else comes up in conversation, much like a night out with friends… excerpt you don't have to leave your house. This Friday, March 19th at 7pm CT/ 8pm ET, we'll be joined by Tif Marcelo! (PS, I'm leading the conversation this month so you know it's going to be FUN). Plus, a lucky commenter in the live chat feed has a chance to win a $10 Love's Sweet Arrow gift card. Hope to see you there!
***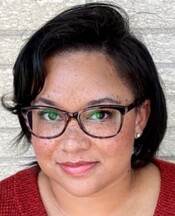 Danielle Jackson Dresser is a contemporary romance author (her debut novel with Berkley will be out in 2022!), avid reader, lackluster-yet-mighty crafter, and accomplished TV binge-watcher.
Once upon a time, she was a publisher publicist and continues to cultivate her love of books and reading by chatting with the best authors in the business as the Editorial Manager of Fresh Fiction and co-host of the Fresh Fiction podcast. Danielle is one of the Boozy Book Broads, a monthly author chat show streamed live on YouTube. She also moderates panels, interviews authors, and hosts a book club at Love's Sweet Arrow, the romance-focused independent bookstore.
Danielle lives in Chicagoland with her very own romance hero husband, darling daughter, and two tempestuous cats. Follow her on Twitter and Instagram, @dj_dresser.