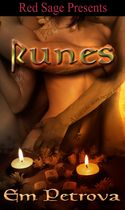 Evangeline Mayer is a songwriter, former party girl, newly Made immortal, and woman in love. In love with two men, that is. Many people believe you can only love one person at a time, but with this much testosterone and rippling abs so near, how could she resist?
Her longtime mortal boyfriend Sean Livingston is ruggedly handsome with a protective nature. He's a kick-ass martial artist and the deejay every woman in the club wants to sink her nails into. He's a family man and longs for a commitment with Evangeline, but he's willing to take it slow for her. And the fact that he can make a mean cup of coffee doesn't hurt.
Evangeline's immortal mate Will Cochran's chocolate brown eyes are yummier than cake batter, and his absolute devotion to making her happy is the icing in the bowl. Beneath his cool demeanor lies a man who's passionate about all things Jim Morrison and hitting the powdery slopes. And with a direct link to Evangeline's mind, he knows exactly what pleasures drive her over the edge.
With needs as big as hers, she needs two alpha males to satisfy her. If you could choose two mates, what traits would they have? Would they be sidekicks like Batman and Robin or at war with one another like Jacob and Edward in the Twilight saga?
I would choose someone who shares a passion for books and music, art and Mystery Science Theater 3000. That alone might require two men. I'd love to be pampered, but I want my man to know I am capable. Rough and passionate. Playful and thorough. And a guy who can tie a cherry stem with his tongue wouldn't be amiss either!
Tell me your secret desires. Leave a comment and enter for a chance to win a copy of Runes. I look forward to hearing your confessions!
Read an interview with the heroes from Runes
Read a never-before-seen excerpt from Runes
Click here to comment on Em Petrova blog and to enter her blog contest.