DIRTY TACTICS is a steamy brother's best friend romance about fighting for love. Reagan Thomas kissed Zac Quinn when she was 15 years old and hasn't been able to get over him ever since. Now, 10 years later, she proposes a two-week bet where she'll prove to Zac that they're meant to be. Zac, however, is wrestling with his own demons: his abusive father and feeling like he doesn't deserve love. He plans to show Reagan that they're not meant to be. But Reagan is willing to play dirty and that happiness is on the horizon for them both.
D is for Dirty, of course. Dirty games and dirty minds.
I is for it is okay to ask for help when you need it. Best friends, brothers, they're all a call away.
R is for Reagan, duh! Smart, hates the colour yellow and a gamer.
T is for Thomas. Reagan's family plays a big part in this story and in both their lives.
Y is for whY you fighting such a good thing, Zac? Maybe Reagan will finally discover why.
*
T is for the working heroine who learns to stand up for herself.
A is for all the fun games they play in the pursuit of love. Charades, lingerie, and much more.
C is for can't forget about Hockey! Zac just finished his season, but his fun teammates are around.
T is for tenacity- both sides are very stubborn for very different reasons.
I is for it's all fair in love and war. The gloves are coming off, the gauntlet is thrown down, or however it goes.
C is for come and see for yourself! Read Dirty Tactics 🙂
S is for sexy times, which *ahem* happens a lot.
His best friend's little sister never looked so good…
Two weeks.
A trial period, in which hockey superstar Zac Quinn will prove to Reagan Thomas—his best friend's younger sister and the one woman he can't seem to keep his hands off of—that they can't possibly date for real.
After all, the Thomas family is the only family he's ever had. He can't risk losing them, no matter how much he wants Reagan. She's too important to him; he can't let things get weird.
But Reagan has known they're meant to be since forever. She's not about to back down now.
If she has to play dirty to bring him around?
No problem.
Romance Sports [Carina Press, On Sale: July 20, 2020, e-Book, ISBN: 9781488076824 / eISBN: 9781488076824]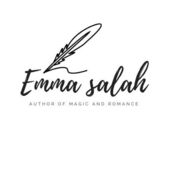 Emma Salah spent her childhood climbing mountains, killing (or petting) dragons, and sneaking romance novels into her bedroom as a teenager. She received degrees in literature and creative writing and went on to backpack through Southeast Asia and teach for over a year in Japan. As a young black woman, she is interested in telling stories that don't always get heard. She currently resides in London.