Behind the Scenes of a Lingerie Fashion Show.
One of the fun things about writing is the places your research takes you. In INTO THE FURY, Ethan Brodie, a bodyguard at Brodie Operations Security Services– BOSS,Inc, the guys call it–is hired to protect the models in the La Belle lingerie fashion when they receive threatening notes.
Ethan isn't happy with the assignment. He's been having trouble with his ex-girlfriend and he's sworn off women. The last thing he wants is to travel with what he thinks will be a group of hot-bodied, air-head divas on a cross country tour.
Worse yet, he's promised his cousin's wife he'll watch out for her close friend, Valentine Hart, one of the models on the tour. When one of the women is murdered, things go from bad to worse, with copycat killers, unruly fans, and millions of dollars in diamonds.
Ethan has his hands full, and of course, he is rapidly learning that being a lingerie model is a whole lot harder than he thought. And the women, including Valentine, are a whole lot smarter.
In order to get a feel for what a lingerie model–think Victoria's Secret–actual does, I did a lot of research online. The fashions shows take hours of grueling practice and dozens of costume changes. The women can make up to eight thousand dollars an hour, but they earn every dime!
It's a glamorous job but it requires an amazing amount of discipline, physical exercise, and a strict diet to keep their bodies in perfect shape. There is lots of travel, long days, and all the partying is a myth. Hangovers do not make for beautiful faces.
I had fun with the clothes, the brilliant colors, the extravagant fabrics–what little they actually wear! What woman wouldn't love to look good in feathers, sequined thongs, and sky-high heels–especially if she winds up in bed with a hunky guy like Ethan Brodie.
I hope you'll watch for INTO THE FURY and that you enjoy the glitz and glamour as Ethan is drawn into Valentine's world.
And I hope you'll watch for the next two BOSS Inc. novels, INTO THE WHIRLWIND and INTO THE FIRESTORM. Till then all best and happy reading, Kat
Take death threats against ten of La Belle's most beautiful lingerie models as they travel the country on a widely publicized fashion show tour, mix with macho bodyguards, throw in murder, mayhem, copycat killers, and millions of dollars in diamonds, and you have INTO THE FURY, Kat Martin's newest Brodie novel.
Ethan Brodie goes head-to-head with Valentine Hart in this novel of intrigue, fast-paced action, and steamy romance.
For New York Times bestselling author Kat Martin, a career in real estate led her down the road to romance.
Through real estate, Kat found her own perfect match–her husband, Western author Larry Jay Martin.
"We were on opposing sides of a transaction–I represented the seller and he represented the buyer," Kat recalls.
A short time after the two became acquainted, Larry asked her to read an unpublished manuscript of an historical western he'd written. Kat fell in love with both the book and the author!
"It was quite a romantic story," she admits. "I'd still like to see it get published." Then, after doing some editing for her future husband, she thought she'd try her own hand at writing.
Kat moved on to become the bestselling author of over fifty historical and contemporary romance novels. To date, 15 million copies of her books are in print, and she's been published around the globe, including Germany, Norway, Sweden, China, Korea, Bulgaria, Russia, England, Estonia, Lithuania, South Africa, Italy, Poland, Thailand, Portugal, Turkey, The Slovak Republic, Spain, Argentina, Estonia, Czech Republic and Greece.
When she's not writing, Kat also enjoys skiing and traveling, particularly to Europe. Currently, she's busy writing her next book.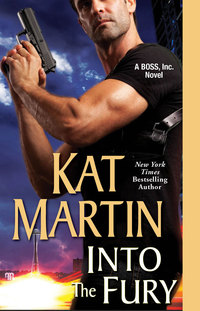 A bodyguard, a bounty hunter, a P.I.–the men of Brodie Operations Security Service, Inc. are down for the job. . .
Sinners, whores, and sluts beware–your time is at hand: a faceless menace is threatening lingerie models on a cross country tour, and Ethan Brodie is there to defend and protect.
Ethan's learned the hard way that beauty is no substitute for character. So even though Valentine Hart is one of the most breathtaking women he's ever seen, he's keeping his hands off and his eyes open. Or that's what he tells himself.
Then one of the models is murdered, and the closer Ethan gets to the answers, the closer he finds himself to Valentine–and the hotter the pressure feels. There's more to Val–more to the other girls–than he could have guessed. But one is keeping a secret that could kill them all.