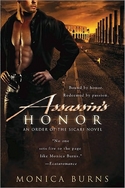 Order of the Sicari #1
June 2010
On Sale: June 1, 2010
Featuring:
Emma Zale; Ares DeLuca
352 pages
ISBN: 0425234169
EAN: 9780425234167
Paperback
$15.00
Romance Paranormal
Buy at Amazon.com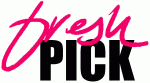 Assassin's Honor
by Monica Burns
Bound by honor. Redeemed by passion.
A sexy new adventure-packed romance with a paranormal twist-from the award-winning author. Archeologist Emma Zale sees the past when she touches ancient relics. It's how she uncovered evidence of an ancient order of assassins-the Sicari. When a sinfully dark stranger shows up on her Chicago doorstep demanding an ancient artifact she doesn't have, he drags her into a world where telekinesis and empaths are the norm. Now someone wants her dead, and her only hope of survival is an assassin who's every bit as dangerous to her body as he is to her heart.
Ares DeLuca comes from an ancient Roman bloodline of telekinetic assassins.
A Sicari, he's honor bound to kill only in the name of justice. But when the woman he loved was murdered, Ares broke the Sicari code and used his sword for revenge. Love cost him dearly once before, and he's not willing to pay the price again. At least not until hot, sweet, delectable Emma walked into his life. Not only does she hold the key to a valuable Sicari relic, she might just hold the key to his heart.
Excerpt
Explicit Content
Taking her with him was the last thing he wanted to do. Emma Zale meant trouble. And problems he could do without. She'd only complicate matters for him.
"I'm not going anywhere with you." Her mouth tightened in a rebellious pout.
"Unfortunately, you don't have a choice."
"That's what you think," Emma snapped. With a vicious shove, she knocked him off balance and leaped toward the door.
"Deus id damno, woman."
He quickly recovered his equilibrium then reached out with his mind to stop her. She stumbled as he forced her to face him. Gritting his teeth, Ares narrowed his eyes at her. It was time Emma Zale realized exactly what she was up against. Slowly, he pulled her toward him.
She fought every step of Read More…