#SupernaturalThursday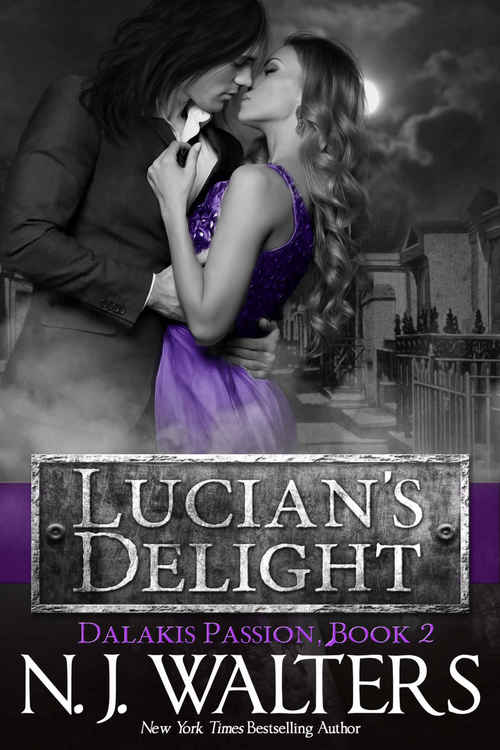 Book Two in the sizzling Dalakis Passion vampire romance series!
Fans of steamy romance will love this novel by New York Times and USA Today bestselling author N. J. Walters!
For years Delight Deveraux suffered from a recurring nightmare of being savagely attacked and assaulted, until the night a mysterious stranger appears in her dream to rescue her. When the same scene plays itself out in real life just days later, with the same mesmerizing dream man coming to her rescue, Delight suddenly finds herself swirling in a haze of passion and confusion, between what's real and what's not. But Lucian Dalakis is real, and he intends not just to save her but to bind her to himself for all time.
Lucian is a creature of the dark and must endure the same curse as all Dalakis men: they love only once in their lives, and may search for all eternity without ever finding their mate. When Delight shows up unexpectedly in Lucian's life, he knows immediately that he has found his one true love. But her life is still in danger from the same vicious attackers, and he will do everything in his power to protect her, even as he uses every one of his seductive powers to keep her close.
Once upon a time N.J. Walters had the idea that she would like to quit her job at the bookstore, sell everything she owned, leave her hometown, and write romance novels in a place where no one knew her. And she did. Two years later, she went back to the bookstore and her hometown and settled in for another seven years. One day she gave notice at her job on a Friday morning. On Sunday afternoon, she received a tentative acceptance for her first romance novel and life would never be the same.
N.J. Walters is a New York Times and USA Today Bestselling author who has always been a voracious reader, and now she spends her days writing novels of her own. Vampires, werewolves, dragons, time-travelers, seductive handymen, and next-door neighbors with smoldering good looks—all vie for her attention. It's a tough life, but someone's got to live it.
The Fresh Pick is chosen by a group of readers and is never a purchased advertisement or promotion. We've picked this book because it appeals to us and we like to share our diverse tastes in reading and hope you'll give it a try.