Some books are more personal than others, drawing bits and pieces of my life and interests into the story. That's exactly what happened with DRAKON'S PLUNDER, book 3 in my Blood of the Drakon series.
What's in a name? Well, a lot. And for me it all started with the heroine. Sometimes I know right away what my character's name will be. Sometimes it takes a while for me to discover it. This book is set off the coast of Maine and I knew it would involve salvaging a wreck from the 1800s. Even though the ship in my book went down in bad weather, it got me thinking about pirates.
I did some online research and discovered Samuel Bellamy, also known as "Black Sam" Bellamy, the "Prince of Pirates." He was an interesting character who lived large and died young. I thought it fitting my heroine be named Sam Bellamy, since her father wanted a son and claimed they could be related to the pirate, even though that is never substantiated.
Which leads me to my own history. No, I'm not related to any pirates…that I know of. But I did grow up hearing about one named Peter Easton. He operated along the coast of Newfoundland in the early 17th century and had a fort in Harbour Grace. I have relatives there and spent part of my summers as a child visiting the area. There is a museum on the original site of the fort, the building erected in 1870 as a customs house. And as you would expect, pirates and Peter Easton are featured in the museum displays. It seemed the perfect last name for Ezra.
So here we have two people with pirate names—Bellamy and Easton—both of them trying to recover an artifact from a sunken vessel and keep it out of the hands of the Knights of the Dragon. Ezra doesn't know if he can trust her since she was working on the ship owed by the Knights. Sam doesn't know if she can trust the stranger who plucked her from the frigid Atlantic Ocean. But these two will have to band together to fight the even bigger threat facing them.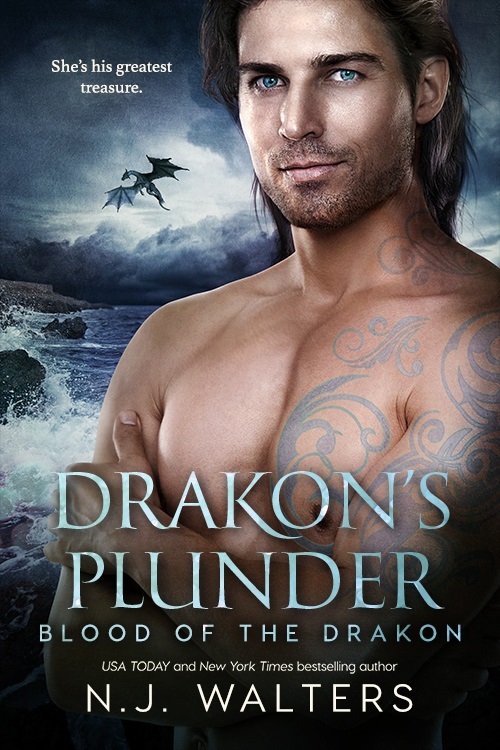 Life is not going well for archaeologist Sam Bellamy. She's stuck in the middle of the ocean on a salvage boat with people who want her dead. It wasn't her gift for being able to sense objects of power that got her here, rather her need to make a secret society called the Knights of the Dragon pay for killing her mentor. Sam doesn't believe in dragons, but the Knights do, and if she can get one of the sacred artifacts they're searching for away from them, she'll consider it payback.
Ezra Easton is content to run his marine salvage company and live alone on his private island. He may be a four-thousand-year-old water drakon, but he's civilized enough to know just because he pulls an injured woman from the ocean, doesn't mean he gets to keep her…
When she wakes up, she has a few tall tales to share, and it seems the Knights are after her. But this drakon won't give up his treasure.
Romance Paranormal [Entangled Select Otherworld, On Sale: July 18, 2017, e-Book, ISBN: 9781640631724 / eISBN: 9781640631724]
N.J. Walters is a New York Times and USA Today bestselling author who has always been a voracious reader, and now she spends her days writing novels of her own. Vampires, werewolves, dragons, time-travelers, seductive handymen, and next-door neighbors with smoldering good looks—all vie for her attention. It's a tough life, but someone's got to live it.