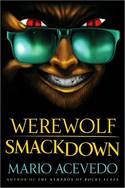 Felix Gomez #5
March 2010
On Sale: March 9, 2010
Featuring: Felix Gomez
416 pages
ISBN: 0061567183
EAN: 9780061567186
Trade Size
$14.99
Fantasy Urban, Thriller Paranormal – Supernatural
Buy at Amazon.com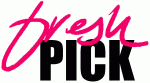 Werewolf Smackdown
by Mario Acevedo
Felix Gomez, Latino vampire detective extraordinaire, tackles a dangerous werewolf cabal in the fifth installment in Mario Acevedo's satirical supernatural series
A sure-to-be-bloody civil war is brewing between rival werewolf factions, and P.I . Felix Gomez will do anything he can to make sure it doesn't explode into a vicious battle that engulfs all creatures, living and dead.
Between that, the sudden reappearance of an ex-girlfriend, and a gang of other vampires trying to take off his head, this is one rumble even a fanged detective extraordinaire may not be able to handle.

Twists, turns and double-dealing turn this fast-paced vampire mystery into an excellent adventure.
Excerpt
Chapter One
"Felix, I want him dead." Eric Bourbon held up a severed head. The head belonged to a Caucasian man in his early thirties. By the musky taint of the cadaver reek, the victim had been more than a man–he was a werewolf in human form. A were.
The eyelids were hooded, the cleanly shaven jaw slack, the pale lips opened slightly, the waxy complexion bleached from the loss of blood. The neck was a ragged stump that had been gnawed off the shoulders. A diamond earring glittered in the left ear lobe.
I said, "He looks pretty dead to me."
"Not him." Bourbon dropped the head into a large Tupperware bowl on his desk and wiped his hand with a kerchief. He shuffled photos from a manila file folder and pointed to the top photo. "Him. His Read More…