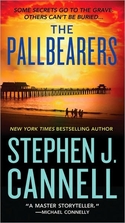 Shane Skully #9
October 2010
On Sale: September 28, 2010
Featuring:
Shane Skully
384 pages
ISBN: 0312532458
EAN: 9780312532451
Paperback (reprint)
$9.99
Suspense
Buy at Amazon.com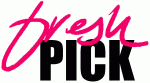 We miss Stephen!
The Pallbearers
by Stephen J. Cannell
Some secrets go to the grave. Others can\'t be buried.
To find the truth about one man's death
LAPD Detective Shane Scully was raised in an orphanage called Huntington House. There, he and a small group of kids were devoted to the home's director Walter "Pop" Dix. An avid surfer with a larger-than-life spirit, Pop was the father Shane never had. And now, thirty years later, he is gone…
The pallbearers will put their lives on the line…
Pop is found dead, the victim of an apparent self-inflicted shotgun blast. He left a note naming six Huntington grads as his pallbearers. Shane is one of the chosen—but he doesn't believe Pop's death was a suicide. Now, along with the others, Shane embarks on a dangerous mission to unearth Pop's real killer. But the group discovers an unexpected adversary whose power and influence far exceed anything they could have imagined—violent, dangerous men who are determined to keep the truth about Pop's death under wraps…no matter who gets in their way.
Excerpt
CHAPTER 1
IN 1976 AMERICA WAS JUST coming out of a protracted depression called the Vietnam War, but back then I was still deep in the middle of mine. I was twelve years old, and, boy, was I pissed.
It was early in May on that particular spring morning and I was huddled with some other children on Seal Beach around 9th Street. We were staring out through a predawn mist at the gray Pacific Ocean while consulting Walter Dix's old surf watch to time the AWP—which is what Walt called the Average Wave Period between the incoming swells. Walt called swells the steeps.
The beach we were on was about fifteen miles from the Huntington House Group Home, which was in a run-down neighborhood in Harbor City, a few minutes southeast of Carson. There were four of Read More…