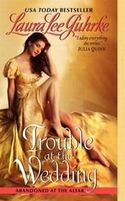 Abandoned at the Altar #3
January 2012
On Sale: December 27, 2011
Featuring: Christian Du Quesne; Annabel Wheaton
384 pages
ISBN: 0061963178
EAN: 9780061963179
Kindle: B005AJY7XM
Paperback
$7.99
Romance Historical
Buy at Amazon.com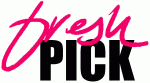 Trouble At The Wedding
by Laura Lee Guhrke
Annabel is about to marry the perfect man . . .
Christian isn't about to let her marry that pompous prig . . .
The last thing Miss Annabel Wheaton desires is true love. She learned the hard way that love makes a woman foolish and only leads to heartache. That's why she agreed to marry an earl who needs her money. He's got a pedigree and a country estate, and he won't ever break her heart. There's only one problem…Christian isn't about to let her marry that pompous prig…
Christian Du Quesne, Duke of Scarborough, thinks the stubborn heiress is about to make the biggest mistake of her life, and he's determined to stop her. Tempting beautiful women is Christian's forte, after all. When her family offers him a nice sum of money to stop the wedding, he's happy to accept.
Falling in love with Annabel was never supposed to be part of the bargain.
Excerpt
After dinner, the gentlemen retired to the smoking room for brandy and cigars, and the ladies remained in the dining room for coffee and gossip.
Annabel, however, decided to forgo the coffee. Excusing herself, she murmured something delicate to her mother and left the table. Exiting by a side door, she went straight past the ladies' retiring chamber, up the stairs, and into the reading room, where newspapers lay on carved tables and rows of books lined two walls. After a hasty scan of the shelves, she found the book she was looking for and lifted it above the two-inch lip that prevented the volumes from spilling onto the floor in stormy weather.
Flipping through pages, she soon reached the one she wanted, but what she found there was every bit as awful as she had feared.
Chilblain: inflammation brought on by Read More… Previous Picks