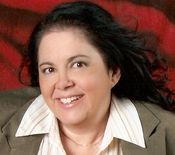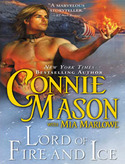 Welcome to Mia Marlowe and her latest release LORD OF FIRE AND ICE. Mia's work has been featured in PEOPLE magazine and one of her books is on display at the Museum of London Docklands next to Johnny Depp memorabilia. Her previous release TOUCH OF A ROGUE was tapped for Publishers Weekly's Top Ten Romances for Spring 2012.  Want to learn more? Pour yourself a cup of coffee and listen in to Mia's recent conversation with FreshFiction!
Q: Most of the historical romance world is fixated on Regency England. Why did you decide to write about Vikings?
A: I love the Regency time period. In fact, right now I'm collaborating with New York Times bestseller Connie Mason for a trio of Regency stories due out in 2013. (Check out my Coming Next page for more about the "Royal Rakes" Series!) But I've always been fascinated by Norse culture.  Could be because I'm married to a guy of Norwegian descent. Unlike my hero Brandr, who's a blond god-like fellow like Thor, my DH is a "black viking," which means he has dark hair and eyes instead of the usual fair Scandinavian coloring. My DH says it's because the Vikings used to capture the dark-haired women on their raids of the coastal European towns.  He assures me the women were all happy to go. 😉
Q: What makes LORD OF FIRE AND ICE unique?
A: I think the fact that it's a cross-over between historical and paranormal sub-genres marks it as different from many romances. Brandr the Far-Traveled is a fire mage, which means he can call flames from thin air and control the element with his will alone.
The vikings had a concept called "inn matki munr" which means "the might passion."  They believed love could be all-encompassing. For Lord of Fire and Ice, we decided to give that bond a deeper mystical connection as well. If Brandr and Katla achieve that level of love for each other, they will be joined so completely they can communicate with only a thought.
Q: How did you come up with the title LORD OF FIRE AND ICE?
A: The fire part is pretty easy to figure out since Brandr has such a special affinity for flame. But if you think ice is talking about the cold Norse winters, you'd be mistaken! It refers to Katla the Black's heart. As the widow of a hard-hearted man who kept a bedslave even while he was married to Katla, she has learned to protect herself. By the time Brandr meets her, she's a veritable ice princess. But he knows how to make her melt.
Q: What's next?
A:  I'm delighted to share that I'm bookending the month of July with new releases. LORD OF FIRE AND ICE officially hits stores on July 3rd. TOUCH OF A SCOUNDREL, the 3rd book in my Touch of Seduction series, hits the bookstore shelves on July 31st.  Don't let the fact that this title has some related stories put you off. It'll stand on its own.
Q. Where can we find out more?
A: I love connecting with readers. You can find me at:
, home of Red Pencil Thursday, an online critique group on my blog
Facebook
Twitter
LORD OF FIRE AND ICE BY CONNIE MASON AND MIA MARLOWE – IN STORES JULY 2012
His Duty is to Fulfill Her Every Desire…
Brandr the Far-Traveled has seen the world and a good many of the beautiful women in it. His bed skills are the stuff of steamy legend, his sword sings death, and he can call up fire from thin air. No one in a hundred years ever thought he could be enslaved through trickery and forced to wear the iron collar of a thrall—least of all him.
Until All She Desires is Him…
Katla the Black isn't just called so for her dark, silky hair. His new mistress has a temper as fierce as a warrior's and a heart as icy as the frozen North. But inch by delicious inch, Brandr means to make her melt…
ABOUT THE AUTHORS
Connie Mason is a New York Times bestselling author of more than 50 novels. She was named Storyteller of the Year in 1990 and received a Career Achievement Award from Romantic Times in 1994. She currently lives in Florida. Mia Marlowe is a highly acclaimed new voice in romance whose debut novel released in Spring 2011 from Kensington. She lives in Boston, MA. Together, they are working on a new Regency romance series for Sourcebooks Casablanca, the first of which will be in stores in January 2013. For more information, please visit http://www.conniemason.com/, http://miamarlowe.com/ and follow Mia on Twitter, @Mia_Marlowe.
To comment on Mia Marlowe's blog please click here.