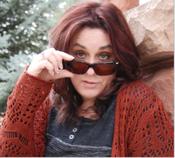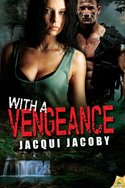 You're home alone. The house is dark. The clock is reading 3:32a.m. That noise that wakes you from your sound sleep, it's going to be one that pulls your butt from your warm bed and has you investigating the source.
Because, as a tough chick heroine of any story, we don't need weapon because we are tough enough on our own and our thoughts will direct us on the right path.
Everything we needs is on us, in us. We has a reason for facing down whatever evil might lie ahead. In Poltergeist, Diane Freeling faced terrifying odds as her children were taken from her. In her determination was her motivation and she got them back and won. Her love of her kids was her driving force.
For me, a self-defense enthusiast since the age of fifteen, it was a history that drove me to become the toughest soccer Mom that walked. Many bad things randomly happened to very nice people in the town where I grew up. I decided young I would never be one of those victims. I taught this lesson to my kids, enrolling them in Tae Kwon Do while other parents told us "But Chorus is so much more fun."
Yea, okay. Fun. But when trouble hits? My kids may not hit the notes, but they will take the villain down.
Taking a female lead in a book and working with her to move forward is a hard job and fits into many categories, including suspense, paranormal and adventure. Tough heroines are harder to deal with for writers as they argue back more and sometimes like to take the lead in the story telling. In the some respects though, they are also going to give you more reward as they take hold of what we were wrtiting, move it in the direction that fits their needs and explains to the hero, "Yes, dear … you can help, too if you like."
The more she wanted out, the more they dragged her back in.
Daughter to murdered CIA officers, niece to a deputy director, Jaime Walsh has never known life outside the world of espionage. Until a high-action case in Buenos Aires leaves her gutted. Physically, emotionally…and professionally.
She'd planned for her long-overdue vacation to be a time to rest and reassess. With her longtime partner Stephen not far behind, it's a tropical paradise away from work. A paradise where boundaries will be tested.
From their training days, Stephen Reid has watched Jaime kick ass while performing what has become his second job—watching her back. But now his feelings have grown.
As best friends look at each other in a new light, they like what they see. And Jaime dreams of a new life outside "the company".
Except someone from their past won't be satisfied until Jaime and the man she loves are hunted to the brink of death. Now Jaime must find the strength to trust her heart and let go of her fear. Before she loses everything…
Warning: This book contains world travel with stops in exotic locations, a kick-ass heroine who just wants to be left alone and a sexy hero who can't seem to stop himself from watching her back.
One commenter will win a signed copy of WITH A VENGEANCE
To comment on Jacqui Jacoby's blog please click here.