Jen: What inspired you to write THE SEVEN DAY SWITCH?
Kelly: My contemporaneous parenting friends and I all have different varieties of lifestyles, with some of us working full time out of the home, many working from home, and a few working as stay-at-home mothers. I noticed that though we all had a lot in common, the grass always seemed a bit greener in someone else's backyard. I had to explore this and the body swap genre was the exact right way for me to find my way into the story.
How does Celeste Mason view motherhood?
Celeste takes it as something natural she was born to do, and as something no one else could possibly do as well as she does. So, she brings a lot of confidence to the party that I personally have never felt, but with her daughter poised on the brink of teendom, we can be sure some of that confidence is about to be challenged.
What is Wendy Charles' take on being a working mom?
Wendy is that frantic side of us who is going to do it all and be the best no matter what, even if she never sleeps again. She's been managing as a perfectionist for years in her work life, dancing as fast as she can, and her second shift exhausts her. It doesn't take much for her world to get shaken up.
What happens to Celeste and Wendy that turns their lives upside down?
The way I see it, these two are in for a world of trouble no matter what I do to them in the story, but when they wake up inhabiting each other's bodies, the wheels come completely off their metaphorical minivans. They both think the other person's lifestyle will be a relative walk in the park… but that can't be true for both of them. So, who has it best? And who is doing the "right" thing? I think the answer might surprise you.
In what way has the role of motherhood changed during the pandemic?
It's a stretch to be positive about the way women's childbearing years are treated by society in the best of times, and I won't say this sad catastrophe has been good for women—evidence during the last year shows we are set back in our work towards equity and that the systems that barely hold the middle class together are just too fragile to protect children.
That being said, during the lockdown portions of this pandemic every mother became a stay-at-home mother and I have to believe this leads to a lot of compassion between women. I also note that some of the performance-parenting that is fostered by social media has died down online. May it ever be thus!
How can readers stay connected with you?
First of all, I want to hear from you by way of my reader email—that's where I dish out the good stuff. From my website, www.kellyharms.com, you can sign up for the monthly emails and get perks, and you can contact me directly. I aim to write back every person who writes to me, and while I'm not speedy, I am touched by your notes. I get a lot of writing energy from my readers. If you aren't ready to say hi just yet, find me on Instagram and give me a little wave. I get it.
Are you currently at work on your next novel? If so, please share!
Of course, I am! I am so excited about THE SEVEN DAY SWITCH coming out that there are days I have to sort of strap myself into my writing chair to get the words down, but write I must, or I get punchy around the house. At the moment in my new book, my leading lady just met the most stunning guy I've ever written. Writing someone quite this handsome is a bit new for me, and very fun!
Thanks for chatting with FreshFiction.com about THE SEVEN DAY SWITCH. Best of luck with your new release!
Thanks to you and your readers, Jen, for helping bring us all together!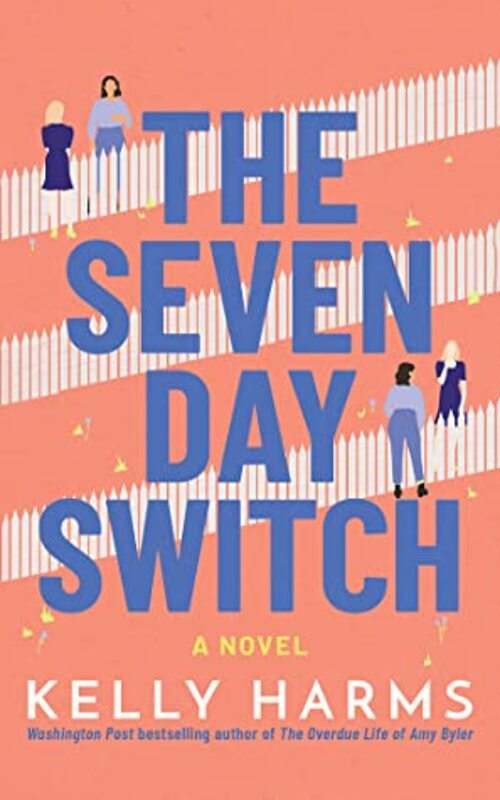 Two moms as opposite as a Happy Meal and a quinoa bowl. What a difference a week makes in a heartfelt, laugh-out-loud novel by the Washington Post bestselling author of The Overdue Life of Amy Byler.
Celeste Mason is the Pinterest stay-at-home supermom of other mothers' nightmares. Despite her all-organic, SunButter-loving, free-range kids, her immaculate home, and her volunteering awards, she still has time to relax with a nice glass of pinot at the end of the day. The only thing that ruins it all is her workaholic, career-obsessed neighbor, who makes no secret of what she thinks of Celeste's life choices every chance she gets.
Wendy Charles is a celebrated productivity consultant, columnist, and speaker. On a minute-by-minute schedule, she makes the working-mom hustle look easy. She even spends at least one waking hour a day with her kids. She's not apologizing for a thing. Especially to Celeste, who plays her superior parenting against Wendy whenever she can.
Who do Celeste and Wendy think they are? They're about to find out thanks to one freaky week. After a neighborhood potluck and too much sangria, they wake up—um, what?—in each other's bodies. Everything Celeste and Wendy thought they knew about the "other kind of mom" is flipped upside down—along with their messy, complicated, maybe not so different lives.
Women's Fiction [Lake Union, On Sale: July 1, 2021, Hardcover / e-Book, ISBN: 9781542028899 / ]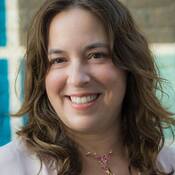 USA Today, Amazon Charts, and Washington Post bestselling author KELLY HARMS is the author of five novels including The Overdue Life of Amy Byler, one of GoodReads' top ten fiction books of the year and a WFWA Star Award finalist. Her works have been translated into a dozen languages throughout the world.
Before becoming a writer herself, she was a New York editor and literary agent and worked with a wide array of bestselling and award-winning authors. She now lives in Madison, Wisconsin with her clever son Griffin, charming Irishman Chris, and Scout, the best dog in dogtown.
Kelly loves meeting her readers virtually and in real life, and can be found at www.kellyharms.com for the former. Come say hi!
***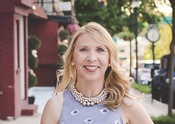 Jennifer Vido is best known for her nationally syndicated Jen's Jewels author interview column. A savvy book blogger she dishes the scoop on the latest happenings in the publishing business. As a national spokesperson for the Arthritis Foundation, she has been featured by Lifetime Television, Redbook, Health Monitor, The New York Times, The Baltimore Sun, Healthguru.com, and Arthritis Today. She is the author of the Piper O'Donnell Mystery series. Currently, she lives in the Baltimore area with her husband and two sons.