The room where it happens…keep it lit or fade to black?
In her renowned 1975 novel, FOREVER, Judy Blume took teens Katherine and Michael from first meeting to first kiss, first base to second, second to third. Then with the lights still shining bright and no doubt the rapt attention of each young reader, Katherine and Michael had their first sexual experience together–no fading to black, no glossing over the technicalities with flowery ambiguous language. There was no hidden agenda with this novel, no political statement to be made. It was simply there to show us (or remind us) of what it's like to be a young person in love, dating, having sexual experiences for the first time.
I grew up reading Judy Blume, learning about buying a bra and first periods from Margaret, then later learning about sex from Katherine and Michael. In high school, I had my own "Michael" and a first-serious-relationship experience that was frighteningly similar to this fictional couples' story. So it's no surprise that when I began writing YA, I took a small note from Ms. Blume.
As much as we'd like to say that our characters make these decisions when it comes to sex and YA novels, the truth is: Authors have choices. Authors make choices. Like Judy Blume, we join our characters together, allow them a memorable first kiss and then…well, this is where the road can split into many directions. And I? I chose the road less clothed. This isn't a decision made to increase commercial appeal or add a scandalous note to a story, it's because what happens in that room is important to the story. Any words the two characters speak to each other in that moment are important, who undresses who, any doubts that linger and whether or not they are settled throughout the scene, depending on the type of story, can be crucial information to a reader. As with Katherine and Michael's first time in FOREVER, often YA sex scenes prove an important point: it is possible for a moment to be both romantic and a complete failure.
In my YA novel, WHATEVER LIFE THROWS AT YOU, Annie Lucas and Jason Brody begin their relationship with a steaming hot first kiss, and continue their sexual exploration over the course of a few months time. With this couple, I had a difficult choice to make–Brody is 19 and sexually experienced, Annie is 17 and has some experience but is a virgin (though she lies to Brody about this). Annie's guarded heart and Brody's fear of going too fast with this younger girl whose father he is very close with and respects a great deal sets the somewhat slow pace of their physical relationship. As a result, the couple's physical and emotional relationship becomes intertwined, the growth of one equally representing the growth of the other and banishing all arguments relating to the "sex doesn't equal love" debate.
In fact, with many YA novels, the presence of sex on the page often represents a deeper, close relationship between the main couple. Even when that relationship doesn't last, as with Katherine and Michael in FOREVER, the experience is valuable, if not crucial to growing up. In my forthcoming novel, OFF THE ICE (2/28/17), Tate Tanley has recently broken up with his first love, the girl to whom he fumbled through first sexual experiences with and though someone new has caught his eye, both bitterness and nostalgia over the nice moments with his ex linger. And as things move forward with Claire, his new love interest, Tate realizes the value of his past relationship and how it taught him what intimacy meant and varying levels of it. Tate refers to his relationship with his ex, Haley, as "easy and comfortable." When he compares his budding relationship with Claire, a girl he's crushed on from a distance for years, he says, "What is this thing that Claire and I are doing? It's painful and messy but also exhilarating, like seeing colors for the first time." Like Annie and Brody, their physical relationship is closely connected to their emotional growth, both individually and as a couple, and seeing their intimate moments close up, all lights on, is essential to a reader "buying into" their relationship.
Not every book I write has or will have a crucial need for sex on-the-page, but most do though in different degrees of description. It's difficult to evaluate a YA novel that chooses to fade to black in those moments and decide if keeping the lights on would add to the story, but on the flip side, I can name many novels–outside of FOREVER–that I couldn't imagine removing the descriptive sex. I'm including a list of some of my favorites, books I often recommend to teens and even parents.
YA Novels That "Keep the room lit" and do it Well
Anatomy of a Boyfriend by Daria Snadowsky
I know It's Over by C.K. Kelly Martin
Before I Die by Jenny Downham
You Against Me by Jenny Downham (this one has an HEA!)
My Life Next Door by Huntley Fitzpatrick (another HEA!)
If I Stay by Gayle Foreman
Everyday by David Levithan (I especially love this one for the unclear gender of the main character who inhabits the bodies of a different person everyday and who has been in love with both a boy and a girl)
Firsts by Laurie Elizabeth Flynn
I would love to hear any of your favorites so please share via twitter (@juliecross1980) or email me and I will share on twitter: juliecrossauthor(at)gmail(dot)com
P.S. In case you were wondering or even worried about this…all my books have an HEA 🙂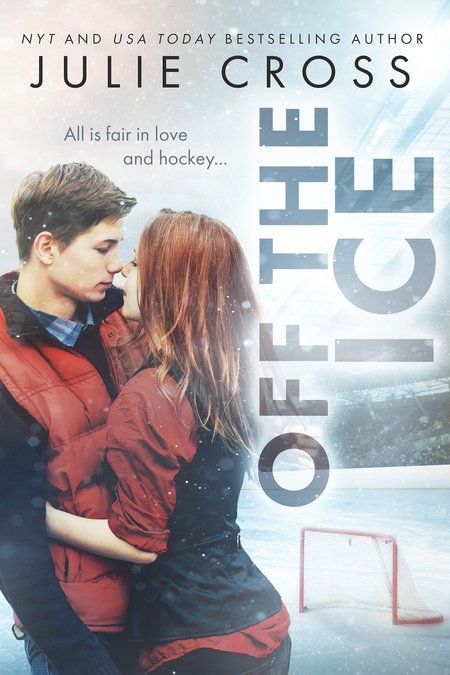 All is fair in love and hockey…
Claire O'Connor is back in Juniper Falls, but that doesn't mean she wants to be. One semester off, that's what she promised herself. Just long enough to take care of her father and keep the family business―a hockey bar beside the ice rink―afloat. After that, she's getting the hell out. Again.
Enter Tate Tanley. What happened between them the night before she left town resurfaces the second they lay eyes on each other. But the guy she remembers has been replaced by a total hottie. When Tate is unexpectedly called in to take over for the hockey team's star goalie, suddenly he's in the spotlight and on his way to becoming just another egotistical varsity hockey player. And Claire's sworn off Juniper Falls hockey players for good.
It's the absolute worst time to fall in love.
For Tate and Claire, hockey isn't just a game. And they both might not survive a body check to the heart.
Young Adult [Entangled Teen, On Sale: February 28, 2017, Paperback / e-Book, ISBN: 9781633756557 / eISBN: 9781633756564]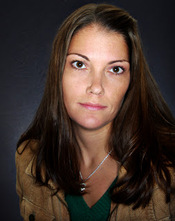 Julie Cross is a NYT and USA Today bestselling author of New Adult and Young Adult fiction, including the Tempest series, a young adult science fiction trilogy which includes Tempest, Vortex, Timestorm (St. Martin's Press).
She's also the author of Letters to Nowhere series, Whatever Life Throws at You, Third Degree, Halfway Perfect, Chasing Truth and many more to come!
Julie lives in Central Illinois with her husband and three children.