When Derrick picked Genie up at TyTyler's house, she appeared to be shy. He figured she was embarrassed to be sneaking around when she was a grown woman, but she was living in her father's house, and he seemed to be less than enthusiastic about the budding relationship. He hoped to be able to show Genie that he was proud to be seen with her and wanted to deepen their ties.
"You're sure you want to keep Angelique tonight?" she asked Leah.
"Of course. Go on now. You deserve a night out." Leah made shooing motions with her hands.
When Derrick handed her up into his truck, he assured her that he would bring her back to TyTyler and Leah's house whenever she wanted.
Genie enjoyed the beautiful countryside as they drove toward Langston. The moon was just rising and it cast a glow on the snowy scenery. There must have been a million stars strewn across the night sky, and all of them were twinkling for her pleasure.
"Beautiful night," she said.
He glanced at here and reached for her hand, placing it on his thigh. "Not nearly as beautiful as you are tonight."
A flush of warmth filled her insides. "I'm glad you think so, Derrick."
He shot her an appraising look. "I swear…you don't actually have any idea how gorgeous you are, do you?"
"Me? I'm just…"
He shook his head. "In high school, there were a ton of girls who didn't have anything near to your looks, and they were so full of themselves. Always preening and posing. . . but you. . . " He heaved a deep sigh. "You're the real thing. You could be on magazine covers or the movie screen. . ."
Genie shook her head. "Oh, come on now. . ."
"No, I'm serious. I spend all my time  looking at you, wondering what you could possibly see in me, when you could have any guy you want."
"Please, stop. You must be in love with me." She stopped short. "I mean. . ."
"You're probably right." They had entered the town of Langston and in no time he was pulling up to the steak house. "Hope you're hungry." He got out to go around and open her door.
Genie was stunned by his comments, and even more stunned by his admission that he might be in love with her. This was going to be an interesting night.
She enjoyed the meal at the steak house. Apparently the cook had been taking lessons from Big Jim, although this steak had a slightly different seasoning. Perfectly prepared, as well as anything she had dined on in the city.
People stopped by the table to say hello to Derrick, and be introduced to his companion.
She had to accept that this was a small town and people knew people.
After dinner Derrick drove her to his ranch, He insisted it was "only a small place.", Aa little over one hundred acres sounded huge to her.
When he opened her door and held out his arms, Genie felt as though she was committing something serious to this somewhat serious man. She slid down off the seat and into his embrace. He took a moment to hold her, pressing a sweet kiss against her lips, but then hurried her inside because of the drop in temperature.
When she sucked in a breath it chilled her insides, but she was inside his warm house in no time.
There was a dog. . . and a cat. The cat regarded her solemnly, but the small dog approached, wagging its tail.
"That's Smokey. I guess I'm dog-sitting for an elderly couple." Derrick gestured to the cat. "The cat is mine. My mom left her in my care when they moved to San Antonio. Meow is finally beginning to accept Smokey. It was touch and go for a minute there."
Genie thought it was a good sign that a man could be bothered to take care of pets. In truth, he seemed to be taking care of a great deal of the county.
He helped her out of her outer layers, and shed his gloves and fleece-lined jacket.
They stood looking at each for one agonizing moment and then he kissed her. Kissed her like he really meant it. Kissed her in a way that blazed a trail from her lips all the way to her girly parts. Oh, mama!
And then her clothes began to fall off.
It seemed the kisses were causing them to fall in a heap at her feet. Genie pushed away, gazing up at the man helping her out of her garments. "Wait! One of us is wearing entirely too many clothes. Start stripping, cowboy."
Derrick grinned and sat down on the sofa to wrest off one of his boots. "Getting out of the boots is the hardest part." He got the second one off and then stood up, but Genie stepped forward to help him. Something about taking off a man's shirt was distinctly exciting, but she found that he had a thermal undershirt beneath it. The thermal knit clung to all his muscles, emphasizing his well-developed chest and arms.
"Nice," she purred. "Do you work out?"
He chuckled as he slipped it off over his head, treating her to a nice display of rippling muscles. "Like at a gym? The answer is no. I work, period."
Good answer.
He scooped her up and carried her to his bedroom at the rear of the house. . .
(C) June Faver, Sourcebooks Casablanca, 2020. Reprinted with permission from the publisher.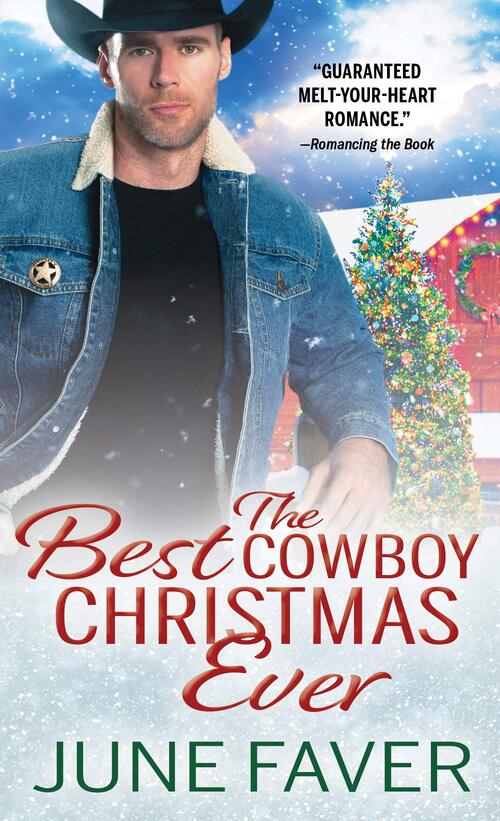 Enjoy a down-home Texas cowboy Christmas!
When handsome town sheriff Derrick Shelton meets Angelique Guillory and her young daughter at the Garrett ranch, he is immediately drawn to the woman who seems to desperately need a true family Christmas. Determined to erase the shadows from her eyes, he decides to give her the best holiday she's ever had.
Angelique Guillory is a woman with a past, haunted by violence and searching for the family she never knew. When she and her little daughter find their way to the Garrett family and meet Derrick, she hopes to have finally found a safe haven.
But Angelique is still looking over her shoulder. Despite her doubts, with a little Christmas magic and the warmth of the Garretts, Angelique may find more love and acceptance than she ever thought possible.
Romance Western | Romance Holiday [Sourcebooks Casablanca, On Sale: September 29, 2020, Mass Market Paperback / e-Book, ISBN: 9781728214511 / eISBN: 9781728214528]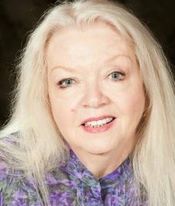 JUNE FAVER loves Texas, from the coast to the panhandle. Her novels embrace the heart and soul of the state and the larger-than-life Texans who romp across her pages. A former teacher and healthcare professional, she lives and writes in the Texas Hill Country.