Dakota's eyes widened. "What are you doing?"
The gold of his wolf eyes flashed. "Exactly what I should have done days ago."
Dakota inhaled a sharp breath. From the dark look in his eyes, she almost expected him to strip the belt from his jeans and use it to make the bare skin of her ass a dusky shade of pink. The thought of her bent over his knee sent an unexpected wave of heat through her core.
Her mouth went dry as adrenaline coursed through her. "Blaze?" she breathed again, prompting more from his non-answer.
His chaps and belt were cast aside now along with his Stetson. The shirt came next. "Showering," he ground out.
His tone was harsher, more hardened than usual. She didn't exactly dislike it.
"Exactly like you are," he growled. "What else?" He turned on one of the showerheads in the adjacent stall block facing her. Another cloud of steam filled the room.
"Here?" she nearly squeaked.
"What?" he snapped. "We're both warriors, coworkers as you put it, and I may not be as drenched as your clothes were, but we're both covered in blood." His shirt was on the floor now, and those large hands and lengthy fingers worked at the button and zipper of his jeans.
The blue denim hit the floor, and from the sight of pure, virile male that sprang forth, he hadn't been wearing any. . .
"Stop it." She tore her gaze away in favor of focusing on the tile again. She had to if she wanted there to even be a chance of saving the history and friendship between them.
"Stop what?" Dakota's hands clenched into fists. She couldn't keep staring at the floor, not when she could see the muscled curve of his calves, the thick brawn of his tight thighs leading up to where. . .
"Making me want you, for fuck's sake!" she snarled, finally allowing herself to look at him. He'd been inviting it since the moment he'd started that thinly veiled strip tease.
Damn him.
She'd seen him naked a hundred times before, but never like this.
Never thick and hot with need. Even from across the room, she could see, could feel his hunger for her. The power in that filled her. Her eyes followed a bead of the warm shower water he now stood in as it trailed the length of his chest where he scrubbed himself clean. The broad sinew of his massive shoulders was peppered with the artwork of his military tattoos, a stark reminder that Blaze wasn't solely the kind of wolf who protected his loved ones but a fierce, lethal warrior, brave enough to risk himself for the sake of all others, for the good of his fellow man. For the first time, Dakota allowed her eyes to trail lower, over the delicious ridges of his toned stomach and the jutted curve of his hips which led down to. . .
She bit her lower lip. Her mouth watered. The thick male length of him made her want to. . . She pushed the thought aside. She could still save this, stop this, couldn't she? "You ignoring me these past several days has torn me to shreds," she admitted. She was nearly breathless with desire, and she knew he had to hear it. "I don't know which is worse, you ignoring me or chasing after me."
"I left you alone just like you wanted," Blaze purred.
She laughed a humorless chuckle, eyes filling with tears as she glanced toward the ceiling. "I don't know what I want."
"I do." The confidence in those two words stilled her. Slowly, Blaze prowled toward her, every muscle of his nude form on display as he drew close to her again. She backed into the open shower stall, the heat of the spray easing the tense muscles of her back. Within a few seconds, her bra and underwear were drenched.
"You want to be told that you're safe, that everything is okay." Blaze eased closer, backing her farther into the shower's spray. "You want to be told that you aren't making a mistake, that every decision will have a happy ending, just like every time you reach a new goal, because you're scared of any uncertainty the future will hold."
Her back pressed flushed against the glass wall of the shower now. She couldn't get away, even if she'd wanted to. Blaze's large hands pressed next to the steamed glass on both sides of her head as he leaned over her.
"You want reassurance, to be certain."
Dakota could barely breathe. Tentatively, she reached out, placing her fingers on the dark ink across his chest.
A sharp hiss tore from his lips in response. His head dipped low, mouth drawing near.
"And you can promise me that?" she whispered.
The echo of the warm shower and the cool tile beneath her feet made her voice breathy, like it could disappear in the heady mix of heat and desire that filled the room as thick as the fogged steam.
"No." Blaze's lips brushed against the sensitive skin of her ear, the line of her cheek. She shivered. "But I can make you feel that way."
She turned toward him, lids heavy and mouth aching for him. "I thought you said you wouldn't kiss me until I asked you to."
"I lied." He growled as the gold of his wolf eyes burned hot with want for her. "A wolf only waits so long for his prey."
His mouth was on hers then, claiming hers with a force every bit as wild and untamed as the desire between them. His tongue parted the seam of her lips, seeking entry. She didn't hesitate to open to him, to the delicious, heady taste of him coating her tongue. Burying her fingers in the damp locks of his hair, she pulled him closer, meeting his kiss with her own primitive need. They'd never be close enough.
Blaze pulled her into his arms, lifting her by the round underside of her ass as he pinned her between the shower wall and his body. The thick, throbbing length of his cock pressed against the flimsy wet fabric of her underwear, grinding into her sweet spot. She moaned against his lips.
Deft hands searching, he found the front clasp to her bra, popping the hook open and exposing the naked flesh of her breasts. Good Lord, he was good at this. Too good. He broke the kiss between them, his mouth dipping down onto the tender skin of his chest. He caught one of her nipples between the long canines of his teeth and nipped at her.
She came apart on a wave of pleasure, felt the heat of her core clenching in ache for him. The high-pitched cry that escaped from her lips was unlike anything she'd ever heard from herself. She never came this quickly or from foreplay alone. Not even when she thought of him when she. . .
The head of his cock pushed against the sensitive bead of her clit through the wet material of her underwear, making her tremble, before he drew his hips back. He cupped her in the heat of his palm. Shoving aside the pesky crotch of her panties, he buried two fingers inside her. He angled his hand, pressing up and in until the spot he hit made her moan his name.
"Blaze," she keened. She felt herself slicken again. How could he–?
"Yeah, Kotes," he purred. There was a hint of frustration in his voice like she'd broken his concentration on the most important thing in the world to him–her pleasure.
Wild and shocked at the speed of her own renewed lust, she gaped at him, trying to form words. "I. . . I already came," she panted. "It's your turn."
"My turn can wait." Blaze chuckled, a low devious laugh like the thought of "turns" when it came to sex amused him. He cast her a delicious, naughty smirk. "I'm not nearly finished with you yet."
***
Excerpted from Wild Cowboy Wolf by Kait Ballenger. © 2021 by Kait Ballenger. Used with permission of the publisher, Sourcebooks Casablanca, an imprint of Sourcebooks, Inc. All rights reserved.
Author Kait Ballenger brings thrilling shapeshifter romance combined with cowboy romance to the ranch where these alpha male wolves are cowboys by day and shifters by night–protecting their home with everything they've got.
Blaze Carter is the cowboy wolf with the most dangerous desires. One of the wolf ranch's elite warriors, the Grey Wolf security technologist is as smart as a whip, the quickest to joke, and the first to act on his impulses–carnal or otherwise. But this cowboy has a dark secret he can never escape, and Blaze fears the day when his demons catch up to him.
Dakota Nguyen has everything a she-wolf could ever want–an appointment as one of the pack's first female elite warriors, a career as the ranch's veterinarian, and an endearing family that's equal parts loveable and trouble. There's just one thing missing–someone to share it with. Enter: Blaze. For the first time ever, Dakota's now seeing her best friend in a whole new light. But to act on her desires could have deadly consequences for them both…
Romance Paranormal | Romance Western [Sourcebooks Casablanca, On Sale: November 30, 2021, Mass Market Paperback / e-Book, ISBN: 9781728214672 / eISBN: 9781728214672]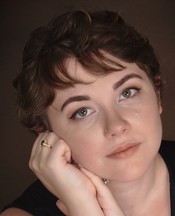 Kait Ballenger is the award-winning and bestselling author of the Seven Range Shifter paranormal romance series, where she weaves captivating tales of dark, sexy heroes who are cowboys by day, wolf shifters by night.
When Kait's not preoccupied writing "intense and riveting" paranormal plots or "high-voltage" love scenes that make even seasoned romance readers blush, she can usually be found spending time with her family or with her nose buried in a good book. She lives in Florida with her husband and two young sons.