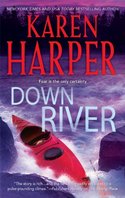 Several years ago my husband and I took a two week trip to Alaska, one week by bus and train, one by cruise ship. I was surprised how much I loved "America's Last Frontier," and realized it would be a great place to set a romantic suspense novel. Not only was the scenery awesome, but it could easily become dangerous, especially if-hm, let's say a south Florida heroine visiting there is somehow swept down a wild river. And then, what if Mitch Braxton, her former fiancé, who owns a lodge nearby, risks his life to rescue her in a kayak, but then they are stranded in the wilderness… Ah, yes, the eternal "what if" of a fiction writer.
During our trip, I met and interviewed many unique Alaskans, some of whom thought nothing of holding down two or three part time jobs for the privilege of living in their beloved state. Besides meeting the human denizens, we were astounded to see so much of nature up close and personal: moose walking down the street; bears grabbing migrating salmon out of a wild river.
To read more of What I DID ON MY SUMMER VACATION-(AND HOW IT INSPIRED MY NOVEL).