My newest erotic romance—LAYING PIPE—releases May 21st from Entangled Publishing. Because of that, I've got sex on the mind. Who am I kidding, I always have sex on my mind. That's because my writing celebrates women's sensuality, sexual exploration and, of course, true love.
It's all in good—if not clean—fun, and my smutty stories can take it to the extreme. If it's about an architect, expect some kinky architectural maneuvers. My mechanic does the dirty in, and on, fancy hot rods. (Both stories come out later this year.) As for Laying Pipe, my lonely librarian meets a hunky plumber who's tool inventive. Ever hear of a drilldo? (Google it, but I warn you, what is once seen, can't be unseen.)
It must be clear by now that I take this sex stuff lightheartedly. I also take it uber seriously, considering it one of God's greatest gifts and worth sharing…
However, for something so essential to our human existence, it can also be remarkably hard at times. For comparison, there's eating—something equally essential to our existence. Do we have trouble enjoying it? Talking about it? Finding yummy flavors? Instead, we celebrate eating, both the preparation and the participation, and find it fulfilling on both physical and emotional levels.
Obviously, eating and sex are not the same thing, but, sex can be just as fulfilling. It will, however, take some effort, creativity, and perseverance to…in the words of Jean-Luc Picard, "make it so." To get you started, I offer you 5 tips that have worked for me:
Make Time for Sex: I've heard it said that planning a "sex night" is a buzzkill. It should be spontaneous, two people that can't keep their hands off each other. Really? Most of us are busy. Jobs. Kids. Daily stresses. Waiting for lightening to strike when both of you are at leisure means you'll become solstice lovers—having sex about twice a year. So, don't think of it as taking away spontaneity, but making opportunity for the spontaneous to strike. Make sure date nights aren't jamb packed with activities. Take weekend getaways where the only plan is no plan. Relax. Chat. Reconnect. The sex will happen, and it won't matter that you planned for it.
Experiment: We're hard wired to seek novelty. Food gets boring. TV shows get old. It's not surprising that after 5, 10, or more years with the same person, sex can become unexciting, stale, or worse causes relationship problems.

So, try something new. I wouldn't suggest starting with a drilldo, but mix-it-up a little. New positions (there are books on this). Different rooms in the house. Or dip a toe into the world of kink. It can be as easy as having one person wear a blindfold while the other teases with different sensations—the faint brush of a feather alternated with the sting of an unexpected slap. Check out my latest newsletter on KateAllure.com, which I offer "DIY Kink" for the newbie.

Build Trust and Communication: Many people find it hard to talk about sex, because either they're embarrassed or they fear hurting their lover's feelings. But fabulous, no-holds-barred, rockin' good rutting won't happen without trust and communication. Your lover needs to know what hits the spot and, regardless of our favorite paranormal novels, no one can read minds. You'll need to take a leap of faith and share your feelings. Don't do it before, during, or after sex. Pick a time when you're both in a good mood and never in the bedroom. Sex, like anything, can be negotiated, but—surprise!—the negotiating can be a real turn-on as you find out what he wants to do to you and you share what you'd like from him. If you're kink curious, communication is even more important. Once you're tied up and gagged, it'll be hard to explain that you really wanted to try the bunny flogger, not the cat-o-nine-tails. Lastly, if you want to go full "Red Room of Pain," you must make sure your partner is in agreement with the principles of Safe, Sane, and Consensual. BDSM play must always be CCS (research it).
Joint Research: With your lover, go to a sex store or shop online. Together, you can laugh at the weird looking stuff, cringe at the outright crazy s**t, and maybe find a few toys that intrigue. Don't worry if not all purchases meet your taste (my DH and I have tossed a few disappointing acquisitions into the trash). But I'm sure you've tried disappointing recipes at some point. That one yuck meal didn't make you give up on trying again. By the way, Hustler has been opening big, sparkly stores across the US, and they're female friendly, clean, even glamorous—perfect for an erotic date night!
Read Sexy Novels: Yes, it's a little self-serving, but a good erotic romance can light fires that everyday life can't. My favorite book review was from a man who said that he would always keep one of my books on his wife's nightstand. While pure fantasy, you can try elements from the sex scenes. Just giving yourself the time to read something steamy will get you relaxed and ready. You and your lover can take it from there…
Lastly, I'd like to note that I'm not a sex therapist nor play one on TV. I offer this advice freely but without liability, so do the research and stay safe. I also want to thank Fresh Fiction for the chance to visit.
I wish you all a rock'n good time in the bedroom…and in life…and while reading your beloved novels.
~ Kate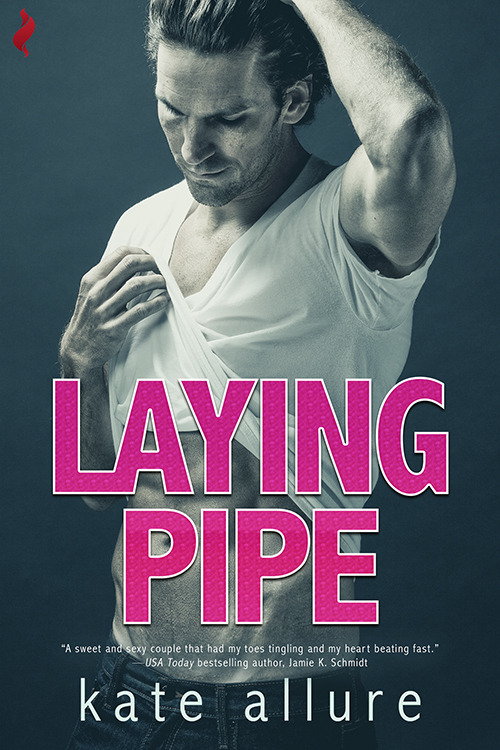 Lexie Kosta runs a small-town library by day, renovates her rundown beach house by night, and spends her free moments devouring kinky BDSM romance novels. She never thought she'd find a man who could fulfill her hidden desires…until Joe Van der Meer walks into her library. He's cocky and sexy and witty—and when they share a steamy kiss behind the stacks… Dayum! But she'll never see him again, right?
Wrong.
When a pipe bursts in her home, she's forced to call an emergency plumber—who turns out to be Joe. Things really heat up after Lexie's erotic novels inspire Joe to play kinky plumber…applying his tools in ingenious new ways.
Warning: You'll never look at a drill the same way again…
Romance Erotica Sensual | Erotica [Entangled, On Sale: May 21, 2018, Paperback / e-Book, ISBN: 9781982900113 / ]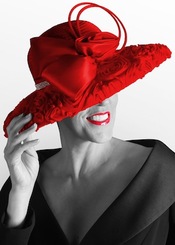 Kate writes erotic romance and is the author of the Meeting Men anthology series about real women meeting handsome professional men as they go about their everyday lives—and the fun they have with them behind closed doors! Her second series, Club Exotica, is set in a posh, ultra-private London club where a woman's every naughty fantasy can come true, coming from Sourcebooks in late 2015.
Kate has been a storyteller her entire life, writing plays, short stories, and dance librettos throughout her childhood and later for semi-professional theater and dance companies. Her non-fiction writing included working for American Ballet Theatre and New York City Ballet and authoring a weekly arts column for local papers. She is a graduate of Interlochen Arts Academy and George Washington University. Beyond writing, Kate's passions include traveling and exploring all things sensual with her loving husband.