Thank you for joining me today! I also want to thank Fresh Fiction for inviting me to be on their blog. I'm excited talk about the release of HOW TO TEMPT AN EARL, the first book in my Raven Club series.
Who doesn't love an accidental marriage theme in a romance? I know I do and that's what I chose to write for my historical romance, HOW TO TEMPT AN EARL. My hero, Ian Swift, had been at odds with his family and left to open a notorious gambling club in London. For ten years, he's lived life on his own terms. But when his older brother dies, Ian unexpectedly inherits the earldom. Ian hasn't associated with the beau monde, other than the aristocrats who visit his casino and lose money at his gambling tables, in many years. He needs a mentor. Then Miss Grace Ashton walks into his club one night. Grace is the daughter of a baron who is a reckless gambler. In exchange for her father's debts, Ian strikes a deal with Grace. If she agrees to give him gentlemanly lessons in the evenings, he will forgive the five-thousand-pound debt her father owes to him.
What begins as private lessons in dining, dancing and social mores, soon turns into an attraction neither can resist. But when they are caught together in a compromising position, they have no choice but to have a hasty marriage. But Grace hates gambling clubs and blames them for her father's addiction to the tables. And Ian refuses to give up the Raven Club. Conflict is an essential part of a romance novel, and this is where the writing gets very fun for me. Here are two people who are attracted to each other, but neither is willing to compromise. Just when the reader thinks it's hopeless, love prevails and the couple finds their HEA.
What separates a good read from a great read is HOW they reach their HEA. Every novel is different and unique and I hope you find Ian and Grace memorable.
Here's a blurb about the book: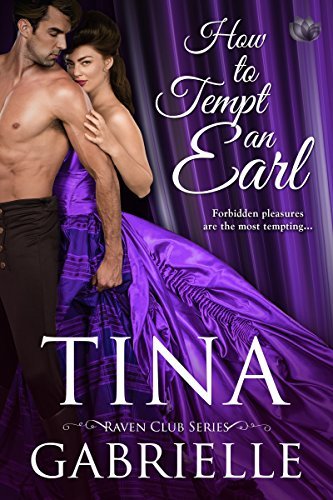 Forbidden pleasures are the most tempting…
London society is cruel for a young woman whose father is an avid gambler. Miss Grace Ashton is not one to stand idly by while her family becomes destitute. Donning a mask, she slips into the night and attends the infamous Raven Club to confront the proprietor. But nothing prepares her for the sinfully attractive and wealthy Ian Swift.
Ian is intrigued when Grace walks into his gambling club but refuses her offer of a few jewels to pay her father's large debts. Unbeknownst to anyone, Ian has inherited the Earldom of Castleton, and he must reluctantly take his place in Society. But Ian's manners as a gentleman have suffered. He needs a tutor, and he knows the exquisite lady standing before him is the answer.
But soon tutoring turns to flirting, which unfortunately lands both of them in…marriage?
Romance Historical [Entangled Scandalous, On Sale: May 14, 2018, e-Book, ISBN: 9781640634077 / eISBN: 9781640634077]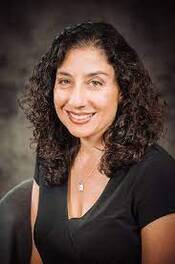 Best-selling author Tina Gabrielle is an attorney and former mechanical engineer whose love of reading for pleasure helped her get through years of academia. She often picked up a romance and let her fantasies of knights in shining armor and lords and ladies carry her away. She is the author of adventurous Regency historical romances for Entangled Publishing and Kensington Books.
Publisher's Weekly calls her Regency Barrister's series, "Well-matched lovers…witty comradely repartee." Tina's books have been Barnes & Noble top picks, and her first book, Lady Of Scandal, was nominated as best first historical by Romantic Times Book Reviews. Tina lives in New Jersey and is married to her own hero and is blessed with two daughters. She loves to hear from readers. Visit her website to learn about upcoming releases, join her newsletter, and enter free monthly contests at www.tinagabrielle.com
Excerpt from "How to Tempt an Earl"
May 1820

The Raven Club,

An Undisclosed Location in London

Grace's blue eyes widened. "You mean you need me to teach you manners?"

"Not just fine manners, but how to act like a gentleman of the ton," Ian said.

She gasped as if he'd requested her to perform magic. "But that's impossible!"

He arched a dark eyebrow. "Are you refusing?"

"It's just that…that…I don't know if I'm capable."

"You are Miss Grace Ashton, the daughter of Baron Newbury, a lady of proper upbringing and standing in Society. A member of the Orphaned Children's Relief Society, correct?"

Her brows snapped downward. "You seem to know a considerable amount about my affairs."

"It's in my interest to know about anyone who steps foot in my gambling club. All their secrets and their desires."

A blush crept up her cheeks. "Yes, but someone else would be—"

"I can't think of a better tutor," Ian said.

"Why? Why would you care to enter Society when you have," her hand fluttered toward the window overlooking the casino floor, "all of this."

"It's simple. My brother died."

She blinked, clearly taken aback at his statement. "I'm sorry for your loss, but—"

"His Christian name was Matthew. He was my father's oldest son and the Earl of Castleton."

Her features softened. "I heard of the tragic riding accident, of course, but I didn't realize the earl was your brother. I'm truly sorry."

For some reason, her genuine sympathy disturbed Ian. He didn't want her pity. He didn't want anyone to know his true feelings for his older brother.

"Do not pity me," he said tersely. "I'm now the earl and possess all the property and prestige that goes along with the title."

Grace's gaze sharpened. "Of course, but from all that I've heard, you are already a man of wealth, my lord."

The title made Ian stiffen. It represented everything he despised, everything he was now being forced to accept. "No 'lord.'"

"But you are now a lord. Proper titles will be one of the first steps in any lesson."

"No titles. Not when we are alone."

"What shall I call you then? Mr. Swift?"

"No. Call me Ian, and I will call you Grace."

She looked at him incredulously. "That's horribly improper."

"In private, remember? You may 'lord' me as much as you'd like while we are out and about, and I shall call you Miss Ashton. Now do you agree to tutor me?"

She shook her head. "You do not need me. You can easily hire someone. A gentleman would be best."

"I could, but you are here and are qualified. You are also not in a position to refuse."

"You are gravely mistaken. I am not in a position to accept. If word got out that I was tutoring you, my reputation would be ruined."

"I also prefer to keep my lessons a secret. I do not want my mother, the Dowager Countess, to learn of them."

"I have more to lose. My reputation is all I have."

"Then we must be careful."

She worried her bottom lip. His gaze once again lowered to her mouth. He realized she bit her lip when she was nervous. It would drive him to distraction during his lessons. He wanted to lick her plump bottom lip, nip it with his teeth, and suck it into his mouth.

She shifted from side to side, oblivious to his erotic thoughts. "It would be impossible for me to visit a bachelor's residence during the day. I'd have to come at night."

"I own a gaming club, remember? I'm accustomed to late hours. I will leave the club shortly after midnight for my lessons. My man, Brooks, will oversee the club during my absence."

She remained silent and Ian knew she was considering his proposition. He was surprised how badly he wanted her to say yes.

She tapped her foot as she thought. "I'd have to wait until the household was asleep, slip out of the house, and hire a hack after dark."

"No hack."

She stilled, and her gaze flew to his. "You would expect me to walk alone at night?"

"No. I'll have an unmarked carriage wait by the mews behind your father's home each evening. I will return you to your home the same way before sunrise."

"If I agree to aid you, will this satisfy my father's debts?"

"Yes."

"All six thousand pounds?"

Ian nodded.

"How soon would you require my services?"

"Tomorrow night."

She blinked. "So soon?"
GIVEAWAY! To win an ebook of HOW TO TEMPT AN EARL, please share what you like best about the cover.