What do a bear and a wolf eat on their one free night?
When I saw that Fresh Fiction had recipes up last week for Valentine's Day, I had to laugh. The hero and heroine of my new novel, Taming Her Mate, Frankie and Ryan, are busy people! They're saving Detroit from a deadly virus and keeping their respective shifter packs from going to war with each other. Their meals reflect their busy lifestyles. Inspired by the delcious recipes shared last week, I knew whatever my characters would cook would be interesting…
For example, Frankie is the daughter of the alpha wolf. She's got to help out whenever life gets too busy for anyone in the pack. That means comfort foods that are easy to remember and that picky pups will eat. She makes the simplest meatloaf recipe she can remember with ingredients on hand and while it's in the oven, she whips up a box of Macaroni and Cheese. And now here's the cool secret: ketchup and brown sugar. The original recipe called for a modest amount of both, but let's face it, who doesn't love ketchup and brown sugar? She mixes up enough of that to slather over the meatloaf, and then she pours the Mac and Cheese on top. The recipe calls for an extra five minutes in the oven, but no ever waits that long. This is comfort food extraordinaire! Even kids recovering from the flu perk up at that.
But what about the vegetables? asks the very healthy, very sexy cop Ryan Kennedy. Sure, he loves comfort food as much as the next shifter, but that won't keep his body running while being attacked by deranged wolves. No, he's got a quick recipe for getting all those yummy greens inside. All it takes is a bag of leafy greens available at any grocery store and a blender. He dumps the leaves in, adds water (or oat milk if he's looking for a creamy substitute) and spins it down. Once the leaves are micro-sized, then he adds whatever fruit is on hand. Enough to make it taste good. Sure, it looks like pond scum but the taste—and the health benefits—are out of the world.
And for dessert? Duh. Bear claws!
But, enough about questionable food choices, I also wanted to say that this year is officially the year of the GRIZZLY! I know, I know, the lunar calendar says that 2019 is actually the year of the pig, but I ask you, when was the last time a pig-shifter had you thinking lustful thoughts? Sure, they're a lot neater than you'd expect, but the way they drop their long snout into the food trough is a turn off for sure.
Which is why I'm declaring 2019 the Year of the Grizzly! Even better, I've decided it's a fire year because of all that passion burning inside our big bear shifters! Grizzlies are loyal, passionate, and have great focus. Once they set their eyes on their love, nothing—not even a deadly virus—will keep them from securing their chosen mate. They're known to be ferocious when facing trouble, but no matter how difficult the problems, they'll use every resource at hand (er, at paw) to make sure their mate comes out safely, happily, and well sated.
A grizzly's lucky number is two, but most are not opposed to three, four, or even five, especially when it comes to children. Their lucky day is March 19, the day that Taming Her Mate is released out into the wild. And their lucky location is in the bathroom, especially when helping to bathe young cubs or treating their mate to some extra fun water play.
I cannot print their unlucky number because it's the number of people who have died as a result of the Detroit flu and the horrible things it did to shifters. Even typing that number on my screen would bring about the wrath of the divine grizzly, and I will not do that. The grizzlies most unlucky location is the Detroit sewer. Sadly for Det. Ryan Kennedy, that's where he is when the book opens and boy does he pay for that mistake.
Bad love matches for the Grizzly is an Ox, Snake, or Monkey, but the absolute best love is a Wolf.
If you'd like to learn more about what's good and bad in the Year of the Grizzlies, check out my Grizzlies Gone Wild series. There's still time to catch up before Taming Her Mate comes out March 19! In the meantime, tell me what type of animal year you'd like it be and one lucky commenter will win an e-copy preorder of Taming Her Mate. Read the Fresh Fiction review now! http://freshfiction.com/book.php?id=98149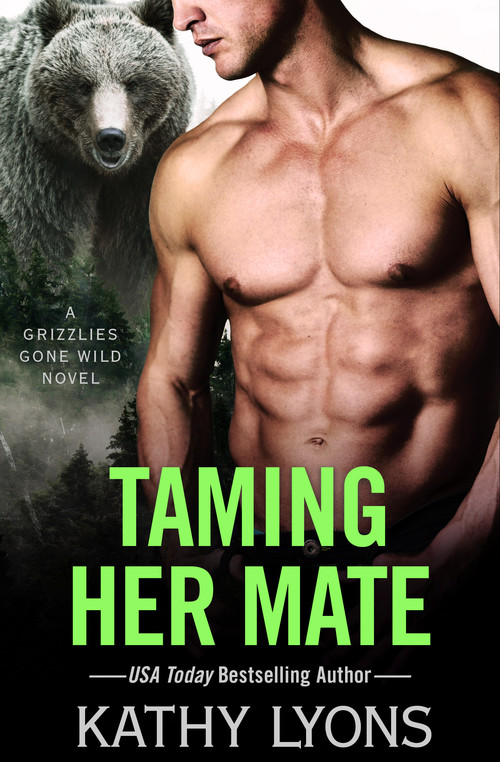 Some men aren't meant to be tamed. Don't miss the next book in USA Today bestselling author Kathy Lyons's Grizzlies Gone Wild series!
Can a Bear and a Wolf save a city? Not if passion overwhelms them in this action-packed, sexy race against time
Detective Ryan Kennedy doesn't have time for distractions. As the only bear shifter on the police force, he's responsible for investigating the cause of the mysterious flu-like illness that's ravaging the citizens of Detroit. But when the beautiful daughter of a rival clan's alpha asks for his help, Ryan realizes that this distraction holds the key to stopping the virus. If only he can focus on the case and not on how much he wants to kiss the enemy.
Francesca Wolf knows who's poisoning the city, and she has a plan to take him down, but it will only work if Ryan follows her lead. Frankie's strong, passionate spirit makes her slow to ask for help, but time is running out and the sexy-as-sin cop won't submit to her demands. Instead, he's giving her orders and firing up her passions just when she needs to stay calm. They'll have to work together—as equals—to save the city, to keep each other alive, and to contain a hunger that might just burn the whole city to the ground.
Romance Paranormal [Forever Yours, On Sale: March 19, 2019, e-Book, ISBN: 9781538762165 / eISBN: 9781538762165]

This bear serves, protects, and stands by his woman
Kathy Lyons is the wild, adventurous half of USA TODAY bestselling author Jade Lee. A lover of all things fantastical, Kathy spent much of her childhood in Narnia, Middle Earth, Amber, and Earthsea, just to name a few.  There is nothing she adores more than turning an ordinary day into something magical, which is what happens all the time in her books. Winner of several industry awards including the Prism—Best of the Best, Romantic Times Reviewer's Choice, and Fresh Fiction's Steamiest Read, Kathy has published over 50 romance novels, and she's just getting started.